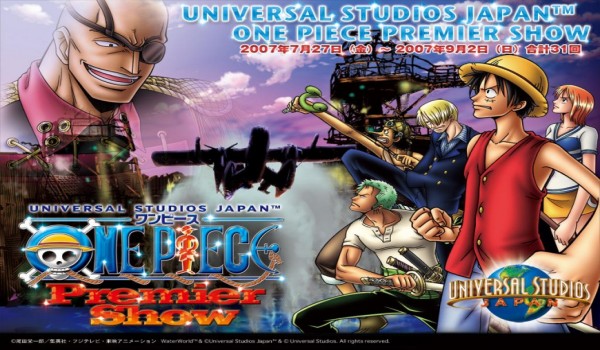 [TVRIP] One Piece [ワンピース] 第653-832話
Anime Information
Japanese Title: ワンピース
English Title: One Piece
Type: TV Series, unknown number of episodes
Year: 20.10.1999 till ?
Categories: Action, Adventure, Comedy, Fantasy, Manga, Navy, Shounen, Slapstick, Super Power, Swordplay, Underworld
AniDB: http://anidb.net/perl-bin/animedb.pl?show=anime&aid=69
Plot Summary:  Animerss.com
It was a time when pirates ruled the seas. Several bands of pirates were battling over the great hidden treasure, One Piece, which was left by the now legendary pirate captain, Gold Roger. There was a young boy who admired the pirates, his name was Monkey D. Luffy. One day, he mistakenly eats the devil's fruit and turns himself into a rubber human being.
Ten years have passed since that incident. Luffy sets out to sail all alone. He sets out to become a great pirate captain and that's when his great adventure begins. "I'm going to be the Pirate King! I'm going to get One Piece!".
----ダウンロード・/Download↓----
*Uploaded by@http://animerss.com
*Do not simply copy and paste the download links to your site. (Thank you!)
いつもありがとうございます!
プレミアムアカウントの有効期限が切れたら、なるべく以下のリンクから新アカウントを購入して頂けませんか。
RapidGator -> http://rapidgator.net/account/registration/ref/22000
ANIMERSSご支援いただき、ありがとうございます。
*Download Prenium Here*
RG (RapidGator)
One Piece – 653 RAW (CX 1280×720 x264 AAC).mp4
One Piece – 654 RAW (CX 1280×720 x264 AAC).mp4
One Piece – 655 RAW (CX 1280×720 x264 AAC).mp4
One Piece – 656 RAW (CX 1280×720 x264 AAC).mp4
One Piece – 657 RAW (CX 1280×720 x264 AAC).mp4
One Piece – 658 RAW (CX 1280×720 x264 AAC).mp4
One Piece – 659 RAW (CX 1280×720 x264 AAC).mp4
One Piece – 660 RAW (CX 1280×720 x264 AAC).mp4
One Piece – 661 RAW (CX 1280×720 x264 AAC).mp4
One Piece – 662 RAW (CX 1280×720 x264 AAC).mp4
One Piece – 663 RAW (CX 1280×720 x264 AAC).mp4
One Piece – 664 RAW (CX 1280×720 x264 AAC).mp4
One Piece – 665 RAW (CX 1280×720 x264 AAC).mp4
One Piece – 666 RAW (CX 1280×720 x264 AAC).mp4
One Piece – 667 RAW (CX 1280×720 x264 AAC).mp4
One Piece – 668 RAW (CX 1280×720 x264 AAC).mp4
One Piece – 669 RAW (CX 1280×720 x264 AAC).mp4
One Piece – 670 RAW (CX 1280×720 x264 AAC).mp4
One Piece – 671 RAW (CX 1280×720 x264 AAC).mp4
One Piece – 672 RAW (CX 1280×720 x264 AAC).mp4
One Piece – 673 RAW (CX 1280×720 x264 AAC).mp4
One Piece – 674 RAW (CX 1280×720 x264 AAC).mp4
One Piece – 675 RAW (CX 1280×720 x264 AAC).mp4
One Piece – 676 RAW (CX 1280×720 x264 AAC).mp4
One Piece – 677 RAW (CX 1280×720 x264 AAC).mp4
One Piece – 678 RAW (CX 1280×720 x264 AAC).mp4
One Piece – 679 RAW (CX 1280×720 x264 AAC).mp4
One Piece – 680 RAW (CX 1280×720 x264 AAC).mp4
One Piece – 681 RAW (CX 1280×720 x264 AAC).mp4
One Piece – 682 RAW (CX 1280×720 x264 AAC).mp4
One Piece – 683 RAW (CX 1280×720 x264 AAC).mp4
One Piece – 684 RAW (CX 1280×720 x264 AAC).mp4
One Piece – 685 RAW (CX 1280×720 x264 AAC).mp4
One Piece – 686 RAW (CX 1280×720 x264 AAC).mp4
One Piece – 687 RAW (CX 1280×720 x264 AAC).mp4
One Piece – 688 RAW (CX 1280×720 x264 AAC).mp4
One Piece – 689 RAW (CX 1280×720 x264 AAC).mp4
One Piece – 690 RAW (CX 1280×720 x264 AAC).mp4
One Piece – 691 RAW (CX 1280×720 x264 AAC).mp4
One Piece – 692 RAW (CX 1280×720 x264 AAC).mp4
One Piece – 693 RAW (CX 1280×720 x264 AAC).mp4
One Piece – 694 RAW (CX 1280×720 x264 AAC).mp4
One Piece – 695 RAW (CX 1280×720 x264 AAC).mp4
One Piece – 696 RAW (CX 1280×720 x264 AAC).mp4
One Piece – 697 RAW (CX 1280×720 x264 AAC).mp4
One Piece – 698 RAW (CX 1280×720 x264 AAC).mp4
One Piece – 699 RAW (CX 1280×720 x264 AAC).mp4
One Piece – 700 RAW (CX 1280×720 x264 AAC).mp4
One Piece – 701 RAW (CX 1280×720 x264 AAC).mp4
One Piece – 702 RAW (CX 1280×720 x264 AAC).mp4
One Piece – 703 RAW (CX 1280×720 x264 AAC).mp4
One Piece – 704 RAW (CX 1280×720 x264 AAC).mp4
One Piece – 705 RAW (CX 1280×720 x264 AAC).mp4
One Piece – 706 RAW (CX 1280×720 x264 AAC).mp4
One Piece – 707 RAW (CX 1280×720 x264 AAC).mp4
One Piece – 708 RAW (CX 1280×720 x264 AAC).mp4
One Piece – 709 RAW (CX 1280×720 x264 AAC).mp4
One Piece – 710 RAW (CX 1280×720 x264 AAC).mp4
One Piece – 711 RAW (CX 1280×720 x264 AAC).mp4
One Piece – 712 RAW (CX 1280×720 x264 AAC).mp4
One Piece – 713 RAW (CX 1280×720 x264 AAC).mp4
One Piece – 715 RAW (CX 1280×720 x264 AAC).mp4
One Piece – 716 RAW (CX 1280×720 x264 AAC).mp4
One Piece – 717 RAW (CX 1280×720 x264 AAC).mp4
One Piece – 718 RAW (CX 1280×720 x264 AAC).mp4
One Piece – 719 RAW (CX 1280×720 x264 AAC).mp4
One Piece – 720 RAW (CX 1280×720 x264 AAC).mp4
One Piece – 721 RAW (CX 1280×720 x264 AAC).mp4
One Piece – 722 RAW (CX 1280×720 x264 AAC).mp4
One Piece – 723 RAW (CX 1280×720 x264 AAC).mp4
One Piece – 724 RAW (CX 1280×720 x264 AAC).mp4
One Piece – 725 RAW (CX 1280×720 x264 AAC).mp4
One Piece – 726 RAW (CX 1280×720 x264 AAC).mp4
One Piece – 727 RAW (CX 1280×720 x264 AAC).mp4
One Piece – 728 RAW (CX 1280×720 x264 AAC).mp4
One Piece – 730 RAW (CX 1280×720 x264 AAC).mp4
One Piece – 731 RAW (CX 1280×720 x264 AAC).mp4
One Piece – 732 RAW (CX 1280×720 x264 AAC).mp4
One Piece – 733 RAW (CX 1280×720 x264 AAC).mp4
One Piece – 734 RAW (CX 1280×720 x264 AAC).mp4
One Piece – 735 RAW (CX 1280×720 x264 AAC).mp4
One Piece – 736 RAW (CX 1280×720 x264 AAC).mp4
One Piece – 737 RAW (CX 1280×720 x264 AAC).mp4
One Piece – 738 RAW (CX 1280×720 x264 AAC).mp4
One Piece – 739 RAW (CX 1280×720 x264 AAC).mp4
One Piece – 740 RAW (CX 1280×720 x264 AAC).mp4
One Piece – 741 RAW (CX 1280×720 x264 AAC).mp4
One Piece – 742 RAW (CX 1280×720 x264 AAC).mp4
One Piece – 743 RAW (CX 1280×720 x264 AAC).mp4
One Piece – 744 RAW (CX 1280×720 x264 AAC).mp4
One Piece – 745 RAW (CX 1280×720 x264 AAC).mp4
One Piece – 746 RAW (CX 1280×720 x264 AAC).mp4
One Piece – 747 RAW (CX 1280×720 x264 AAC).mp4
One Piece – 748 RAW (CX 1280×720 x264 AAC).mp4
One Piece – 802 RAW (CX 1280×720 x264 AAC).mp4
One Piece – 803 RAW (CX 1280×720 x264 AAC).mp4
One Piece – 804 RAW (CX 1280×720 x264 AAC).mp4
One Piece – 805 RAW (CX 1280×720 x264 AAC).mp4
One Piece – 806 RAW (CX 1280×720 x264 AAC).mp4
One Piece – 807-808 RAW (CX 1280×720 x264 AAC).mp4
One Piece – 809 RAW (CX 1280×720 x264 AAC).mp4
One Piece – 810 RAW (CX 1280×720 x264 AAC).mp4
One Piece – 811 RAW (CX 1280×720 x264 AAC).mp4
One Piece – 812 RAW (CX 1280×720 x264 AAC).mp4
One Piece – 813 RAW (CX 1280×720 x264 AAC).mp4
One Piece – 814 RAW (CX 1280×720 x264 AAC).mp4
One Piece – 815 RAW (CX 1280×720 x264 AAC).mp4
One Piece – 816 RAW (CX 1280×720 x264 AAC).mp4
One Piece – 817 RAW (CX 1280×720 x264 AAC).mp4
One Piece – 818 RAW (CX 1280×720 x264 AAC).mp4
One Piece – 819 RAW (CX 1280×720 x264 AAC).mp4
One Piece – 820 RAW (CX 1280×720 x264 AAC).mp4
One Piece – 821 RAW (CX 1280×720 x264 AAC).mp4
One Piece – 823 RAW (CX 1280×720 x264 AAC).mp4
One Piece – 824 RAW (CX 1280×720 x264 AAC).mp4
One Piece – 825 RAW (CX 1280×720 x264 AAC).mp4
One Piece – 826 RAW (CX 1280×720 x264 AAC).mp4
One Piece – 827 RAW (CX 1280×720 x264 AAC).mp4
One Piece – 828 RAW (CX 1280×720 x264 AAC).mp4
One Piece – 829 RAW (CX 1280×720 x264 AAC).mp4
One Piece – 830 RAW (CX 1280×720 x264 AAC).mp4
One Piece – 831 RAW (CX 1280×720 x264 AAC).mp4
One Piece – 832 RAW (CX 1280×720 x264 AAC).mp4