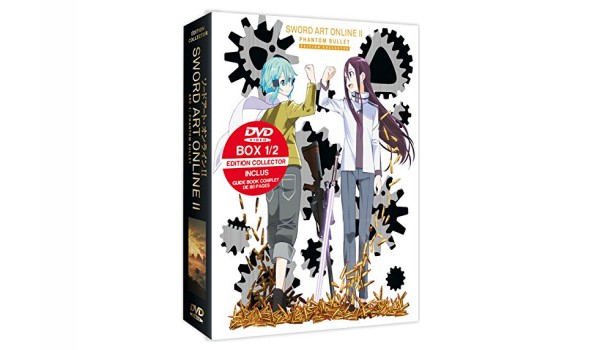 Title: [BDRIP] Sword Art Online [ソードアート・オンライン] S1&S2&Extra Edition
Anime Information
Japanese Title: ソードアート・オンライン
English Title: Sword Art Online
Type: TV Series, 24 episodes
Year: 29.06.2014 till 20.12.2014
Categories: action, fantasy, harem, novel, romance, science fiction, seinen, virtual reality –
AniDB: http://anidb.net/perl-bin/animedb.pl?show=anime&aid=10376
Plot Summary: Animerss.com
A year has passed since Sword Art Online (SAO) was cleared. Kirito is asked by Kikuoka to investigate Gun Gale Online, specifically Death Gun, a weapon which seemed to link deaths in the virtual reality world to those in the real world.
Upon entering the game, Kirito meets Sinon who teaches him the ropes of the game. They both enter the Gun Gale Online tournament, Bullet of Bullets. Kirito displays his amazing skills although he is only a newcomer to the game. Later, Kirito finds out that the mysterious deaths are linked to a red guild named Laughing Coffin in SAO.
----ダウンロード・/Download↓----
*Uploaded [email protected]https://animerss.com
*Do not simply copy and paste the download links to your site. (Thank you!)
*Permanent Preservation. Please Support VIPFILESHARE~~
いつもありがとうございます!
プレミアムアカウントの有効期限が切れたら、なるべく以下のリンクから新アカウントを購入して頂けませんか。
RapidGator -> http://rapidgator.net/account/registration/ref/22000
ANIMERSSご支援いただき、ありがとうございます。
*Download Prenium Here*
VFS (VipFileShare)
BDRIP Sword Art Online S1+S2+Extra Edition.part01.rar – 802.0 MB
BDRIP Sword Art Online S1+S2+Extra Edition.part02.rar – 802.0 MB
BDRIP Sword Art Online S1+S2+Extra Edition.part03.rar – 802.0 MB
BDRIP Sword Art Online S1+S2+Extra Edition.part04.rar – 802.0 MB
BDRIP Sword Art Online S1+S2+Extra Edition.part05.rar – 802.0 MB
BDRIP Sword Art Online S1+S2+Extra Edition.part06.rar – 802.0 MB
BDRIP Sword Art Online S1+S2+Extra Edition.part07.rar – 802.0 MB
BDRIP Sword Art Online S1+S2+Extra Edition.part08.rar – 802.0 MB
BDRIP Sword Art Online S1+S2+Extra Edition.part09.rar – 802.0 MB
BDRIP Sword Art Online S1+S2+Extra Edition.part10.rar – 802.0 MB
BDRIP Sword Art Online S1+S2+Extra Edition.part11.rar – 802.0 MB
BDRIP Sword Art Online S1+S2+Extra Edition.part12.rar – 802.0 MB
BDRIP Sword Art Online S1+S2+Extra Edition.part13.rar – 802.0 MB
BDRIP Sword Art Online S1+S2+Extra Edition.part14.rar – 802.0 MB
BDRIP Sword Art Online S1+S2+Extra Edition.part15.rar – 802.0 MB
BDRIP Sword Art Online S1+S2+Extra Edition.part16.rar – 802.0 MB
BDRIP Sword Art Online S1+S2+Extra Edition.part17.rar – 802.0 MB
BDRIP Sword Art Online S1+S2+Extra Edition.part18.rar – 802.0 MB
BDRIP Sword Art Online S1+S2+Extra Edition.part19.rar – 802.0 MB
BDRIP Sword Art Online S1+S2+Extra Edition.part20.rar – 802.0 MB
BDRIP Sword Art Online S1+S2+Extra Edition.part21.rar – 802.0 MB
BDRIP Sword Art Online S1+S2+Extra Edition.part22.rar – 802.0 MB
BDRIP Sword Art Online S1+S2+Extra Edition.part23.rar – 802.0 MB
BDRIP Sword Art Online S1+S2+Extra Edition.part24.rar – 802.0 MB
BDRIP Sword Art Online S1+S2+Extra Edition.part25.rar – 802.0 MB
BDRIP Sword Art Online S1+S2+Extra Edition.part26.rar – 802.0 MB
BDRIP Sword Art Online S1+S2+Extra Edition.part27.rar – 802.0 MB
BDRIP Sword Art Online S1+S2+Extra Edition.part28.rar – 802.0 MB
BDRIP Sword Art Online S1+S2+Extra Edition.part29.rar – 802.0 MB
BDRIP Sword Art Online S1+S2+Extra Edition.part30.rar – 802.0 MB
BDRIP Sword Art Online S1+S2+Extra Edition.part31.rar – 802.0 MB
BDRIP Sword Art Online S1+S2+Extra Edition.part32.rar – 802.0 MB
BDRIP Sword Art Online S1+S2+Extra Edition.part33.rar – 326.3 MB
RG (RapidGator)
BDRIP_Sword_Art_Online_S1_S2_Extra_Edition.part01.rar
BDRIP_Sword_Art_Online_S1_S2_Extra_Edition.part02.rar
BDRIP_Sword_Art_Online_S1_S2_Extra_Edition.part03.rar
BDRIP_Sword_Art_Online_S1_S2_Extra_Edition.part04.rar
BDRIP_Sword_Art_Online_S1_S2_Extra_Edition.part05.rar
BDRIP_Sword_Art_Online_S1_S2_Extra_Edition.part06.rar
BDRIP_Sword_Art_Online_S1_S2_Extra_Edition.part07.rar
BDRIP_Sword_Art_Online_S1_S2_Extra_Edition.part08.rar
BDRIP_Sword_Art_Online_S1_S2_Extra_Edition.part09.rar
BDRIP_Sword_Art_Online_S1_S2_Extra_Edition.part10.rar
BDRIP_Sword_Art_Online_S1_S2_Extra_Edition.part11.rar
BDRIP_Sword_Art_Online_S1_S2_Extra_Edition.part12.rar
BDRIP_Sword_Art_Online_S1_S2_Extra_Edition.part13.rar
BDRIP_Sword_Art_Online_S1_S2_Extra_Edition.part14.rar
BDRIP_Sword_Art_Online_S1_S2_Extra_Edition.part15.rar
BDRIP_Sword_Art_Online_S1_S2_Extra_Edition.part16.rar
BDRIP_Sword_Art_Online_S1_S2_Extra_Edition.part17.rar
BDRIP_Sword_Art_Online_S1_S2_Extra_Edition.part18.rar
BDRIP_Sword_Art_Online_S1_S2_Extra_Edition.part19.rar
BDRIP_Sword_Art_Online_S1_S2_Extra_Edition.part20.rar
BDRIP_Sword_Art_Online_S1_S2_Extra_Edition.part21.rar
BDRIP_Sword_Art_Online_S1_S2_Extra_Edition.part22.rar
BDRIP_Sword_Art_Online_S1_S2_Extra_Edition.part23.rar
BDRIP_Sword_Art_Online_S1_S2_Extra_Edition.part24.rar
BDRIP_Sword_Art_Online_S1_S2_Extra_Edition.part25.rar
BDRIP_Sword_Art_Online_S1_S2_Extra_Edition.part26.rar
BDRIP_Sword_Art_Online_S1_S2_Extra_Edition.part27.rar
BDRIP_Sword_Art_Online_S1_S2_Extra_Edition.part28.rar
BDRIP_Sword_Art_Online_S1_S2_Extra_Edition.part29.rar
BDRIP_Sword_Art_Online_S1_S2_Extra_Edition.part30.rar
BDRIP_Sword_Art_Online_S1_S2_Extra_Edition.part31.rar
BDRIP_Sword_Art_Online_S1_S2_Extra_Edition.part32.rar
BDRIP_Sword_Art_Online_S1_S2_Extra_Edition.part33.rar
*Download Free Here*
UA (UploadAble)
BDRIP Sword Art Online S1+S2+Extra Edition.part01.rar
BDRIP Sword Art Online S1+S2+Extra Edition.part02.rar
BDRIP Sword Art Online S1+S2+Extra Edition.part03.rar
BDRIP Sword Art Online S1+S2+Extra Edition.part04.rar
BDRIP Sword Art Online S1+S2+Extra Edition.part05.rar
BDRIP Sword Art Online S1+S2+Extra Edition.part06.rar
BDRIP Sword Art Online S1+S2+Extra Edition.part07.rar
BDRIP Sword Art Online S1+S2+Extra Edition.part08.rar
BDRIP Sword Art Online S1+S2+Extra Edition.part09.rar
BDRIP Sword Art Online S1+S2+Extra Edition.part10.rar
BDRIP Sword Art Online S1+S2+Extra Edition.part11.rar
BDRIP Sword Art Online S1+S2+Extra Edition.part12.rar
BDRIP Sword Art Online S1+S2+Extra Edition.part13.rar
BDRIP Sword Art Online S1+S2+Extra Edition.part14.rar
BDRIP Sword Art Online S1+S2+Extra Edition.part15.rar
BDRIP Sword Art Online S1+S2+Extra Edition.part16.rar
BDRIP Sword Art Online S1+S2+Extra Edition.part17.rar
BDRIP Sword Art Online S1+S2+Extra Edition.part18.rar
BDRIP Sword Art Online S1+S2+Extra Edition.part19.rar
BDRIP Sword Art Online S1+S2+Extra Edition.part20.rar
BDRIP Sword Art Online S1+S2+Extra Edition.part21.rar
BDRIP Sword Art Online S1+S2+Extra Edition.part22.rar
BDRIP Sword Art Online S1+S2+Extra Edition.part23.rar
BDRIP Sword Art Online S1+S2+Extra Edition.part24.rar
BDRIP Sword Art Online S1+S2+Extra Edition.part25.rar
BDRIP Sword Art Online S1+S2+Extra Edition.part26.rar
BDRIP Sword Art Online S1+S2+Extra Edition.part27.rar
BDRIP Sword Art Online S1+S2+Extra Edition.part28.rar
BDRIP Sword Art Online S1+S2+Extra Edition.part29.rar
BDRIP Sword Art Online S1+S2+Extra Edition.part30.rar
BDRIP Sword Art Online S1+S2+Extra Edition.part31.rar
BDRIP Sword Art Online S1+S2+Extra Edition.part32.rar
BDRIP Sword Art Online S1+S2+Extra Edition.part33.rar
DF (DataFile)
BDRIP_Sword_Art_Online_S1+S2+Extra_Edition.part01.rar
BDRIP_Sword_Art_Online_S1+S2+Extra_Edition.part02.rar
BDRIP_Sword_Art_Online_S1+S2+Extra_Edition.part03.rar
BDRIP_Sword_Art_Online_S1+S2+Extra_Edition.part04.rar
BDRIP_Sword_Art_Online_S1+S2+Extra_Edition.part05.rar
BDRIP_Sword_Art_Online_S1+S2+Extra_Edition.part06.rar
BDRIP_Sword_Art_Online_S1+S2+Extra_Edition.part07.rar
BDRIP_Sword_Art_Online_S1+S2+Extra_Edition.part08.rar
BDRIP_Sword_Art_Online_S1+S2+Extra_Edition.part09.rar
BDRIP_Sword_Art_Online_S1+S2+Extra_Edition.part10.rar
BDRIP_Sword_Art_Online_S1+S2+Extra_Edition.part11.rar
BDRIP_Sword_Art_Online_S1+S2+Extra_Edition.part12.rar
BDRIP_Sword_Art_Online_S1+S2+Extra_Edition.part13.rar
BDRIP_Sword_Art_Online_S1+S2+Extra_Edition.part14.rar
BDRIP_Sword_Art_Online_S1+S2+Extra_Edition.part15.rar
BDRIP_Sword_Art_Online_S1+S2+Extra_Edition.part16.rar
BDRIP_Sword_Art_Online_S1+S2+Extra_Edition.part17.rar
BDRIP_Sword_Art_Online_S1+S2+Extra_Edition.part18.rar
BDRIP_Sword_Art_Online_S1+S2+Extra_Edition.part19.rar
BDRIP_Sword_Art_Online_S1+S2+Extra_Edition.part20.rar
BDRIP_Sword_Art_Online_S1+S2+Extra_Edition.part21.rar
BDRIP_Sword_Art_Online_S1+S2+Extra_Edition.part22.rar
BDRIP_Sword_Art_Online_S1+S2+Extra_Edition.part23.rar
BDRIP_Sword_Art_Online_S1+S2+Extra_Edition.part24.rar
BDRIP_Sword_Art_Online_S1+S2+Extra_Edition.part25.rar
BDRIP_Sword_Art_Online_S1+S2+Extra_Edition.part26.rar
BDRIP_Sword_Art_Online_S1+S2+Extra_Edition.part27.rar
BDRIP_Sword_Art_Online_S1+S2+Extra_Edition.part28.rar
BDRIP_Sword_Art_Online_S1+S2+Extra_Edition.part29.rar
BDRIP_Sword_Art_Online_S1+S2+Extra_Edition.part30.rar
BDRIP_Sword_Art_Online_S1+S2+Extra_Edition.part31.rar
BDRIP_Sword_Art_Online_S1+S2+Extra_Edition.part32.rar
BDRIP_Sword_Art_Online_S1+S2+Extra_Edition.part33.rar
UL (Uploaded)
BDRIP Sword Art Online S1+S2+Extra Edition.part01.rar
BDRIP Sword Art Online S1+S2+Extra Edition.part02.rar
BDRIP Sword Art Online S1+S2+Extra Edition.part03.rar
BDRIP Sword Art Online S1+S2+Extra Edition.part04.rar
BDRIP Sword Art Online S1+S2+Extra Edition.part05.rar
BDRIP Sword Art Online S1+S2+Extra Edition.part06.rar
BDRIP Sword Art Online S1+S2+Extra Edition.part07.rar
BDRIP Sword Art Online S1+S2+Extra Edition.part08.rar
BDRIP Sword Art Online S1+S2+Extra Edition.part09.rar
BDRIP Sword Art Online S1+S2+Extra Edition.part10.rar
BDRIP Sword Art Online S1+S2+Extra Edition.part11.rar
BDRIP Sword Art Online S1+S2+Extra Edition.part12.rar
BDRIP Sword Art Online S1+S2+Extra Edition.part13.rar
BDRIP Sword Art Online S1+S2+Extra Edition.part14.rar
BDRIP Sword Art Online S1+S2+Extra Edition.part15.rar
BDRIP Sword Art Online S1+S2+Extra Edition.part16.rar
BDRIP Sword Art Online S1+S2+Extra Edition.part17.rar
BDRIP Sword Art Online S1+S2+Extra Edition.part18.rar
BDRIP Sword Art Online S1+S2+Extra Edition.part19.rar
BDRIP Sword Art Online S1+S2+Extra Edition.part20.rar
BDRIP Sword Art Online S1+S2+Extra Edition.part21.rar
BDRIP Sword Art Online S1+S2+Extra Edition.part22.rar
BDRIP Sword Art Online S1+S2+Extra Edition.part23.rar
BDRIP Sword Art Online S1+S2+Extra Edition.part24.rar
BDRIP Sword Art Online S1+S2+Extra Edition.part25.rar
BDRIP Sword Art Online S1+S2+Extra Edition.part26.rar
BDRIP Sword Art Online S1+S2+Extra Edition.part27.rar
BDRIP Sword Art Online S1+S2+Extra Edition.part28.rar
BDRIP Sword Art Online S1+S2+Extra Edition.part29.rar
BDRIP Sword Art Online S1+S2+Extra Edition.part30.rar
BDRIP Sword Art Online S1+S2+Extra Edition.part31.rar
BDRIP Sword Art Online S1+S2+Extra Edition.part32.rar
BDRIP Sword Art Online S1+S2+Extra Edition.part33.rar