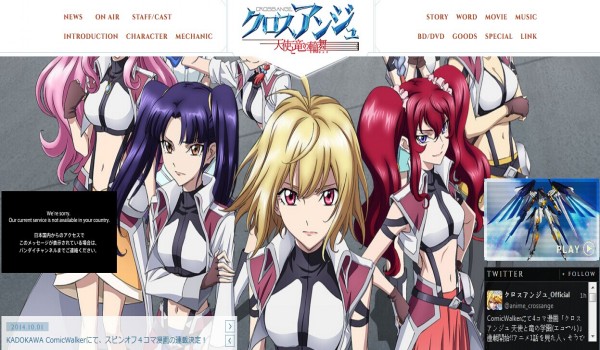 Title: [TVRIP] Cross Ange: Tenshi to Ryuu no Rondo [クロスアンジュ 天使と竜の輪舞] 第01-25話 全
Anime Information
Japanese Title: クロスアンジュ 天使と竜の輪舞[ロンド]
English Title: Cross Ange: Tenshi to Ryuu no Rondo
Type: TV Series, unknown number of episodes
Year: 23.09.2014 till ?
Categories: dragon, mecha –
AniDB: http://anidb.net/perl-bin/animedb.pl?show=anime&aid=10766
Plot Summary: Animerss.com
Due to humanity obtaining the data technology that has evolved to a great amount – called "Mana" – the human race is able to subjugate all wars, starvation, pollution, and other problems on Earth by using its power, which is similar to magic. Earth has obtained the utopia of complete peace and no wants.
First princess of the Misurugi Empire, Angelize. As with everyone else, she also had no wants or worries. She was celebrated by the people of the empire, and was supposed to wear the crown. However, she realizes the shocking truth that she is a Norma. "Norma": An irregular existence that cannot use Mana, and are treated as heretics and as "things" rather than people. Having everything stolen from her, she isolates herself on a remote island.
----ダウンロード・/Download↓----
*Uploaded [email protected]https://animerss.com
*Do not simply copy and paste the download links to your site. (Thank you!)
いつもありがとうございます!
プレミアムアカウントの有効期限が切れたら、なるべく以下のリンクから新アカウントを購入して頂けませんか。
RapidGator -> http://rapidgator.net/account/registration/ref/22000
ANIMERSSご支援いただき、ありがとうございます。
*Download Prenium Here*
RG (RapidGator)
Cross Ange – Tenshi to Ryuu no Rondo – 01 RAW (MX 1280×720 x264 AAC).mp4
Cross Ange – Tenshi to Ryuu no Rondo – 02 RAW (MX 1280×720 x264 AAC).mp4
Cross Ange – Tenshi to Ryuu no Rondo – 03 RAW (MX 1280×720 x264 AAC).mp4
Cross Ange – Tenshi to Ryuu no Rondo – 04 RAW (MX 1280×720 x264 AAC).mp4
Cross Ange – Tenshi to Ryuu no Rondo – 05 RAW (MX 1280×720 x264 AAC).mp4
Cross Ange – Tenshi to Ryuu no Rondo – 06 RAW (MX 1280×720 x264 AAC).mp4
Cross Ange – Tenshi to Ryuu no Rondo – 07 RAW (MX 1280×720 x264 AAC).mp4
Cross Ange – Tenshi to Ryuu no Rondo – 08 RAW (MX 1280×720 x264 AAC).mp4
Cross Ange – Tenshi to Ryuu no Rondo – 09 RAW (MX 1280×720 x264 AAC).mp4
Cross Ange – Tenshi to Ryuu no Rondo – 10 RAW (MX 1280×720 x264 AAC).mp4
Cross Ange – Tenshi to Ryuu no Rondo – 11 RAW (MX 1280×720 x264 AAC).mp4
Cross Ange – Tenshi to Ryuu no Rondo – 12 RAW (MX 1280×720 x264 AAC).mp4
Cross Ange – Tenshi to Ryuu no Rondo – 13 RAW (MX 1280×720 x264 AAC).mp4
Cross Ange – Tenshi to Ryuu no Rondo – 14 RAW (MX 1280×720 x264 AAC).mp4
Cross Ange – Tenshi to Ryuu no Rondo – 15 RAW (MX 1280×720 x264 AAC).mp4
Cross Ange – Tenshi to Ryuu no Rondo – 16 RAW (MX 1280×720 x264 AAC).mp4
Cross Ange – Tenshi to Ryuu no Rondo – 17 RAW (MX 1280×720 x264 AAC).mp4
Cross Ange – Tenshi to Ryuu no Rondo – 18 RAW (MX 1280×720 x264 AAC).mp4
Cross Ange – Tenshi to Ryuu no Rondo – 19 RAW (MX 1280×720 x264 AAC).mp4
Cross Ange – Tenshi to Ryuu no Rondo – 20 RAW (MX 1280×720 x264 AAC).mp4
Cross Ange – Tenshi to Ryuu no Rondo – 21 RAW (MX 1280×720 x264 AAC).mp4
Cross Ange – Tenshi to Ryuu no Rondo – 22 RAW (MX 1280×720 x264 AAC).mp4
Cross Ange – Tenshi to Ryuu no Rondo – 23 RAW (MX 1280×720 x264 AAC).mp4
Cross Ange – Tenshi to Ryuu no Rondo – 24 RAW (MX 1280×720 x264 AAC).mp4
Cross Ange – Tenshi to Ryuu no Rondo – 25 END (MX 1280×720 x264 AAC).mp4
*Download Free Here*
FM (FileMarkets)
Cross Ange – Tenshi to Ryuu no Rondo – 22 RAW (MX 1280×720 x264 AAC).mp4
UA (UploadAble)
Cross Ange – Tenshi to Ryuu no Rondo – 01 RAW (MX 1280×720 x264 AAC).mp4
Cross Ange – Tenshi to Ryuu no Rondo – 02 RAW (MX 1280×720 x264 AAC).mp4
Cross Ange – Tenshi to Ryuu no Rondo – 03 RAW (MX 1280×720 x264 AAC).mp4
Cross Ange – Tenshi to Ryuu no Rondo – 04 RAW (MX 1280×720 x264 AAC).mp4
Cross Ange – Tenshi to Ryuu no Rondo – 05 RAW (MX 1280×720 x264 AAC).mp4
Cross Ange – Tenshi to Ryuu no Rondo – 06 RAW (MX 1280×720 x264 AAC).mp4
Cross Ange – Tenshi to Ryuu no Rondo – 07 RAW (MX 1280×720 x264 AAC).mp4
Cross Ange – Tenshi to Ryuu no Rondo – 08 RAW (MX 1280×720 x264 AAC).mp4
Cross Ange – Tenshi to Ryuu no Rondo – 09 RAW (MX 1280×720 x264 AAC).mp4
Cross Ange – Tenshi to Ryuu no Rondo – 10 RAW (MX 1280×720 x264 AAC).mp4
Cross Ange – Tenshi to Ryuu no Rondo – 11 RAW (MX 1280×720 x264 AAC).mp4
Cross Ange – Tenshi to Ryuu no Rondo – 12 RAW (MX 1280×720 x264 AAC).mp4
Cross Ange – Tenshi to Ryuu no Rondo – 13 RAW (MX 1280×720 x264 AAC).mp4
Cross Ange – Tenshi to Ryuu no Rondo – 14 RAW (MX 1280×720 x264 AAC).mp4
Cross Ange – Tenshi to Ryuu no Rondo – 15 RAW (MX 1280×720 x264 AAC).mp4
Cross Ange – Tenshi to Ryuu no Rondo – 16 RAW (MX 1280×720 x264 AAC).mp4
Cross Ange – Tenshi to Ryuu no Rondo – 17 RAW (MX 1280×720 x264 AAC).mp4
Cross Ange – Tenshi to Ryuu no Rondo – 18 RAW (MX 1280×720 x264 AAC).mp4
Cross Ange – Tenshi to Ryuu no Rondo – 19 RAW (MX 1280×720 x264 AAC).mp4
Cross Ange – Tenshi to Ryuu no Rondo – 22 RAW (MX 1280×720 x264 AAC).mp4
Cross Ange – Tenshi to Ryuu no Rondo – 23 RAW (MX 1280×720 x264 AAC).mp4
Cross Ange – Tenshi to Ryuu no Rondo – 24 RAW (MX 1280×720 x264 AAC).mp4
Cross Ange – Tenshi to Ryuu no Rondo – 25 END (MX 1280×720 x264 AAC).mp4
TB (TurboBit)
Cross Ange – Tenshi to Ryuu no Rondo – 10 RAW (MX 1280×720 x264 AAC).mp4
Cross Ange – Tenshi to Ryuu no Rondo – 11 RAW (MX 1280×720 x264 AAC).mp4
Cross Ange – Tenshi to Ryuu no Rondo – 12 RAW (MX 1280×720 x264 AAC).mp4
Cross Ange – Tenshi to Ryuu no Rondo – 13 RAW (MX 1280×720 x264 AAC).mp4
Cross Ange – Tenshi to Ryuu no Rondo – 14 RAW (MX 1280×720 x264 AAC).mp4
Cross Ange – Tenshi to Ryuu no Rondo – 15 RAW (MX 1280×720 x264 AAC).mp4
Cross Ange – Tenshi to Ryuu no Rondo – 16 RAW (MX 1280×720 x264 AAC).mp4
Cross Ange – Tenshi to Ryuu no Rondo – 17 RAW (MX 1280×720 x264 AAC).mp4
Cross Ange – Tenshi to Ryuu no Rondo – 18 RAW (MX 1280×720 x264 AAC).mp4
Cross Ange – Tenshi to Ryuu no Rondo – 19 RAW (MX 1280×720 x264 AAC).mp4
Cross Ange – Tenshi to Ryuu no Rondo – 20 RAW (MX 1280×720 x264 AAC).mp4
Cross Ange – Tenshi to Ryuu no Rondo – 21 RAW (MX 1280×720 x264 AAC).mp4
Cross Ange – Tenshi to Ryuu no Rondo – 22 RAW (MX 1280×720 x264 AAC).mp4
Cross Ange – Tenshi to Ryuu no Rondo – 23 RAW (MX 1280×720 x264 AAC).mp4
Cross Ange – Tenshi to Ryuu no Rondo – 24 RAW (MX 1280×720 x264 AAC).mp4
Cross Ange – Tenshi to Ryuu no Rondo – 25 END (MX 1280×720 x264 AAC).mp4
UL (Uploaded)
Cross Ange – Tenshi to Ryuu no Rondo – 01 RAW (MX 1280×720 x264 AAC).mp4
Cross Ange – Tenshi to Ryuu no Rondo – 02 RAW (MX 1280×720 x264 AAC).mp4
Cross Ange – Tenshi to Ryuu no Rondo – 03 RAW (MX 1280×720 x264 AAC).mp4
Cross Ange – Tenshi to Ryuu no Rondo – 04 RAW (MX 1280×720 x264 AAC).mp4
Cross Ange – Tenshi to Ryuu no Rondo – 05 RAW (MX 1280×720 x264 AAC).mp4
Cross Ange – Tenshi to Ryuu no Rondo – 06 RAW (MX 1280×720 x264 AAC).mp4
Cross Ange – Tenshi to Ryuu no Rondo – 07 RAW (MX 1280×720 x264 AAC).mp4
Cross Ange – Tenshi to Ryuu no Rondo – 08 RAW (MX 1280×720 x264 AAC).mp4
Cross Ange – Tenshi to Ryuu no Rondo – 09 RAW (MX 1280×720 x264 AAC).mp4
Cross Ange – Tenshi to Ryuu no Rondo – 10 RAW (MX 1280×720 x264 AAC).mp4
Cross Ange – Tenshi to Ryuu no Rondo – 11 RAW (MX 1280×720 x264 AAC).mp4
Cross Ange – Tenshi to Ryuu no Rondo – 12 RAW (MX 1280×720 x264 AAC).mp4
Cross Ange – Tenshi to Ryuu no Rondo – 13 RAW (MX 1280×720 x264 AAC).mp4
Cross Ange – Tenshi to Ryuu no Rondo – 14 RAW (MX 1280×720 x264 AAC).mp4
Cross Ange – Tenshi to Ryuu no Rondo – 15 RAW (MX 1280×720 x264 AAC).mp4
Cross Ange – Tenshi to Ryuu no Rondo – 16 RAW (MX 1280×720 x264 AAC).mp4
Cross Ange – Tenshi to Ryuu no Rondo – 17 RAW (MX 1280×720 x264 AAC).mp4
Cross Ange – Tenshi to Ryuu no Rondo – 18 RAW (MX 1280×720 x264 AAC).mp4
Cross Ange – Tenshi to Ryuu no Rondo – 19 RAW (MX 1280×720 x264 AAC).mp4
Cross Ange – Tenshi to Ryuu no Rondo – 20 RAW (MX 1280×720 x264 AAC).mp4
Cross Ange – Tenshi to Ryuu no Rondo – 21 RAW (MX 1280×720 x264 AAC).mp4
Cross Ange – Tenshi to Ryuu no Rondo – 22 RAW (MX 1280×720 x264 AAC).mp4
Cross Ange – Tenshi to Ryuu no Rondo – 23 RAW (MX 1280×720 x264 AAC).mp4
Cross Ange – Tenshi to Ryuu no Rondo – 24 RAW (MX 1280×720 x264 AAC).mp4
Cross Ange – Tenshi to Ryuu no Rondo – 25 END (MX 1280×720 x264 AAC).mp4