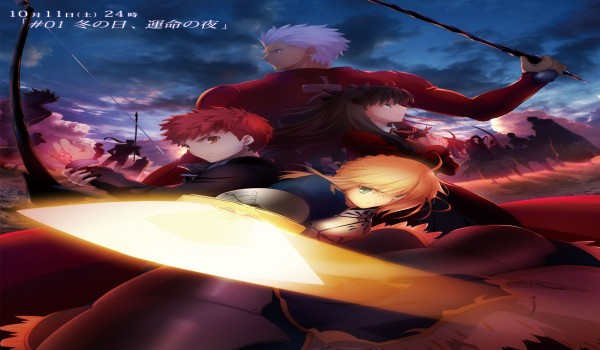 Title: [TVRIP] Fate/Stay Night [Fate/Stay Night] 第00話
Anime Information
Japanese Title: Fate/Stay Night
English Title: Fate/Stay Night (2014)
Type: TV Series, unknown number of episodes
Year: 28.09.2014 till ?
Categories: violence, super power, contemporary fantasy, fantasy, action, erotic game, visual novel, seinen –
AniDB: http://anidb.net/perl-bin/animedb.pl?show=anime&aid=9977
Plot Summary: Animerss.com
High school junior student Emiya Shirou is twice an orphan. Once, a great fire that destroyed more than a hundred homes took the lives of his biological parents. He was then adopted by the man who saved him from that inferno, a man who called himself a magus; however, after a few years, that man, too, died. Shirou was left with a home, the dream to become a superhero, and some extremely limited knowledge of magecraft, the art practised in secret by magi all over the world. Now, unbeknownst to him, the city he lives in, Fuyuki City, is to become the place where a great war will be fought in secret by magi like the man who adopted him.
----ダウンロード・/Download↓----
*Uploaded [email protected]https://animerss.com
*Do not simply copy and paste the download links to your site. (Thank you!)
いつもありがとうございます!
プレミアムアカウントの有効期限が切れたら、なるべく以下のリンクから新アカウントを購入して頂けませんか。
RapidGator -> http://rapidgator.net/account/registration/ref/22000
ANIMERSSご支援いただき、ありがとうございます。
*Download Prenium Here*
RG (RapidGator)
Fate – Stay Night – Unlimited Blade Works – 00 RAW (BS11 1280×720 x264 AAC).mp4
RS (RyuShare)
Fate – Stay Night – Unlimited Blade Works – 00 RAW (BS11 1280×720 x264 AAC).mp4
*Download Free Here*
FS (FreakShare)
Fate – Stay Night – Unlimited Blade Works – 00 RAW (BS11 1280×720 x264 AAC).mp4
BS (BitShare)
Fate – Stay Night – Unlimited Blade Works – 00 RAW (BS11 1280×720 x264 AAC).mp4
UA (UploadAble)
Fate – Stay Night – Unlimited Blade Works – 00 RAW (BS11 1280×720 x264 AAC).mp4
UL (Uploaded)
Fate – Stay Night – Unlimited Blade Works – 00 RAW (BS11 1280×720 x264 AAC).mp4