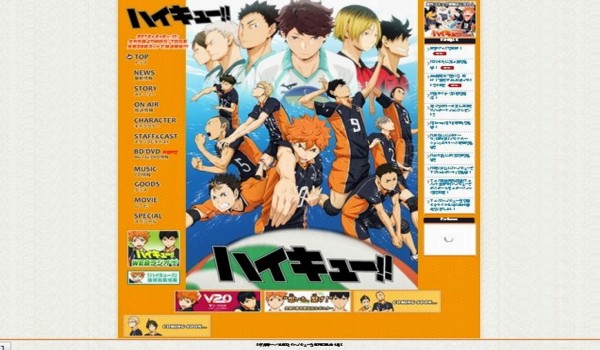 Title: [TVRIP] Haikyuu!! [ハイキュー!!] 第15-25話 全
Anime Information
Japanese Title: ハイキュー!!
English Title: Haikyuu!!
Type: TV Series, unknown number of episodes
Year: 06.04.2014 till ?
Categories: Manga, Shounen, Volleyball –
AniDB: http://anidb.net/perl-bin/animedb.pl?show=anime&aid=10145
Plot Summary: Animerss.com
A chance event triggered Hinata Shouyou's love for volleyball. His club had no members, but somehow persevered and finally made it into its very first and final regular match of middle school, where it was steamrolled by Kageyama Tobio, a superstar player known as the King of the Court. Vowing revenge, Hinata applied to the Karasuno High School volleyball club… only to come face-to-face with his hated rival, Kageyama.
----ダウンロード・/Download↓----
*Uploaded [email protected]https://animerss.com
*Do not simply copy and paste the download links to your site. (Thank you!)
いつもありがとうございます!
プレミアムアカウントの有効期限が切れたら、なるべく以下のリンクから新アカウントを購入して頂けませんか。
RapidGator -> http://rapidgator.net/account/registration/ref/22000
ANIMERSSご支援いただき、ありがとうございます。
*Download Prenium Here*
RG (RapidGator)
Haikyuu!! – 15 RAW (TBS 1280×720 x264 AAC).mp4
Haikyuu!! – 16 RAW (TBS 1280×720 x264 AAC).mp4
Haikyuu!! – 17 RAW (TBS 1280×720 x264 AAC).mp4
Haikyuu!! – 18 RAW (TBS 1280×720 x264 AAC).mp4
Haikyuu!! – 19 RAW (TBS 1280×720 x264 AAC).mp4
Haikyuu!! – 20 RAW (TBS 1280×720 x264 AAC).mp4
Haikyuu!! – 21 RAW (TBS 1280×720 x264 AAC).mp4
Haikyuu!! – 22 RAW (TBS 1280×720 x264 AAC).mp4
Haikyuu!! – 23 RAW (TBS 1280×720 x264 AAC).mp4
Haikyuu!! – 24 RAW (TBS 1280×720 x264 AAC).mp4
Haikyuu!! – 25 END (TBS 1280×720 x264 AAC).mp4
RS (RyuShare)
Haikyuu!! – 15 RAW (TBS 1280×720 x264 AAC).mp4
Haikyuu!! – 16 RAW (TBS 1280×720 x264 AAC).mp4
Haikyuu!! – 17 RAW (TBS 1280×720 x264 AAC).mp4
Haikyuu!! – 18 RAW (TBS 1280×720 x264 AAC).mp4
Haikyuu!! – 19 RAW (TBS 1280×720 x264 AAC).mp4
Haikyuu!! – 20 RAW (TBS 1280×720 x264 AAC).mp4
Haikyuu!! – 21 RAW (TBS 1280×720 x264 AAC).mp4
Haikyuu!! – 22 RAW (TBS 1280×720 x264 AAC).mp4
Haikyuu!! – 23 RAW (TBS 1280×720 x264 AAC).mp4
Haikyuu!! – 24 RAW (TBS 1280×720 x264 AAC).mp4
Haikyuu!! – 25 END (TBS 1280×720 x264 AAC).mp4
*Download Free Here*
FS (FreakShare)
Haikyuu!! – 15 RAW (TBS 1280×720 x264 AAC).mp4
Haikyuu!! – 16 RAW (TBS 1280×720 x264 AAC).mp4
Haikyuu!! – 17 RAW (TBS 1280×720 x264 AAC).mp4
Haikyuu!! – 18 RAW (TBS 1280×720 x264 AAC).mp4
Haikyuu!! – 19 RAW (TBS 1280×720 x264 AAC).mp4
Haikyuu!! – 20 RAW (TBS 1280×720 x264 AAC).mp4
Haikyuu!! – 21 RAW (TBS 1280×720 x264 AAC).mp4
Haikyuu!! – 22 RAW (TBS 1280×720 x264 AAC).mp4
Haikyuu!! – 23 RAW (TBS 1280×720 x264 AAC).mp4
Haikyuu!! – 24 RAW (TBS 1280×720 x264 AAC).mp4
Haikyuu!! – 25 END (TBS 1280×720 x264 AAC).mp4
BS (BitShare)
Haikyuu!! – 15 RAW (TBS 1280×720 x264 AAC).mp4
Haikyuu!! – 16 RAW (TBS 1280×720 x264 AAC).mp4
Haikyuu!! – 17 RAW (TBS 1280×720 x264 AAC).mp4
Haikyuu!! – 18 RAW (TBS 1280×720 x264 AAC).mp4
Haikyuu!! – 19 RAW (TBS 1280×720 x264 AAC).mp4
Haikyuu!! – 21 RAW (TBS 1280×720 x264 AAC).mp4
Haikyuu!! – 22 RAW (TBS 1280×720 x264 AAC).mp4
Haikyuu!! – 23 RAW (TBS 1280×720 x264 AAC).mp4
Haikyuu!! – 24 RAW (TBS 1280×720 x264 AAC).mp4
Haikyuu!! – 25 END (TBS 1280×720 x264 AAC).mp4
UA (UploadAble)
Haikyuu!! – 15 RAW (TBS 1280×720 x264 AAC).mp4
Haikyuu!! – 16 RAW (TBS 1280×720 x264 AAC).mp4
Haikyuu!! – 17 RAW (TBS 1280×720 x264 AAC).mp4
Haikyuu!! – 18 RAW (TBS 1280×720 x264 AAC).mp4
Haikyuu!! – 19 RAW (TBS 1280×720 x264 AAC).mp4
Haikyuu!! – 20 RAW (TBS 1280×720 x264 AAC).mp4
Haikyuu!! – 21 RAW (TBS 1280×720 x264 AAC).mp4
Haikyuu!! – 22 RAW (TBS 1280×720 x264 AAC).mp4
Haikyuu!! – 23 RAW (TBS 1280×720 x264 AAC).mp4
Haikyuu!! – 24 RAW (TBS 1280×720 x264 AAC).mp4
Haikyuu!! – 25 END (TBS 1280×720 x264 AAC).mp4
UL (Uploaded)
Haikyuu!! – 15 RAW (TBS 1280×720 x264 AAC).mp4
Haikyuu!! – 16 RAW (TBS 1280×720 x264 AAC).mp4
Haikyuu!! – 17 RAW (TBS 1280×720 x264 AAC).mp4
Haikyuu!! – 18 RAW (TBS 1280×720 x264 AAC).mp4
Haikyuu!! – 19 RAW (TBS 1280×720 x264 AAC).mp4
Haikyuu!! – 20 RAW (TBS 1280×720 x264 AAC).mp4
Haikyuu!! – 21 RAW (TBS 1280×720 x264 AAC).mp4
Haikyuu!! – 22 RAW (TBS 1280×720 x264 AAC).mp4
Haikyuu!! – 23 RAW (TBS 1280×720 x264 AAC).mp4
Haikyuu!! – 24 RAW (TBS 1280×720 x264 AAC).mp4
Haikyuu!! – 25 END (TBS 1280×720 x264 AAC).mp4