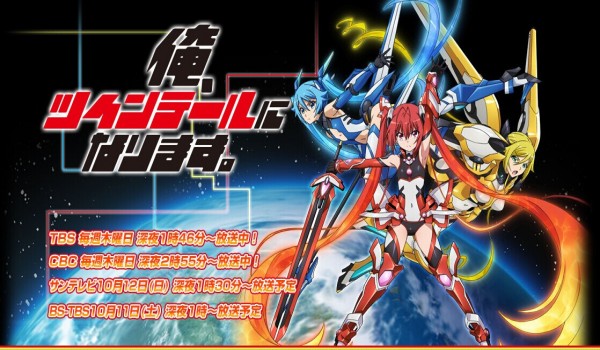 Title: [TVRIP] Ore, Twintails ni Narimasu. [俺, ツインテールになります.] 第01-12話 全
Anime Information
Japanese Title: 俺, ツインテールになります.
English Title: Gonna Be the Twin-Tail!!
Type: TV Series, unknown number of episodes
Year: 10.10.2014 till ?
Categories: novel –
AniDB: http://anidb.net/perl-bin/animedb.pl?show=anime&aid=10323
Plot Summary: Animerss.com
Mitsuka Souji is a first year high school student who greatly loves twintails. One day, a beautiful girl named Thuearle, who comes from another world, suddenly appeared in front of him and gave him the power to transform into the twintails warrior Tail Red. Now Souji must fight in order to protect the peace on Earth with the help of his childhood friend Tsube Aika, who can becomes the twintails warrior Tail Blue.
----ダウンロード・/Download↓----
*Uploaded [email protected]https://animerss.com
*Do not simply copy and paste the download links to your site. (Thank you!)
Permanent Preservation. Please Support VIPFILESHARE~~
いつもありがとうございます!
プレミアムアカウントの有効期限が切れたら、なるべく以下のリンクから新アカウントを購入して頂けませんか。
RapidGator -> http://rapidgator.net/account/registration/ref/22000
ANIMERSSご支援いただき、ありがとうございます。
*Download Prenium Here*
VFS (VipFileShare)
[Animerss.com] Ore, Twintail ni Narimasu. – 01 RAW (TBS 1280×720 x264 AAC).mp4 – 330.3 MB
[Animerss.com] Ore, Twintail ni Narimasu. – 02 RAW (TBS 1280×720 x264 AAC).mp4 – 270.6 MB
[Animerss.com] Ore, Twintail ni Narimasu. – 03 RAW (TBS 1280×720 x264 AAC).mp4 – 324.4 MB
[Animerss.com] Ore, Twintail ni Narimasu. – 04 RAW (TBS 1280×720 x264 AAC).mp4 – 362.5 MB
[Animerss.com] Ore, Twintail ni Narimasu. – 05 RAW (TBS 1280×720 x264 AAC).mp4 – 317.8 MB
[Animerss.com] Ore, Twintail ni Narimasu. – 06 RAW (TBS 1280×720 x264 AAC).mp4 – 327.6 MB
[Animerss.com] Ore, Twintail ni Narimasu. – 07 RAW (TBS 1280×720 x264 AAC).mp4 – 303.3 MB
[Animerss.com] Ore, Twintail ni Narimasu. – 08 RAW (TBS 1280×720 x264 AAC).mp4 – 291.5 MB
[Animerss.com] Ore, Twintail ni Narimasu. – 09 RAW (TBS 1280×720 x264 AAC).mp4 – 361.1 MB
[Animerss.com] Ore, Twintail ni Narimasu. – 10 RAW (TBS 1280×720 x264 AAC).mp4 – 295.7 MB
[Animerss.com] Ore, Twintail ni Narimasu. – 11 RAW (TBS 1280×720 x264 AAC).mp4 – 336.9 MB
[Animerss.com] Ore, Twintail ni Narimasu. – 12 END (TBS 1280×720 x264 AAC).mp4 – 353.8 MB
[Animerss.com] Ore, Twintail ni Narimasu. ED (TBS 1280×720 x264 AAC).mp4 – 28.5 MB
[Animerss.com] Ore, Twintail ni Narimasu. OP (TBS 1280×720 x264 AAC).mp4 – 49.3 MB
RG (RapidGator)
Ore Twintail ni Narimasu. – 01 RAW (TBS 1280×720 x264 AAC).mp4
Ore Twintail ni Narimasu. – 02 RAW (TBS 1280×720 x264 AAC).mp4
Ore Twintail ni Narimasu. – 03 RAW (TBS 1280×720 x264 AAC).mp4
Ore Twintail ni Narimasu. – 04 RAW (TBS 1280×720 x264 AAC).mp4
Ore Twintail ni Narimasu. – 05 RAW (TBS 1280×720 x264 AAC).mp4
Ore Twintail ni Narimasu. – 06 RAW (TBS 1280×720 x264 AAC).mp4
Ore Twintail ni Narimasu. – 07 RAW (TBS 1280×720 x264 AAC).mp4
Ore, Twintail ni Narimasu. – 08 RAW (TBS 1280×720 x264 AAC).mp4
Ore, Twintail ni Narimasu. – 09 RAW (TBS 1280×720 x264 AAC).mp4
Ore Twintail ni Narimasu. – 10 RAW (TBS 1280×720 x264 AAC).mp4
Ore Twintail ni Narimasu. – 11 RAW (TBS 1280×720 x264 AAC).mp4
Ore Twintail ni Narimasu. – 12 END (TBS 1280×720 x264 AAC).mp4
RS (RyuShare)
Ore Twintail ni Narimasu. – 01 RAW (TBS 1280×720 x264 AAC).mp4
Ore Twintail ni Narimasu. – 02 RAW (TBS 1280×720 x264 AAC).mp4
Ore Twintail ni Narimasu. – 03 RAW (TBS 1280×720 x264 AAC).mp4
Ore Twintail ni Narimasu. – 04 RAW (TBS 1280×720 x264 AAC).mp4
Ore Twintail ni Narimasu. – 05 RAW (TBS 1280×720 x264 AAC).mp4
Ore Twintail ni Narimasu. – 06 RAW (TBS 1280×720 x264 AAC).mp4
Ore Twintail ni Narimasu. – 07 RAW (TBS 1280×720 x264 AAC).mp4
Ore, Twintail ni Narimasu. – 08 RAW (TBS 1280×720 x264 AAC).mp4
Ore, Twintail ni Narimasu. – 09 RAW (TBS 1280×720 x264 AAC).mp4
Ore Twintail ni Narimasu. – 10 RAW (TBS 1280×720 x264 AAC).mp4
Ore Twintail ni Narimasu. – 11 RAW (TBS 1280×720 x264 AAC).mp4
Ore Twintail ni Narimasu. – 12 END (TBS 1280×720 x264 AAC).mp4
*Download Free Here*
UA (UploadAble)
Ore Twintail ni Narimasu. – 01 RAW (TBS 1280×720 x264 AAC).mp4
Ore Twintail ni Narimasu. – 02 RAW (TBS 1280×720 x264 AAC).mp4
Ore Twintail ni Narimasu. – 03 RAW (TBS 1280×720 x264 AAC).mp4
Ore Twintail ni Narimasu. – 04 RAW (TBS 1280×720 x264 AAC).mp4
Ore Twintail ni Narimasu. – 05 RAW (TBS 1280×720 x264 AAC).mp4
Ore Twintail ni Narimasu. – 06 RAW (TBS 1280×720 x264 AAC).mp4
Ore Twintail ni Narimasu. – 07 RAW (TBS 1280×720 x264 AAC).mp4
Ore, Twintail ni Narimasu. – 08 RAW (TBS 1280×720 x264 AAC).mp4
Ore, Twintail ni Narimasu. – 09 RAW (TBS 1280×720 x264 AAC).mp4
Ore Twintail ni Narimasu. – 10 RAW (TBS 1280×720 x264 AAC).mp4
Ore Twintail ni Narimasu. – 11 RAW (TBS 1280×720 x264 AAC).mp4
Ore Twintail ni Narimasu. – 12 END (TBS 1280×720 x264 AAC).mp4
DF (DataFile)
Ore Twintail ni Narimasu. – 12 END (TBS 1280×720 x264 AAC).mp4
TB (TurboBit)
Ore, Twintail ni Narimasu. – 09 RAW (TBS 1280×720 x264 AAC).mp4
Ore Twintail ni Narimasu. – 10 RAW (TBS 1280×720 x264 AAC).mp4
Ore Twintail ni Narimasu. – 11 RAW (TBS 1280×720 x264 AAC).mp4
Ore Twintail ni Narimasu. – 12 END (TBS 1280×720 x264 AAC).mp4
UL (Uploaded)
Ore Twintail ni Narimasu. – 01 RAW (TBS 1280×720 x264 AAC).mp4
Ore Twintail ni Narimasu. – 02 RAW (TBS 1280×720 x264 AAC).mp4
Ore Twintail ni Narimasu. – 03 RAW (TBS 1280×720 x264 AAC).mp4
Ore Twintail ni Narimasu. – 04 RAW (TBS 1280×720 x264 AAC).mp4
Ore Twintail ni Narimasu. – 05 RAW (TBS 1280×720 x264 AAC).mp4
Ore Twintail ni Narimasu. – 06 RAW (TBS 1280×720 x264 AAC).mp4
Ore Twintail ni Narimasu. – 07 RAW (TBS 1280×720 x264 AAC).mp4
Ore, Twintail ni Narimasu. – 08 RAW (TBS 1280×720 x264 AAC).mp4
Ore, Twintail ni Narimasu. – 09 RAW (TBS 1280×720 x264 AAC).mp4
Ore Twintail ni Narimasu. – 10 RAW (TBS 1280×720 x264 AAC).mp4
Ore Twintail ni Narimasu. – 11 RAW (TBS 1280×720 x264 AAC).mp4
Ore Twintail ni Narimasu. – 12 END (TBS 1280×720 x264 AAC).mp4