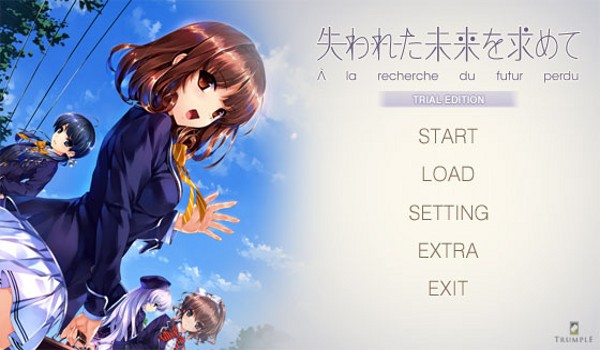 Title: [TVRIP] Ushinawareta Mirai o Motomete [失われた未来を求めて] 第01-12話 全
Anime Information
Japanese Title: 失われた未来を求めて
English Title: In Search of Lost Future
Type: TV Series, unknown number of episodes
Year: 04.10.2014 till ?
Categories: romance, time travel, visual novel, tragedy –
AniDB: http://anidb.net/perl-bin/animedb.pl?show=anime&aid=10372
Plot Summary: Animerss.com
Uchihama Academy is growing by leaps and bounds. With the construction of a new school building, there will be one last General Club Festival at the old building that is slated to be closed. The students vow to go all out to make this final cultural festival a success.
The Astronomy Club of which Akiyama Sou is a member is filled with the big names on campus. Just before the festival on October 1, the club receives a request from the student executive committee to calm the uneasiness among the students. There are reports of ghost sightings, accidents, sleeping sickness, and other mysterious incidents at the old building. When Furukawa Yui, a quiet girl who transferred late into the school, appears before Sou, the gears of fate slowly begin to move.
----ダウンロード・/Download↓----
*Uploaded [email protected]https://animerss.com
*Do not simply copy and paste the download links to your site. (Thank you!)
Permanent Preservation. Please Support VIPFILESHARE~~
いつもありがとうございます!
プレミアムアカウントの有効期限が切れたら、なるべく以下のリンクから新アカウントを購入して頂けませんか。
RapidGator -> http://rapidgator.net/account/registration/ref/22000
ANIMERSSご支援いただき、ありがとうございます。
*Download Prenium Here*
VFS (VipFileShare)
[Animerss.com] Ushinawareta Mirai o Motomete – 01 RAW (ATX 1280×720 x264 AAC).mp4 – 275.3 MB
[Animerss.com] Ushinawareta Mirai o Motomete – 02 RAW (ATX 1280×720 x264 AAC).mp4 – 253.7 MB
[Animerss.com] Ushinawareta Mirai o Motomete – 03 RAW (ATX 1280×720 x264 AAC).mp4 – 307.6 MB
[Animerss.com] Ushinawareta Mirai o Motomete – 04 RAW (ATX 1280×720 x264 AAC).mp4 – 352.6 MB
[Animerss.com] Ushinawareta Mirai o Motomete – 05 RAW (ATX 1280×720 x264 AAC).mp4 – 274.9 MB
[Animerss.com] Ushinawareta Mirai o Motomete – 06 RAW (ATX 1280×720 x264 AAC).mp4 – 279.0 MB
[Animerss.com] Ushinawareta Mirai o Motomete – 07 RAW (ATX 1280×720 x264 AAC).mp4 – 276.7 MB
[Animerss.com] Ushinawareta Mirai o Motomete – 08 RAW (ATX 1280×720 x264 AAC).mp4 – 303.5 MB
[Animerss.com] Ushinawareta Mirai o Motomete – 09 RAW (ATX 1280×720 x264 AAC).mp4 – 270.5 MB
[Animerss.com] Ushinawareta Mirai o Motomete – 10 RAW (ATX 1280×720 x264 AAC).mp4 – 303.9 MB
[Animerss.com] Ushinawareta Mirai o Motomete – 11 RAW (ATX 1280×720 x264 AAC).mp4 – 289.2 MB
[Animerss.com] Ushinawareta Mirai o Motomete – 12 END (ATX 1280×720 x264 AAC).mp4 – 275.6 MB
[Animerss.com] Ushinawareta Mirai o Motomete ED (ATX 1280×720 x264 AAC).mp4 – 18.1 MB
[Animerss.com] Ushinawareta Mirai o Motomete OP (ATX 1280×720 x264 AAC).mp4 – 23.3 MB
RG (RapidGator)
Ushinawareta Mirai o Motomete – 01 RAW (ATX 1280×720 x264 AAC).mp4
Ushinawareta Mirai o Motomete – 02 RAW (ATX 1280×720 x264 AAC).mp4
Ushinawareta Mirai o Motomete – 03 RAW (ATX 1280×720 x264 AAC).mp4
Ushinawareta Mirai o Motomete – 04 RAW (ATX 1280×720 x264 AAC).mp4
Ushinawareta Mirai o Motomete – 05 RAW (ATX 1280×720 x264 AAC).mp4
Ushinawareta Mirai o Motomete – 06 RAW (ATX 1280×720 x264 AAC).mp4
Ushinawareta Mirai o Motomete – 07 RAW (ATX 1280×720 x264 AAC).mp4
Ushinawareta Mirai o Motomete – 08 RAW (ATX 1280×720 x264 AAC).mp4
Ushinawareta Mirai o Motomete – 09 RAW (ATX 1280×720 x264 AAC).mp4
Ushinawareta Mirai o Motomete – 10 RAW (ATX 1280×720 x264 AAC).mp4
Ushinawareta Mirai o Motomete – 11 RAW (ATX 1280×720 x264 AAC).mp4
Ushinawareta Mirai o Motomete – 12 END (ATX 1280×720 x264 AAC).mp4
RS (RyuShare)
Ushinawareta Mirai o Motomete – 01 RAW (ATX 1280×720 x264 AAC).mp4
Ushinawareta Mirai o Motomete – 02 RAW (ATX 1280×720 x264 AAC).mp4
Ushinawareta Mirai o Motomete – 03 RAW (ATX 1280×720 x264 AAC).mp4
Ushinawareta Mirai o Motomete – 04 RAW (ATX 1280×720 x264 AAC).mp4
Ushinawareta Mirai o Motomete – 05 RAW (ATX 1280×720 x264 AAC).mp4
Ushinawareta Mirai o Motomete – 06 RAW (ATX 1280×720 x264 AAC).mp4
Ushinawareta Mirai o Motomete – 07 RAW (ATX 1280×720 x264 AAC).mp4
Ushinawareta Mirai o Motomete – 08 RAW (ATX 1280×720 x264 AAC).mp4
Ushinawareta Mirai o Motomete – 09 RAW (ATX 1280×720 x264 AAC).mp4
Ushinawareta Mirai o Motomete – 10 RAW (ATX 1280×720 x264 AAC).mp4
Ushinawareta Mirai o Motomete – 11 RAW (ATX 1280×720 x264 AAC).mp4
Ushinawareta Mirai o Motomete – 12 END (ATX 1280×720 x264 AAC).mp4
*Download Free Here*
UA (UploadAble)
Ushinawareta Mirai o Motomete – 01 RAW (ATX 1280×720 x264 AAC).mp4
Ushinawareta Mirai o Motomete – 02 RAW (ATX 1280×720 x264 AAC).mp4
Ushinawareta Mirai o Motomete – 03 RAW (ATX 1280×720 x264 AAC).mp4
Ushinawareta Mirai o Motomete – 04 RAW (ATX 1280×720 x264 AAC).mp4
Ushinawareta Mirai o Motomete – 05 RAW (ATX 1280×720 x264 AAC).mp4
Ushinawareta Mirai o Motomete – 06 RAW (ATX 1280×720 x264 AAC).mp4
Ushinawareta Mirai o Motomete – 07 RAW (ATX 1280×720 x264 AAC).mp4
Ushinawareta Mirai o Motomete – 08 RAW (ATX 1280×720 x264 AAC).mp4
Ushinawareta Mirai o Motomete – 09 RAW (ATX 1280×720 x264 AAC).mp4
Ushinawareta Mirai o Motomete – 10 RAW (ATX 1280×720 x264 AAC).mp4
Ushinawareta Mirai o Motomete – 11 RAW (ATX 1280×720 x264 AAC).mp4
Ushinawareta Mirai o Motomete – 12 END (ATX 1280×720 x264 AAC).mp4
DF (DataFile)
Ushinawareta Mirai o Motomete – 12 END (ATX 1280×720 x264 AAC).mp4
TB (TurboBit)
Ushinawareta Mirai o Motomete – 10 RAW (ATX 1280×720 x264 AAC).mp4
Ushinawareta Mirai o Motomete – 11 RAW (ATX 1280×720 x264 AAC).mp4
Ushinawareta Mirai o Motomete – 12 END (ATX 1280×720 x264 AAC).mp4
UL (Uploaded)
Ushinawareta Mirai o Motomete – 01 RAW (ATX 1280×720 x264 AAC).mp4
Ushinawareta Mirai o Motomete – 02 RAW (ATX 1280×720 x264 AAC).mp4
Ushinawareta Mirai o Motomete – 03 RAW (ATX 1280×720 x264 AAC).mp4
Ushinawareta Mirai o Motomete – 04 RAW (ATX 1280×720 x264 AAC).mp4
Ushinawareta Mirai o Motomete – 05 RAW (ATX 1280×720 x264 AAC).mp4
Ushinawareta Mirai o Motomete – 06 RAW (ATX 1280×720 x264 AAC).mp4
Ushinawareta Mirai o Motomete – 07 RAW (ATX 1280×720 x264 AAC).mp4
Ushinawareta Mirai o Motomete – 08 RAW (ATX 1280×720 x264 AAC).mp4
Ushinawareta Mirai o Motomete – 09 RAW (ATX 1280×720 x264 AAC).mp4
Ushinawareta Mirai o Motomete – 10 RAW (ATX 1280×720 x264 AAC).mp4
Ushinawareta Mirai o Motomete – 11 RAW (ATX 1280×720 x264 AAC).mp4
Ushinawareta Mirai o Motomete – 12 END (ATX 1280×720 x264 AAC).mp4