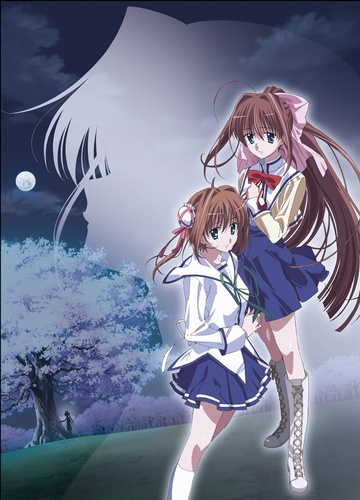 [BDRIP] D.C.II S.S.: Da Capo II Second Season [D.C.II S.S. ~ダ・カーポII セカンドシーズン~] 全13話
Alternative Titles
English: D.C.II S.S.: Da Capo II Second Season
Official Title D.C.II S.S. ~ダ・カーポII セカンドシーズン~
Type TV Series, 13 episodes
Year 06.04.2008 till 29.06.2008
Tags erotic game, game, harem, romance, seinen, tragedy, visual novel –
The snow is falling onto the ever-blossoming cherry blossom trees. Sakurai Yoshiyuki and Tsukishima Koko have gotten over their failed relationship and are now able to exchange smiles and friendly words as classmates.
As the school's Christmas party draws near, Yoshiyuki strengthens his ties with Asakura Otome and Yume.
However, Yoshino Sakura alone has a clouded expression, knowing as she does that a disaster is imminent. No matter how happy the dream may be, the dreamer must eventually wake up.
How will this disaster affect Yoshiyuki and the others?
*Uploaded [email protected]https://animerss.com
*Do not simply copy and paste the download links to your site. (Thank you!)
いつもありがとうございます!
プレミアムアカウントの有効期限が切れたら、なるべく以下のリンクから新アカウントを購入して頂けませんか。
RapidGator -> https://rapidgator.net/article/premium/ref/22000
Aniemrssご支援いただき、ありがとうございます。
FREE DOWNLOAD/無料ダウンロード :
RG (RapidGator)
D.C.II S.S. Da Capo II Second Season – 01 (BD 1280×720 x264 AAC).mp4
D.C.II S.S. Da Capo II Second Season – 02 (BD 1280×720 x264 AAC).mp4
D.C.II S.S. Da Capo II Second Season – 03 (BD 1280×720 x264 AAC).mp4
D.C.II S.S. Da Capo II Second Season – 04 (BD 1280×720 x264 AAC).mp4
D.C.II S.S. Da Capo II Second Season – 05 (BD 1280×720 x264 AAC).mp4
D.C.II S.S. Da Capo II Second Season – 06 (BD 1280×720 x264 AAC).mp4
D.C.II S.S. Da Capo II Second Season – 07 (BD 1280×720 x264 AAC).mp4
D.C.II S.S. Da Capo II Second Season – 08 (BD 1280×720 x264 AAC).mp4
D.C.II S.S. Da Capo II Second Season – 09 (BD 1280×720 x264 AAC).mp4
D.C.II S.S. Da Capo II Second Season – 10 (BD 1280×720 x264 AAC).mp4
D.C.II S.S. Da Capo II Second Season – 11 (BD 1280×720 x264 AAC).mp4
D.C.II S.S. Da Capo II Second Season – 12 (BD 1280×720 x264 AAC).mp4
D.C.II S.S. Da Capo II Second Season – 13 (BD 1280×720 x264 AAC).mp4