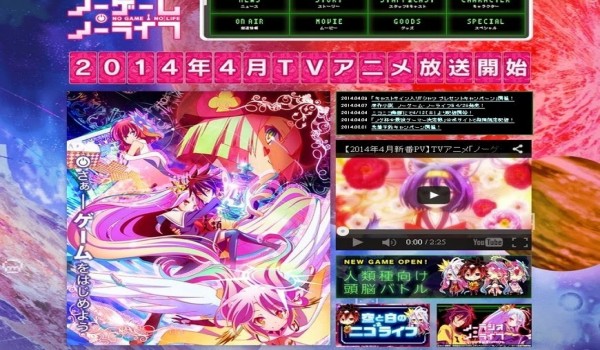 Title: [BDRIP] No Game No Life [ノーゲーム・ノーライフ] 全12話
Anime Information
Japanese Title: ノーゲーム・ノーライフ
English Title: No Game No Life
Type: TV Series, 12 episodes
Year: 09.04.2014 till 25.06.2014
Categories: comedy, ecchi, fantasy, novel, nudity, parallel universe, parody, seinen, super power –
AniDB: http://anidb.net/perl-bin/animedb.pl?show=anime&aid=9998
Plot Summary: Aniemrss.com
Sora and Shiro, a brother and sister whose reputations as brilliant NEET (Not in Education, Employment, or Training) hikikomori (shut-in) gamers have spawned urban legends all over the internet. These two gamers even consider the real world as just another crappy game.
One day, they are summoned by a boy named Teto to an alternate world, where he is the god. There, Teto has prohibited war and declared this to be a world where everything is decided by games — even national borders. Humanity has been driven back into one remaining city by the other races. Will Sora and Shiro, the good-for-nothing brother and sister, become the Saviours of Humanity on this alternate world?
----ダウンロード・/Download↓----
*Uploaded by@https://animerss.com
*Do not simply copy and paste the download links to your site. (Thank you!)
*Permanent Preservation. Please Support VIPFILESHARE~~
いつもありがとうございます!
プレミアムアカウントの有効期限が切れたら、なるべく以下のリンクから新アカウントを購入して頂けませんか。
RapidGator -> http://rapidgator.net/account/registration/ref/22000
ANIMERSSご支援いただき、ありがとうございます。
*Download Prenium Here*
VFS (VipFileShare)
BDRIP_No_Game_No_Life.part01.rar – 452.0 MB
BDRIP_No_Game_No_Life.part02.rar – 452.0 MB
BDRIP_No_Game_No_Life.part03.rar – 452.0 MB
BDRIP_No_Game_No_Life.part04.rar – 452.0 MB
BDRIP_No_Game_No_Life.part05.rar – 452.0 MB
BDRIP_No_Game_No_Life.part06.rar – 452.0 MB
BDRIP_No_Game_No_Life.part07.rar – 452.0 MB
BDRIP_No_Game_No_Life.part08.rar – 452.0 MB
BDRIP_No_Game_No_Life.part09.rar – 452.0 MB
BDRIP_No_Game_No_Life.part10.rar – 452.0 MB
BDRIP_No_Game_No_Life.part11.rar – 452.0 MB
BDRIP_No_Game_No_Life.part12.rar – 452.0 MB
BDRIP_No_Game_No_Life.part13.rar – 452.0 MB
BDRIP_No_Game_No_Life.part14.rar – 127.3 MB
RG (RapidGator)
BDRIP_No_Game_No_Life.part01.rar
BDRIP_No_Game_No_Life.part02.rar
BDRIP_No_Game_No_Life.part03.rar
BDRIP_No_Game_No_Life.part04.rar
BDRIP_No_Game_No_Life.part05.rar
BDRIP_No_Game_No_Life.part06.rar
BDRIP_No_Game_No_Life.part07.rar
BDRIP_No_Game_No_Life.part08.rar
BDRIP_No_Game_No_Life.part09.rar
BDRIP_No_Game_No_Life.part10.rar
BDRIP_No_Game_No_Life.part11.rar
BDRIP_No_Game_No_Life.part12.rar
BDRIP_No_Game_No_Life.part13.rar
BDRIP_No_Game_No_Life.part14.rar
*Download Free Here*
UA (UploadAble)
BDRIP_No_Game_No_Life.part01.rar
BDRIP_No_Game_No_Life.part02.rar
BDRIP_No_Game_No_Life.part03.rar
BDRIP_No_Game_No_Life.part04.rar
BDRIP_No_Game_No_Life.part05.rar
BDRIP_No_Game_No_Life.part06.rar
BDRIP_No_Game_No_Life.part07.rar
BDRIP_No_Game_No_Life.part08.rar
BDRIP_No_Game_No_Life.part09.rar
BDRIP_No_Game_No_Life.part10.rar
BDRIP_No_Game_No_Life.part11.rar
BDRIP_No_Game_No_Life.part12.rar
BDRIP_No_Game_No_Life.part13.rar
BDRIP_No_Game_No_Life.part14.rar
DF (DataFile)
BDRIP_No_Game_No_Life.part01.rar
BDRIP_No_Game_No_Life.part02.rar
BDRIP_No_Game_No_Life.part03.rar
BDRIP_No_Game_No_Life.part04.rar
BDRIP_No_Game_No_Life.part05.rar
BDRIP_No_Game_No_Life.part06.rar
BDRIP_No_Game_No_Life.part07.rar
BDRIP_No_Game_No_Life.part08.rar
BDRIP_No_Game_No_Life.part09.rar
BDRIP_No_Game_No_Life.part10.rar
BDRIP_No_Game_No_Life.part11.rar
BDRIP_No_Game_No_Life.part12.rar
BDRIP_No_Game_No_Life.part13.rar
BDRIP_No_Game_No_Life.part14.rar
TB (TurboBit)
BDRIP_No_Game_No_Life.part11.rar
BDRIP_No_Game_No_Life.part14.rar
BDRIP_No_Game_No_Life.part13.rar
BDRIP_No_Game_No_Life.part12.rar
BDRIP_No_Game_No_Life.part08.rar
BDRIP_No_Game_No_Life.part05.rar
BDRIP_No_Game_No_Life.part02.rar
BDRIP_No_Game_No_Life.part03.rar
BDRIP_No_Game_No_Life.part05.rar
BDRIP_No_Game_No_Life.part04.rar
BDRIP_No_Game_No_Life.part01.rar
UL (Uploaded)
BDRIP_No_Game_No_Life.part01.rar
BDRIP_No_Game_No_Life.part02.rar
BDRIP_No_Game_No_Life.part03.rar
BDRIP_No_Game_No_Life.part04.rar
BDRIP_No_Game_No_Life.part05.rar
BDRIP_No_Game_No_Life.part06.rar
BDRIP_No_Game_No_Life.part07.rar
BDRIP_No_Game_No_Life.part08.rar
BDRIP_No_Game_No_Life.part09.rar
BDRIP_No_Game_No_Life.part10.rar
BDRIP_No_Game_No_Life.part11.rar
BDRIP_No_Game_No_Life.part12.rar
BDRIP_No_Game_No_Life.part13.rar
BDRIP_No_Game_No_Life.part14.rar