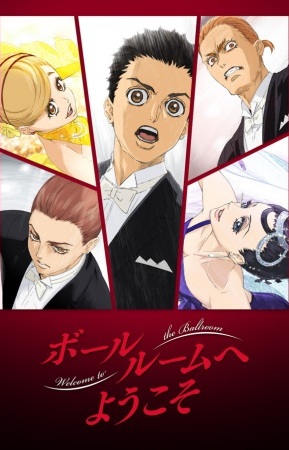 [TVRIP] Ballroom e Youkoso [ボールルームへようこそ] 第01-24話 全
Alternative Titles
English: Ballroom e Youkoso
Official Title ボールルームへようこそ
Type TV Series, unknown number of episodes
Year 08.07.2017 till ?
* Based on a shounen manga series written and illustrated by Takeuchi Tomo.
Feckless high school student Fujita Tatara wants to be good at something – anything. Unfortunately, he's about as average as a slouchy teen can be. The local bullies know this and make it a habit to hit him up for cash, but all that changes when the debonair Sengoku Kaname sends them packing. Sengoku's not the neighborhood watch, though. He's a professional ballroom dancer. And once Fujita Tatara gets pulled into the world of the ballroom, his life will never be the same.
Source: Kodansha Comics
Note: The first episode received an advance screening at the Anime Expo 2017 convention on July 2 in Los Angeles. Later the first episode was digitally distributed by Amazon one day before the regular TV broadcast, which started on 09.07.2017.
*Uploaded [email protected]https://animerss.com
*Do not simply copy and paste the download links to your site. (Thank you!)
いつもありがとうございます!
プレミアムアカウントの有効期限が切れたら、なるべく以下のリンクから新アカウントを購入して頂けませんか。
RapidGator -> https://rapidgator.net/article/premium/ref/22000
Aniemrssご支援いただき、ありがとうございます。
FREE DOWNLOAD/無料ダウンロード :
RG (RapidGator)
Ballroom e Youkoso – Pre-Air Special (MBS 1440×1080 MPEG2 AAC).ts
Ballroom e Youkoso – 01 RAW (MBS 1280×720 x264 AAC).mp4
Ballroom e Youkoso – 02 RAW (BS11 1280×720 x264 AAC).mp4
Ballroom e Youkoso – 03 RAW (BS11 1280×720 x264 AAC).mp4
Ballroom e Youkoso – 03 RAW (MBS 1280×720 x264 AAC).mp4
Ballroom e Youkoso – 04 RAW (MBS 1280×720 x264 AAC).mp4
Ballroom e Youkoso – 05 RAW (MBS 1280×720 x264 AAC).mp4
Ballroom e Youkoso – 06 RAW (BS11 1280×720 x264 AAC).mp4
Ballroom e Youkoso – 07 RAW (BS11 1280×720 x264 AAC).mp4
Ballroom e Youkoso – 08 RAW (MBS 1280×720 x264 AAC).mp4
Ballroom e Youkoso – 09 RAW (MBS 1280×720 x264 AAC).mp4
Ballroom e Youkoso – 10 RAW (MBS 1280×720 x264 AAC).mp4
Ballroom e Youkoso – 11 RAW (MBS 1280×720 x264 AAC).mp4
Ballroom e Youkoso – 12 RAW (MBS 1280×720 x264 AAC).mp4
Ballroom e Youkoso – 13 RAW (MBS 1280×720 x264 AAC).mp4
Ballroom e Youkoso – 14 RAW (MBS 1280×720 x264 AAC).mp4
Ballroom e Youkoso – 15 RAW (MBS 1280×720 x264 AAC).mp4
Ballroom e Youkoso – 16 RAW (MBS 1280×720 x264 AAC).mp4
Ballroom e Youkoso – 17 RAW (BS11 1280×720 x264 AAC).mp4
Ballroom e Youkoso – 18 RAW (MBS 1280×720 x264 AAC).mp4
Ballroom e Youkoso – 19 RAW (MBS 1280×720 x264 AAC).mp4
Ballroom e Youkoso – 20 RAW (MBS 1280×720 x264 AAC).mp4
Ballroom e Youkoso – 21 RAW (MBS 1280×720 x264 AAC).mp4
Ballroom e Youkoso – 22 RAW (MBS 1280×720 x264 AAC).mp4
Ballroom e Youkoso – 23 RAW (MBS 1280×720 x264 AAC).mp4
Ballroom e Youkoso – 24 END (MBS 1280×720 x264 AAC).mp4