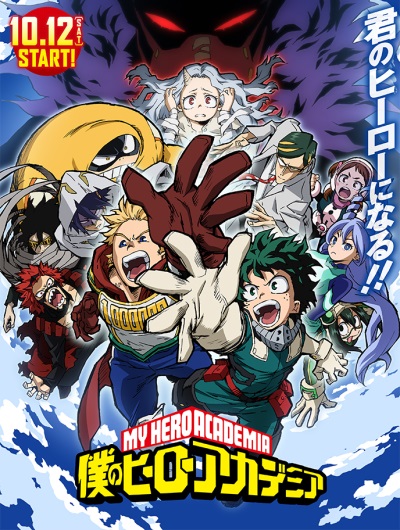 [TVRIP] Boku no Hero Academia (2019) [僕のヒーローアカデミア (2019)] 第01-25話 全
Alternative Titles
English: My Hero Academia Season 4
Official Title 僕のヒーローアカデミア (2019)
Type TV Series, 25 episodes
Year 12.10.2019 till ?
The villain world teeters on the brink of war now that All For One is out of the picture. Shigaraki of the League of Villains squares off with Overhaul of the yakuza, vying for total control of the shadows. Meanwhile, Deku gets tangled in another dangerous internship as he struggles to keep pace with his upperclassman—Mirio.
*Uploaded [email protected]https://animerss.com
*Do not simply copy and paste the download links to your site. (Thank you!)
いつもありがとうございます!
プレミアムアカウントの有効期限が切れたら、なるべく以下のリンクから新アカウントを購入して頂けませんか。
RapidGator -> https://rapidgator.net/article/premium/ref/22000
Aniemrssご支援いただき、ありがとうございます。
FREE DOWNLOAD/無料ダウンロード :
RG (RapidGator)
Boku no Hero Academia 4 – 01 (FBS 1280×720 x264 AAC).mp4
Boku no Hero Academia 4 – 01 (NTV 1280×720 x264 AAC).mp4
Boku no Hero Academia 4 – 02 (NTV 1280×720 x264 AAC).mp4
Boku no Hero Academia 4 – 03 (NTV 1280×720 x264 AAC).mp4
Boku no Hero Academia 4 – 04 (NTV 1280×720 x264 AAC).mp4
Boku no Hero Academia 4 – 05 (NTV 1280×720 x264 AAC).mp4
Boku no Hero Academia 4 – 06 (NTV 1280×720 x264 AAC).mp4
Boku no Hero Academia 4 – 07 (NTV 1280×720 x264 AAC).mp4
Boku no Hero Academia 4 – 08 (NTV 1280×720 x264 AAC) v2.mp4
Boku no Hero Academia 4 – 09 (NTV 1280×720 x264 AAC).mp4
Boku no Hero Academia 4 – 10 (NTV 1280×720 x264 AAC).mp4
Boku no Hero Academia 4 – 11 (NTV 1280×720 x264 AAC).mp4
Boku no Hero Academia 4 – 12 (NTV 1280×720 x264 AAC).mp4
Boku no Hero Academia 4 – 13 (NTV 1280×720 x264 AAC).mp4
Boku no Hero Academia 4 – 14 (NTV 1280×720 x264 AAC).mp4
Boku no Hero Academia 4 – 15 (NTV 1280×720 x264 AAC).mp4
Boku no Hero Academia 4 – 16 (NTV 1280×720 x264 AAC).mp4
Boku no Hero Academia 4 – 17 (NTV 1280×720 x264 AAC).mp4
Boku no Hero Academia 4 – 18 (NTV 1280×720 x264 AAC).mp4
Boku no Hero Academia 4 – 19 (NTV 1280×720 x264 AAC).mp4
Boku no Hero Academia 4 – 20 (NTV 1280×720 x264 AAC).mp4
Boku no Hero Academia 4 – 21 (NTV 1280×720 x264 AAC).mp4
Boku no Hero Academia 4 – 22 (NTV 1280×720 x264 AAC).mp4
Boku no Hero Academia 4 – 23 (NTV 1280×720 x264 AAC).mp4
Boku no Hero Academia 4 – 24 (NTV 1280×720 x264 AAC).mp4
Boku no Hero Academia 4 – 25 END (NTV 1280×720 x264 AAC).mp4