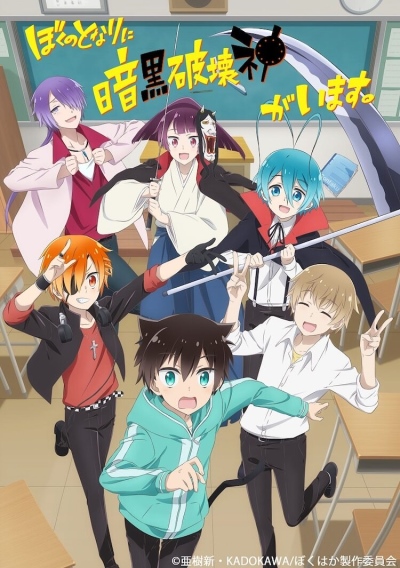 [TVRIP] Boku no Tonari ni Ankoku Hakaishin ga Imasu. [ぼくのとなりに暗黒破壊神がいます.] 第01-12話 全
Alternative Titles
English: A Destructive God Sits Next to Me
Official Title ぼくのとなりに暗黒破壊神がいます.
Type TV Series, unknown number of episodes
Year 11.01.2020 till ?
Koyuki Seri is just trying to have a normal school life, but instead he ends up acting as the straight man to his odd classmate, Hanatori Kabuto. Kabuto is is a delusional high school student, whose fantasies range from believing he is a knight on a journey, to claiming that removing his eyepatch will release a darker alter-ego who he refers to as Michael Offenbarung Dunkelheit. Seri is determined not to let himself get pushed around by Kabuto, but it seems that this will be easier said than done!
*Uploaded [email protected]https://animerss.com
*Do not simply copy and paste the download links to your site. (Thank you!)
いつもありがとうございます!
プレミアムアカウントの有効期限が切れたら、なるべく以下のリンクから新アカウントを購入して頂けませんか。
RapidGator -> https://rapidgator.net/article/premium/ref/22000
Aniemrssご支援いただき、ありがとうございます。
FREE DOWNLOAD/無料ダウンロード :
RG (RapidGator)
Boku no Tonari ni Ankoku Hakaishin ga Imasu. – 01 (AT-X 1280×720 x264 AAC).mp4
Boku no Tonari ni Ankoku Hakaishin ga Imasu. – 02 (AT-X 1280×720 x264 AAC).mp4
Boku no Tonari ni Ankoku Hakaishin ga Imasu. – 03 (AT-X 1280×720 x264 AAC).mp4
Boku no Tonari ni Ankoku Hakaishin ga Imasu. – 04 (AT-X 1280×720 x264 AAC).mp4
Boku no Tonari ni Ankoku Hakaishin ga Imasu. – 05 (AT-X 1280×720 x264 AAC).mp4
Boku no Tonari ni Ankoku Hakaishin ga Imasu. – 06 (AT-X 1280×720 x264 AAC).mp4
Boku no Tonari ni Ankoku Hakaishin ga Imasu. – 07 (AT-X 1280×720 x264 AAC).mp4
Boku no Tonari ni Ankoku Hakaishin ga Imasu. – 08 (AT-X 1280×720 x264 AAC).mp4
Boku no Tonari ni Ankoku Hakaishin ga Imasu. – 09 (AT-X 1280×720 x264 AAC).mp4
Boku no Tonari ni Ankoku Hakaishin ga Imasu. – 10 (AT-X 1280×720 x264 AAC).mp4
Boku no Tonari ni Ankoku Hakaishin ga Imasu. – 11 (AT-X 1280×720 x264 AAC).mp4
Boku no Tonari ni Ankoku Hakaishin ga Imasu. – 12 END (AT-X 1280×720 x264 AAC).mp4