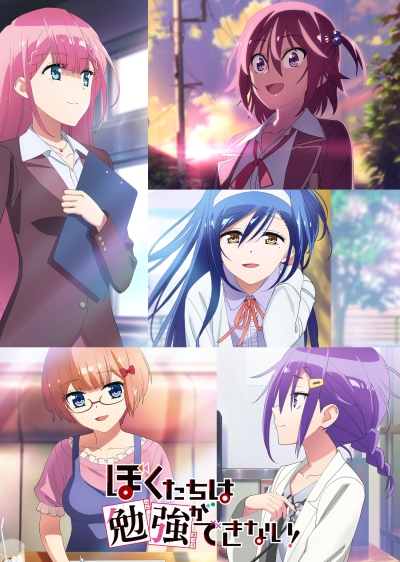 [TVRIP] Bokutachi wa Benkyou ga Dekinai! [ぼくたちは勉強ができない!] 第01-13話 全
Alternative Titles
English: We Never Learn!: Bokuben
Official Title ぼくたちは勉強ができない!
Type TV Series, 13 episodes
Year 06.10.2019 till ?
Yuiga Nariyuki is in his last and most painful year of high school. In order to gain the "special VIP recommendation" which would grant him a full scholarship to college, he becomes a tutor for the three super-geniuses of the academy, Furuhashi Fumino, Ogata Rizu, and Takemoto Uruka. Despite being completely clueless outside of their pet subjects, will they be able to pass the entrance exams to the school of their choice with Nariyuki's guidance!? On top of that, he also has to deal with Kirisu Mafuyu, their seemingly cold-blooded but extremely klutzy teacher, and Kominami Asumi, an alum who works as a maid while trying to get into medical school.
Now, Nariyuki and his students are entering the final stretch of studying before the entrance exams! Meanwhile, could there be signs of love? The romantic comedy featuring our prodigies who never learn returns to the stage as they continue studying and, perhaps, they may even find love!
*Uploaded [email protected]https://animerss.com
*Do not simply copy and paste the download links to your site. (Thank you!)
いつもありがとうございます!
プレミアムアカウントの有効期限が切れたら、なるべく以下のリンクから新アカウントを購入して頂けませんか。
RapidGator -> https://rapidgator.net/article/premium/ref/22000
Aniemrssご支援いただき、ありがとうございます。
FREE DOWNLOAD/無料ダウンロード :
RG (RapidGator)
Bokutachi wa Benkyou ga Dekinai! – 01 (BS11 1280×720 x264 AAC).mp4
Bokutachi wa Benkyou ga Dekinai! – 02 (BS11 1280×720 x264 AAC).mp4
Bokutachi wa Benkyou ga Dekinai! – 03 (BS11 1280×720 x264 AAC).mp4
Bokutachi wa Benkyou ga Dekinai! – 04 (BS11 1280×720 x264 AAC).mp4
Bokutachi wa Benkyou ga Dekinai! – 05 (BS11 1280×720 x264 AAC).mp4
Bokutachi wa Benkyou ga Dekinai – OAD1 (BD 1280×720 x264 AAC).mp4
Bokutachi wa Benkyou ga Dekinai – OAD1 (BD 1920×1080 x264 FLAC).mkv
Bokutachi wa Benkyou ga Dekinai – OAD1 (WHD 1280×720 x264 AAC).mp4
Bokutachi wa Benkyou ga Dekinai! – 06 (BS11 1280×720 x264 AAC).mp4
Bokutachi wa Benkyou ga Dekinai! – 07 (BS11 1280×720 x264 AAC).mp4
Bokutachi wa Benkyou ga Dekinai! – 08 (BS11 1280×720 x264 AAC).mp4
Bokutachi wa Benkyou ga Dekinai! – 09 (BS11 1280×720 x264 AAC).mp4
Bokutachi wa Benkyou ga Dekinai! – 10 (BS11 1280×720 x264 AAC).mp4
Bokutachi wa Benkyou ga Dekinai! – 11 (BS11 1280×720 x264 AAC).mp4
Bokutachi wa Benkyou ga Dekinai! – 12 (BS11 1280×720 x264 AAC).mp4
Bokutachi wa Benkyou ga Dekinai! – 13 END (BS11 1280×720 x264 AAC).mp4