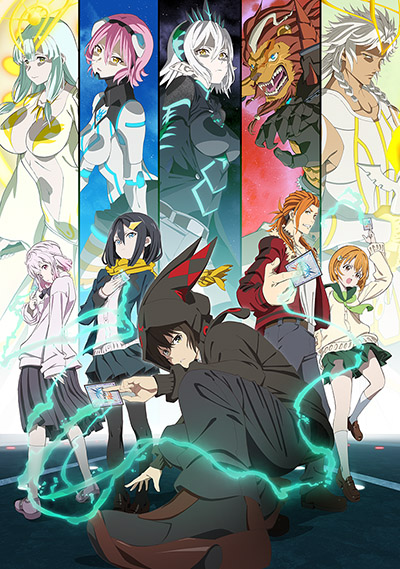 [TVRIP] Build Divide: Code Black [Build Divide -#000000- Code Black] 第01-12話 全
Alternative Titles
English: BUILD DIVIDE -#000000-
Official Title Build Divide -#000000- Code Black
Type TV Series, 12 episodes
Year 10.10.2021 until ?
In a city where the King reigns supreme, your strength in BuildDivide determines everything…
There is a rumor circulating in Shin Kyoto. "Anyone able to defeat the King in Build-Divide shall be granted whatever their heart desires." In order to challenge the King, one must first enter the battle known as Rebuild. There, they will have to complete the "Key."
— Everyone Has a Wish They Hope To Have Granted—
The young Kurabe Teruto vows to defeat the King so that he can get what he longs for. He, with a little guidance from the mysterious Banka Sakura, dives headfirst into the Rebuild Battle. Now, the city of Shin Kyoto is the stage and BUILD-DIVIDE is the game!
*Uploaded [email protected]https://animerss.com
*Do not simply copy and paste the download links to your site. (Thank you!)
いつもありがとうございます!
プレミアムアカウントの有効期限が切れたら、なるべく以下のリンクから新アカウントを購入して頂けませんか。
RapidGator -> https://rapidgator.net/article/premium/ref/22000
Aniemrssご支援いただき、ありがとうございます。
FREE DOWNLOAD/無料ダウンロード :
RG (RapidGator)
Build Divide Code Black – 01 (BS11 1280×720 x264 AAC).mp4
Build Divide Code Black – 02 (BS11 1280×720 x264 AAC).mp4
Build Divide Code Black – 03 (BS11 1280×720 x264 AAC).mp4
Build Divide Code Black – 04 (BS11 1280×720 x264 AAC).mp4
Build Divide Code Black – 05 (BS11 1280×720 x264 AAC).mp4
Build Divide Code Black – 06 (BS11 1280×720 x264 AAC).mp4
Build Divide Code Black – 07 (BS11 1280×720 x264 AAC).mp4
Build Divide Code Black – 08 (BS11 1280×720 x264 AAC).mp4
Build Divide Code Black – 09 (BS11 1280×720 x264 AAC).mp4
Build Divide Code Black – 10 (BS11 1280×720 x264 AAC).mp4
Build Divide Code Black – 11 (BS11 1280×720 x264 AAC).mp4
Build Divide Code Black – 12 END (BS11 1280×720 x264 AAC).mp4