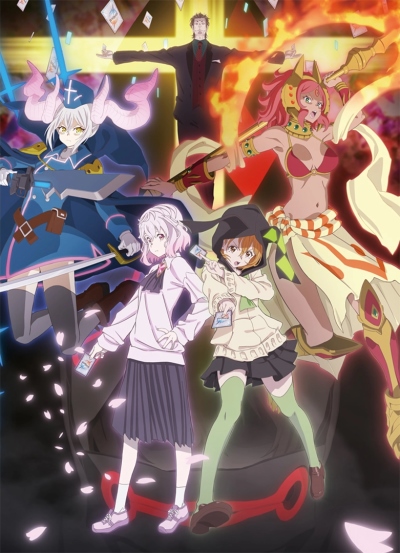 [TVRIP] Build Divide: Code White [Build Divide -#FFFFFF- Code White] 第01-12話 全
Alternative Titles
English: BUILD DIVIDE -#FFFFFF-
Official Title Build Divide -#FFFFFF- Code White
Type TV Series, 12 episodes
Year 03.04.2022 until ?
Neo Kyoto…a city ruled by the "King." This is where players challenge the King in "Rebuild Battles," hoping to get their wishes fulfilled. But there's more to Neo Kyoto than meets the eye: it's a virtual realm where the best Build-Divide players are chosen to be connected to the main CPU, and then fused with the program running the city. There, Teruto's battle was all about rescuing the trapped Kikka from her role as the main CPU…
Time passed, and it's three years later…
Neo Kyoto is now a city in ruins, looking nothing like it did before. The people are being rounded up by the King's servants, known as KUGE, and deposited into "Barrels" to steal their magical power. All in order to keep the King going…
And now a girl appears, with the KUGE in pursuit. She's the former King, Kurabe Kikka. Although she was once known as the most powerful King in Neo Kyoto's history, even Kikka is helpless against the KUGE, and is constantly on the run from them. After all, Kikka has no Build-Divide deck in hand. Day after day, she continues to flee with no respite, consumed by all kinds of regrets. Now that she's on the brink of despair, who should reach out a helping hand to her but…?
In the ruins of Neo Kyoto, the two girls take each other by the hand. And now, their battle is about to begin…the one that will lead them to the person that they both cherish.
*Uploaded [email protected]https://animerss.com
*Do not simply copy and paste the download links to your site. (Thank you!)
いつもありがとうございます!
プレミアムアカウントの有効期限が切れたら、なるべく以下のリンクから新アカウントを購入して頂けませんか。
RapidGator -> https://rapidgator.net/article/premium/ref/22000
Aniemrssご支援いただき、ありがとうございます。
FREE DOWNLOAD/無料ダウンロード :
RG (RapidGator)
Build Divide Code White – 01 (BS11 1280×720 x264 AAC).mp4
Build Divide Code White – 02 (BS11 1280×720 x264 AAC).mp4
Build Divide Code White – 03 (BS11 1280×720 x264 AAC).mp4
Build Divide Code White – 04 (BS11 1280×720 x264 AAC).mp4
Build Divide Code White – 05 (BS11 1280×720 x264 AAC).mp4
Build Divide Code White – 06 (BS11 1280×720 x264 AAC).mp4
Build Divide Code White – 07 (BS11 1280×720 x264 AAC).mp4
Build Divide Code White – 08 (BS11 1280×720 x264 AAC).mp4
Build Divide Code White – 09 (BS11 1280×720 x264 AAC).mp4
Build Divide Code White – 10 (BS11 1280×720 x264 AAC).mp4
Build Divide Code White – 11 (BS11 1280×720 x264 AAC).mp4
Build Divide Code White – 12 END (BS11 1280×720 x264 AAC).mp4