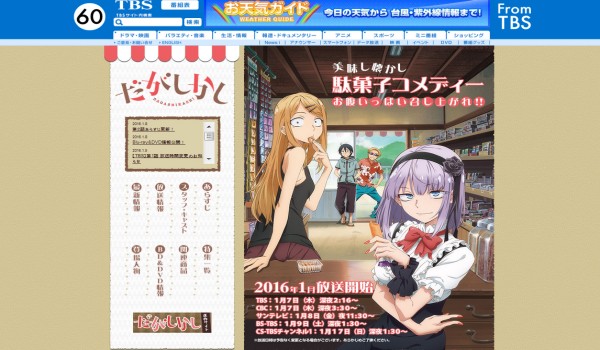 Title: [TVRIP] Dagashi Kashi [だがしかし] 第01-12話 全
Anime Information
Japanese Title: だがしかし
English Title: Dagashi Kashi
Type: TV Series, unknown number of episodes
Year: 08.01.2016 till ?
Categories: manga, shounen
AniDB: http://anidb.net/perl-bin/animedb.pl?show=anime&aid=11601
Plot Summary: Animerss.com
Shikada You owns a rural sweets shop, and his plan is for his son Kokonotsu to take it over one day, but Kokonotsu wants to be a manga author instead. One day, the heir to the well-known sweets maker Shidare Company, the cute but weird Shidare Hotaru, pays them a visit. Apparently, You is famous, and she wants him to join her father's company, but he will agree only if she can convince Kokonotsu to inherit the shop and continue the family business.
----ダウンロード・/Download↓----
*Uploaded [email protected]https://animerss.com
*Do not simply copy and paste the download links to your site. (Thank you!)
いつもありがとうございます!
プレミアムアカウントの有効期限が切れたら、なるべく以下のリンクから新アカウントを購入して頂けませんか。
RapidGator -> http://rapidgator.net/account/registration/ref/22000
ANIMERSSご支援いただき、ありがとうございます。
*Download Prenium Here*
RG (RapidGator)
Dagashi Kashi – 01 RAW (TBS 1280×720 x264 AAC).mp4
Dagashi Kashi – 02 RAW (TBS 1280×720 x264 AAC).mp4
Dagashi Kashi – 03 RAW (TBS 1280×720 x264 AAC).mp4
Dagashi Kashi – 04 RAW (TBS 1280×720 x264 AAC).mp4
Dagashi Kashi – 05 RAW (TBS 1280×720 x264 AAC).mp4
Dagashi Kashi – 07 RAW (TBS 1280×720 x264 AAC).mp4
Dagashi Kashi – 09 RAW (TBS 1280×720 x264 AAC).mp4
Dagashi Kashi – 10 RAW (TBS 1280×720 x264 AAC).mp4
Dagashi Kashi – 11 RAW (TBS 1280×720 x264 AAC).mp4
Dagashi Kashi – 12 END (TBS 1280×720 x264 AAC).mp4
*Download Free Here*
DF (DataFile)
Dagashi Kashi – 01 RAW (TBS 1280×720 x264 AAC).mp4
Dagashi Kashi – 02 RAW (TBS 1280×720 x264 AAC).mp4
Dagashi Kashi – 03 RAW (TBS 1280×720 x264 AAC).mp4
Dagashi Kashi – 04 RAW (TBS 1280×720 x264 AAC).mp4
Dagashi Kashi – 05 RAW (TBS 1280×720 x264 AAC).mp4
Dagashi Kashi – 07 RAW (TBS 1280×720 x264 AAC).mp4
Dagashi Kashi – 09 RAW (TBS 1280×720 x264 AAC).mp4
Dagashi Kashi – 10 RAW (TBS 1280×720 x264 AAC).mp4
Dagashi Kashi – 11 RAW (TBS 1280×720 x264 AAC).mp4
Dagashi Kashi – 12 END (TBS 1280×720 x264 AAC).mp4
BF (BigFile)
Dagashi Kashi – 10 RAW (TBS 1280×720 x264 AAC).mp4
Dagashi Kashi – 11 RAW (TBS 1280×720 x264 AAC).mp4
Dagashi Kashi – 12 END (TBS 1280×720 x264 AAC).mp4
SF (SaleFiles)
Dagashi Kashi – 01 RAW (TBS 1280×720 x264 AAC).mp4
Dagashi Kashi – 02 RAW (TBS 1280×720 x264 AAC).mp4
Dagashi Kashi – 03 RAW (TBS 1280×720 x264 AAC).mp4
Dagashi Kashi – 04 RAW (TBS 1280×720 x264 AAC).mp4
Dagashi Kashi – 05 RAW (TBS 1280×720 x264 AAC).mp4
Dagashi Kashi – 07 RAW (TBS 1280×720 x264 AAC).mp4
Dagashi Kashi – 09 RAW (TBS 1280×720 x264 AAC).mp4
Dagashi Kashi – 10 RAW (TBS 1280×720 x264 AAC).mp4
Dagashi Kashi – 11 RAW (TBS 1280×720 x264 AAC).mp4
Dagashi Kashi – 12 END (TBS 1280×720 x264 AAC).mp4
FS (FastStore)
Dagashi Kashi – 01 RAW (TBS 1280×720 x264 AAC).mp4
Dagashi Kashi – 02 RAW (TBS 1280×720 x264 AAC).mp4
Dagashi Kashi – 03 RAW (TBS 1280×720 x264 AAC).mp4
Dagashi Kashi – 04 RAW (TBS 1280×720 x264 AAC).mp4
Dagashi Kashi – 05 RAW (TBS 1280×720 x264 AAC).mp4
Dagashi Kashi – 07 RAW (TBS 1280×720 x264 AAC).mp4
Dagashi Kashi – 09 RAW (TBS 1280×720 x264 AAC).mp4
Dagashi Kashi – 10 RAW (TBS 1280×720 x264 AAC).mp4
Dagashi Kashi – 11 RAW (TBS 1280×720 x264 AAC).mp4
Dagashi Kashi – 12 END (TBS 1280×720 x264 AAC).mp4
TB (TurboBit)
Dagashi Kashi – 01 RAW (TBS 1280×720 x264 AAC).mp4
Dagashi Kashi – 02 RAW (TBS 1280×720 x264 AAC).mp4
Dagashi Kashi – 03 RAW (TBS 1280×720 x264 AAC).mp4
Dagashi Kashi – 04 RAW (TBS 1280×720 x264 AAC).mp4
Dagashi Kashi – 05 RAW (TBS 1280×720 x264 AAC).mp4
Dagashi Kashi – 07 RAW (TBS 1280×720 x264 AAC).mp4
Dagashi Kashi – 09 RAW (TBS 1280×720 x264 AAC).mp4
Dagashi Kashi – 10 RAW (TBS 1280×720 x264 AAC).mp4
Dagashi Kashi – 11 RAW (TBS 1280×720 x264 AAC).mp4
Dagashi Kashi – 12 END (TBS 1280×720 x264 AAC).mp4