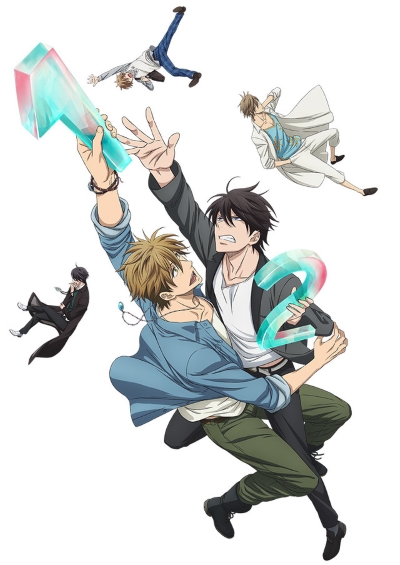 [TVRIP] Dakaretai Otoko 1-i ni Odosarete Imasu. [抱かれたい男1位に脅されています.] 第01-12話
Alternative Titles
English: Dakaichi: I`m Being Harassed by the Sexiest Man of the Year
Official Title 抱かれたい男1位に脅されています.
Type TV Series, unknown number of episodes
Year 06.10.2018 till ?
Saijyo Takato has reigned as the idol industry's "Most Huggable" for five years, that is, until freshman actor Azumaya Junta appeared. Takato was always considered brusque while Azumaya's smile is winning over admirers by comparison. The whole fiasco drives Takuto to over indulge in alcohol and his actions catch the attention of the last person he wants to see. To his surprise, Azumaya uses this new info to blackmail Takuto for physical affection.
*Uploaded [email protected]https://animerss.com
*Do not simply copy and paste the download links to your site. (Thank you!)
いつもありがとうございます!
プレミアムアカウントの有効期限が切れたら、なるべく以下のリンクから新アカウントを購入して頂けませんか。
RapidGator -> https://rapidgator.net/article/premium/ref/22000
Aniemrssご支援いただき、ありがとうございます。
FREE DOWNLOAD/無料ダウンロード :
RG (RapidGator)
Dakaretai Otoko 1-i ni Odosarete Imasu. – 01 (BS11 1280×720 x264 AAC).mp4
Dakaretai Otoko 1-i ni Odosarete Imasu. – 02 (AT-X 1280×720 x264 AAC).mp4
Dakaretai Otoko 1-i ni Odosarete Imasu. – 03 (AT-X 1280×720 x264 AAC).mp4
Dakaretai Otoko 1-i ni Odosarete Imasu. – 04 (AT-X 1280×720 x264 AAC).mp4
Dakaretai Otoko 1-i ni Odosarete Imasu. – 05 (AT-X 1280×720 x264 AAC).mp4
Dakaretai Otoko 1-i ni Odosarete Imasu. – 06 (AT-X 1280×720 x264 AAC).mp4
Dakaretai Otoko 1-i ni Odosarete Imasu. – 07 (AT-X 1280×720 x264 AAC).mp4
Dakaretai Otoko 1-i ni Odosarete Imasu. – 08 (AT-X 1280×720 x264 AAC).mp4
Dakaretai Otoko 1-i ni Odosarete Imasu. – 09 (AT-X 1280×720 x264 AAC).mp4
Dakaretai Otoko 1-i ni Odosarete Imasu. – 10 (AT-X 1280×720 x264 AAC).mp4
Dakaretai Otoko 1-i ni Odosarete Imasu. – 11 (AT-X 1280×720 x264 AAC).mp4
Dakaretai Otoko 1-i ni Odosarete Imasu. – 12 (AT-X 1280×720 x264 AAC).mp4