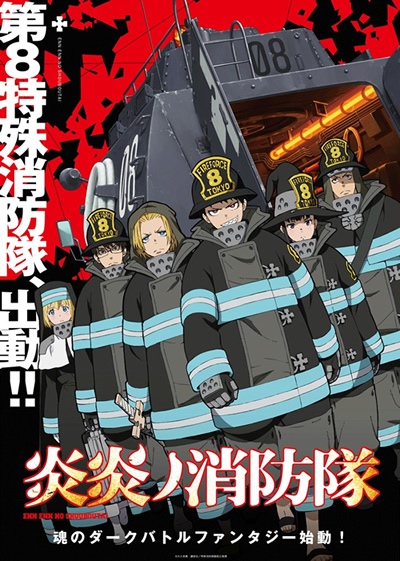 [TVRIP] En`en no Shouboutai [炎炎ノ消防隊] 第01-22話
Alternative Titles
English: Fire Force
Official Title 炎炎ノ消防隊
Type TV Series, 24 episodes
Year 06.07.2019 till ?
Year 198 of the Solar Era in Tokyo, special fire brigades are fighting against a phenomenon called spontaneous human combustion where humans beings are turned into living infernos called "Infernals". While the Infernals are first generation cases of spontaneous human combustion, later generations possess the ability to manipulate flames while retaining human form. Shinra Kusakabe, a youth who gained the nickname Devil's Footprints for his ability to ignite his feet at will, joins the Special Fire Force Company 8 which is comprised of other flame users as they work to extinguish any Infernals they encounter. As a faction that is creating Infernals appears, Shira begins to uncover the truth behind a mysterious fire that caused the death of his family twelve years ago.
*Uploaded [email protected]https://animerss.com
*Do not simply copy and paste the download links to your site. (Thank you!)
いつもありがとうございます!
プレミアムアカウントの有効期限が切れたら、なるべく以下のリンクから新アカウントを購入して頂けませんか。
RapidGator -> https://rapidgator.net/article/premium/ref/22000
Aniemrssご支援いただき、ありがとうございます。
FREE DOWNLOAD/無料ダウンロード :
RG (RapidGator)
En`en no Shouboutai – 01 (TBS 1280×720 x264 AAC).mp4
En`en no Shouboutai – 02 (TBS 1280×720 x264 AAC).mp4
En`en no Shouboutai – 03 (TBS 1280×720 x264 AAC).mp4
En`en no Shouboutai – 04 (TBS 1280×720 x264 AAC).mp4
En`en no Shouboutai – 05 (TBS 1280×720 x264 AAC).mp4
En`en no Shouboutai – 06 (TBS 1280×720 x264 AAC).mp4
En`en no Shouboutai – 07 (TBS 1280×720 x264 AAC).mp4
En`en no Shouboutai – 08 (TBS 1280×720 x264 AAC).mp4
En`en no Shouboutai – 09 (TBS 1280×720 x264 AAC).mp4
En`en no Shouboutai – 10 (TBS 1280×720 x264 AAC).mp4
En`en no Shouboutai – 11 (TBS 1280×720 x264 AAC).mp4
En`en no Shouboutai – 12 (TBS 1280×720 x264 AAC).mp4
En`en no Shouboutai – 13 (TBS 1280×720 x264 AAC).mp4
En`en no Shouboutai – 14 (TBS 1280×720 x264 AAC).mp4
En`en no Shouboutai – 15 (TBS 1280×720 x264 AAC).mp4
En`en no Shouboutai – 16 (TBS 1280×720 x264 AAC).mp4
En`en no Shouboutai – 17 (TBS 1280×720 x264 AAC).mp4
En`en no Shouboutai – 18 (TBS 1280×720 x264 AAC).mp4
En`en no Shouboutai – 19 (TBS 1280×720 x264 AAC).mp4
En`en no Shouboutai – 20 (TBS 1280×720 x264 AAC).mp4
En`en no Shouboutai – 21 (TBS 1280×720 x264 AAC).mp4
En`en no Shouboutai – 22 (TBS 1280×720 x264 AAC).mp4