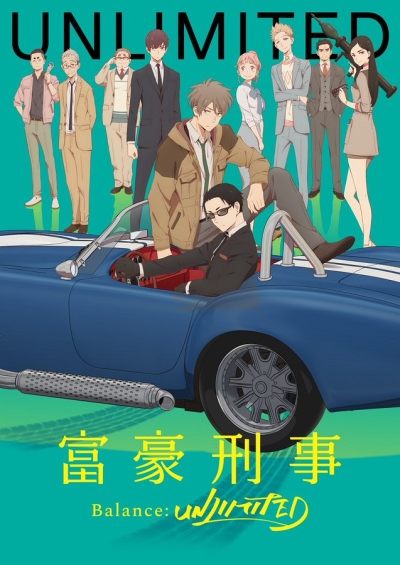 [TVRIP] Fugou Keiji – Balance:Unlimited [富豪刑事 Balance:UNLIMITED] 第01-11話 全
Alternative Titles
English: The Millionaire Detective – Balance: Unlimited
Official Title 富豪刑事 Balance:UNLIMITED
Type TV Series, 11 episodes
Year 10.04.2020 till ?
The story centers around millionaire Kanbe Daisuke, the heir to one of the wealthiest families in Japan, who is assigned as a detective to the Modern Crime Prevention Task Force (aka MCPTF), at the Tokyo Metropolitan Police Department. Taking full advantage of his vast family wealth, he spares no expense in solving complex crimes, and has the tendency to evaluate everything including individual human lives in terms of their monetary value. Katou Haru, a detective with a compassionate heart who believes that money isn't everything, is chosen as Kanbe's partner but is repulsed by his materialistic attitude. Having diametrically opposing personalities, witness how the two join forces to tackle seemingly unsolvable crimes and mysteries!
*Uploaded [email protected]https://animerss.com
*Do not simply copy and paste the download links to your site. (Thank you!)
いつもありがとうございます!
プレミアムアカウントの有効期限が切れたら、なるべく以下のリンクから新アカウントを購入して頂けませんか。
RapidGator -> https://rapidgator.net/article/premium/ref/22000
Aniemrssご支援いただき、ありがとうございます。
FREE DOWNLOAD/無料ダウンロード :
RG (RapidGator)
Fugou Keiji – Balance Unlimited – 01 (CX 1280×720 x264 AAC).mp4
Fugou Keiji – Balance Unlimited – 02 (CX 1280×720 x264 AAC).mp4
Fugou Keiji – Balance Unlimited – 03 (CX 1280×720 x264 AAC).mp4
Fugou Keiji – Balance Unlimited – 04 (CX 1280×720 x264 AAC).mp4
Fugou Keiji – Balance Unlimited – 05 (CX 1280×720 x264 AAC).mp4
Fugou Keiji – Balance Unlimited – 06 (CX 1280×720 x264 AAC).mp4
Fugou Keiji – Balance Unlimited – 07 (CX 1280×720 x264 AAC).mp4
Fugou Keiji – Balance Unlimited – 08 (CX 1280×720 x264 AAC).mp4
Fugou Keiji – Balance Unlimited – 09 (CX 1280×720 x264 AAC).mp4
Fugou Keiji – Balance Unlimited – 10 (CX 1280×720 x264 AAC).mp4
Fugou Keiji – Balance Unlimited – 11 END (CX 1280×720 x264 AAC).mp4