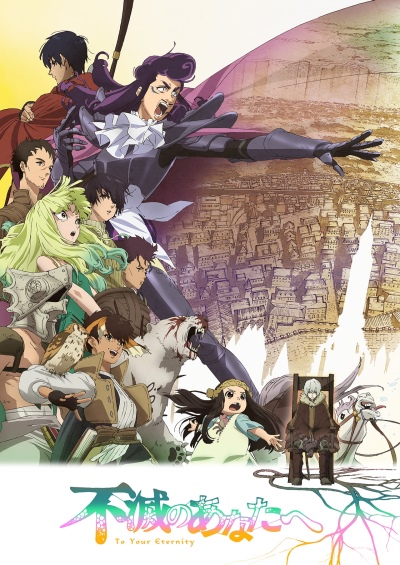 [TVRIP] Fumetsu no Anata e Season 2 [不滅のあなたへ Season2] 第01-20話
Alternative Titles
English: To Your Eternity Season 2
Official Title 不滅のあなたへ Season2
Type TV Series, 20 episodes
Year 23.10.2022 until ?
Season Autumn 2022
In the beginning, Fushi was an "orb" cast unto Earth. As Fushi, he saw the passing of a little girl/mother figure, an extraordinary older brother, friends on the battlefield, and finally, an old woman – allowing him to grow into something akin to human.
Decades have passed.
Archenemy Nokker is again on the attack, and the world is in chaos. Fushi must break his long silence and rise. But wait. He can fight alone. But he cannot protect all, alone. Will he fight, knowing there will be new casualties, or…
Fushi and his warriors embark on a battle to save the future.
*Uploaded by@https://animerss.com
*Do not simply copy and paste the download links to your site. (Thank you!)
いつもありがとうございます!
プレミアムアカウントの有効期限が切れたら、なるべく以下のリンクから新アカウントを購入して頂けませんか。
RapidGator -> https://rapidgator.net/article/premium/ref/22000
Aniemrssご支援いただき、ありがとうございます。
FREE DOWNLOAD/無料ダウンロード :
RG (RapidGator)
Fumetsu no Anata e Season 2 – 01 (NHKE 1280×720 x264 AAC).mp4
Fumetsu no Anata e Season 2 – 02 (NHKE 1280×720 x264 AAC).mp4
Fumetsu no Anata e Season 2 – 03 (NHKE 1280×720 x264 AAC).mp4
Fumetsu no Anata e Season 2 – 04 (NHKE 1280×720 x264 AAC).mp4
Fumetsu no Anata e Season 2 – 05 (NHKE 1280×720 x264 AAC).mp4
Fumetsu no Anata e Season 2 – 06 (NHKE 1280×720 x264 AAC).mp4
Fumetsu no Anata e Season 2 – 07 (NHKE 1280×720 x264 AAC).mp4
Fumetsu no Anata e Season 2 – 08 (NHKE 1280×720 x264 AAC).mp4
Fumetsu no Anata e Season 2 – 09 (NHKE 1280×720 x264 AAC).mp4
Fumetsu no Anata e Season 2 – 10 (NHKE 1280×720 x264 AAC).mp4
Fumetsu no Anata e Season 2 – 11 (NHKE 1280×720 x264 AAC).mp4
Fumetsu no Anata e Season 2 – 12 (NHKE 1280×720 x264 AAC).mp4
Fumetsu no Anata e Season 2 – 13 (NHKE 1280×720 x264 AAC).mp4
Fumetsu no Anata e Season 2 – 14 (NHKE 1280×720 x264 AAC).mp4
Fumetsu no Anata e Season 2 – 15 (NHKE 1280×720 x264 AAC).mp4
Fumetsu no Anata e Season 2 – 16 (NHKE 1280×720 x264 AAC).mp4
Fumetsu no Anata e Season 2 – 17 (NHKE 1280×720 x264 AAC).mp4
Fumetsu no Anata e Season 2 – 18 (NHKE 1280×720 x264 AAC).mp4
Fumetsu no Anata e Season 2 – 19 (NHKE 1280×720 x264 AAC).mp4
Fumetsu no Anata e Season 2 – 20 (NHKE 1280×720 x264 AAC).mp4