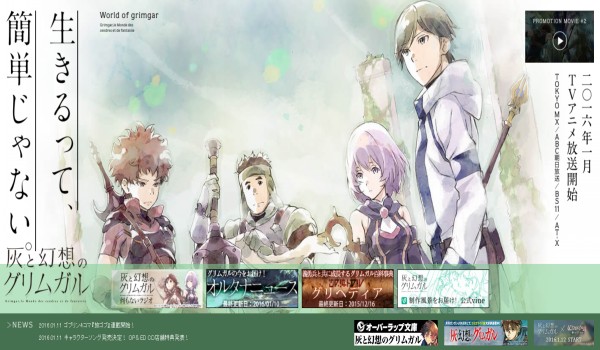 Title: [TVRIP] Hai to Gensou no Grimgar [灰と幻想のグリムガル] 第01-12話 全
Anime Information
Japanese Title: 灰と幻想のグリムガル
English Title: Grimgar of Fantasy and Ash
Type: TV Series, unknown number of episodes
Year: 11.01.2016 till ?
Categories: novel
AniDB: http://anidb.net/perl-bin/animedb.pl?show=anime&aid=11712
Plot Summary: Animerss.com
When Haruhito awakens, he's in the dark. He doesn't know where he is, why he is here, and where he came from. Around him there are several men and women who have the same circumstances. Haruhito and his companions find themselves in a game-like world called Grimgar and must form a party, cooperate, and learn new skills to survive the harsh environment together.
----ダウンロード・/Download↓----
*Uploaded [email protected]https://animerss.com
*Do not simply copy and paste the download links to your site. (Thank you!)
いつもありがとうございます!
プレミアムアカウントの有効期限が切れたら、なるべく以下のリンクから新アカウントを購入して頂けませんか。
RapidGator -> http://rapidgator.net/account/registration/ref/22000
ANIMERSSご支援いただき、ありがとうございます。
*Download Prenium Here*
RG (RapidGator)
Hai to Gensou no Grimgar – 01 RAW (ATX 1280×720 x264 AAC).mp4
Hai to Gensou no Grimgar – 02 RAW (ATX 1280×720 x264 AAC).mp4
Hai to Gensou no Grimgar – 03 RAW (ATX 1280×720 x264 AAC).mp4
Hai to Gensou no Grimgar – 04 RAW (ATX 1280×720 x264 AAC).mp4
Hai to Gensou no Grimgar – 05 RAW (ATX 1280×720 x264 AAC).mp4
Hai to Gensou no Grimgar – 07 RAW (ATX 1280×720 x264 AAC).mp4
Hai to Gensou no Grimgar – 08 RAW (ATX 1280×720 x264 AAC).mp4
Hai to Gensou no Grimgar – 09 RAW (ATX 1280×720 x264 AAC).mp4
Hai to Gensou no Grimgar – 10 RAW (ATX 1280×720 x264 AAC).mp4
Hai to Gensou no Grimgar – 11 RAW (ATX 1280×720 x264 AAC).mp4
Hai to Gensou no Grimgar – 12 END (ATX 1280×720 x264 AAC).mp4
*Download Free Here*
DF (DataFile)
Hai to Gensou no Grimgar – 01 RAW (ATX 1280×720 x264 AAC).mp4
Hai to Gensou no Grimgar – 02 RAW (ATX 1280×720 x264 AAC).mp4
Hai to Gensou no Grimgar – 03 RAW (ATX 1280×720 x264 AAC).mp4
Hai to Gensou no Grimgar – 04 RAW (ATX 1280×720 x264 AAC).mp4
Hai to Gensou no Grimgar – 05 RAW (ATX 1280×720 x264 AAC).mp4
Hai to Gensou no Grimgar – 07 RAW (ATX 1280×720 x264 AAC).mp4
Hai to Gensou no Grimgar – 08 RAW (ATX 1280×720 x264 AAC).mp4
Hai to Gensou no Grimgar – 09 RAW (ATX 1280×720 x264 AAC).mp4
Hai to Gensou no Grimgar – 10 RAW (ATX 1280×720 x264 AAC).mp4
Hai to Gensou no Grimgar – 11 RAW (ATX 1280×720 x264 AAC).mp4
Hai to Gensou no Grimgar – 12 END (ATX 1280×720 x264 AAC).mp4
BF (BigFile)
Hai to Gensou no Grimgar – 10 RAW (ATX 1280×720 x264 AAC).mp4
Hai to Gensou no Grimgar – 11 RAW (ATX 1280×720 x264 AAC).mp4
Hai to Gensou no Grimgar – 12 END (ATX 1280×720 x264 AAC).mp4
SF (SaleFiles)
Hai to Gensou no Grimgar – 01 RAW (ATX 1280×720 x264 AAC).mp4
Hai to Gensou no Grimgar – 02 RAW (ATX 1280×720 x264 AAC).mp4
Hai to Gensou no Grimgar – 04 RAW (ATX 1280×720 x264 AAC).mp4
Hai to Gensou no Grimgar – 05 RAW (ATX 1280×720 x264 AAC).mp4
Hai to Gensou no Grimgar – 07 RAW (ATX 1280×720 x264 AAC).mp4
Hai to Gensou no Grimgar – 08 RAW (ATX 1280×720 x264 AAC).mp4
Hai to Gensou no Grimgar – 09 RAW (ATX 1280×720 x264 AAC).mp4
Hai to Gensou no Grimgar – 10 RAW (ATX 1280×720 x264 AAC).mp4
Hai to Gensou no Grimgar – 11 RAW (ATX 1280×720 x264 AAC).mp4
Hai to Gensou no Grimgar – 12 END (ATX 1280×720 x264 AAC).mp4
FS (FastStore)
Hai to Gensou no Grimgar – 01 RAW (ATX 1280×720 x264 AAC).mp4
Hai to Gensou no Grimgar – 02 RAW (ATX 1280×720 x264 AAC).mp4
Hai to Gensou no Grimgar – 03 RAW (ATX 1280×720 x264 AAC).mp4
Hai to Gensou no Grimgar – 04 RAW (ATX 1280×720 x264 AAC).mp4
Hai to Gensou no Grimgar – 05 RAW (ATX 1280×720 x264 AAC).mp4
Hai to Gensou no Grimgar – 07 RAW (ATX 1280×720 x264 AAC).mp4
Hai to Gensou no Grimgar – 08 RAW (ATX 1280×720 x264 AAC).mp4
Hai to Gensou no Grimgar – 09 RAW (ATX 1280×720 x264 AAC).mp4
Hai to Gensou no Grimgar – 10 RAW (ATX 1280×720 x264 AAC).mp4
Hai to Gensou no Grimgar – 11 RAW (ATX 1280×720 x264 AAC).mp4
Hai to Gensou no Grimgar – 12 END (ATX 1280×720 x264 AAC).mp4
TB (TurboBit)
Hai to Gensou no Grimgar – 01 RAW (ATX 1280×720 x264 AAC).mp4
Hai to Gensou no Grimgar – 02 RAW (ATX 1280×720 x264 AAC).mp4
Hai to Gensou no Grimgar – 03 RAW (ATX 1280×720 x264 AAC).mp4
Hai to Gensou no Grimgar – 04 RAW (ATX 1280×720 x264 AAC).mp4
Hai to Gensou no Grimgar – 05 RAW (ATX 1280×720 x264 AAC).mp4
Hai to Gensou no Grimgar – 07 RAW (ATX 1280×720 x264 AAC).mp4
Hai to Gensou no Grimgar – 08 RAW (ATX 1280×720 x264 AAC).mp4
Hai to Gensou no Grimgar – 09 RAW (ATX 1280×720 x264 AAC).mp4
Hai to Gensou no Grimgar – 10 RAW (ATX 1280×720 x264 AAC).mp4
Hai to Gensou no Grimgar – 11 RAW (ATX 1280×720 x264 AAC).mp4
Hai to Gensou no Grimgar – 12 END (ATX 1280×720 x264 AAC).mp4