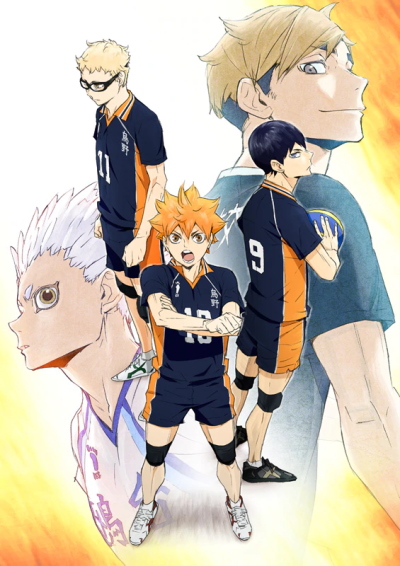 [TVRIP] Haikyuu!! To the Top [ハイキュー!! TO THE TOP] 第01-13話 全
Alternative Titles
English: Haikyu!! To the Top
Official Title ハイキュー!! TO THE TOP
Type TV Series, 13 episodes
Year 11.01.2020 till ?
Tags manga
The Miyagi Prefecture qualifiers for the Spring Tournament… after an intense battle Karasuno High School Volleyball Club won their way into the nationals.
As they were preparing for the nationals, Kageyama got an invitation to go to All-Japan Youth Training Camp. At the same time, Tsukishima is invited to go to a special rookie select training camp for first-years in Miyagi Prefecture. Hinata feels panic that he's being left behind as one of the first-years and then decides to show up at the Miyagi Prefecture rookie select training camp anyway…
As they prepare for the nationals, Hinata, Kageyama and the rest of the Karasuno High School Volleyball team get ready to face some new challenges!!
*Uploaded [email protected]https://animerss.com
*Do not simply copy and paste the download links to your site. (Thank you!)
いつもありがとうございます!
プレミアムアカウントの有効期限が切れたら、なるべく以下のリンクから新アカウントを購入して頂けませんか。
RapidGator -> https://rapidgator.net/article/premium/ref/22000
Aniemrssご支援いただき、ありがとうございます。
FREE DOWNLOAD/無料ダウンロード :
RG (RapidGator)
Haikyuu!! To the Top – 01 (TBS 1280×720 x264 AAC).mp4
Haikyuu!! To the Top – 02 (TBS 1280×720 x264 AAC).mp4
Haikyuu!! To the Top – 03 (TBS 1280×720 x264 AAC).mp4
Haikyuu!! To the Top – 04 (TBS 1280×720 x264 AAC).mp4
Haikyuu!! To the Top – 05 (TBS 1280×720 x264 AAC).mp4
Haikyuu!! To the Top – 06 (TBS 1280×720 x264 AAC).mp4
Haikyuu!! To the Top – 07 (TBS 1280×720 x264 AAC).mp4
Haikyuu!! To the Top – 08 (TBS 1280×720 x264 AAC).mp4
Haikyuu!! To the Top – 09 (TBS 1280×720 x264 AAC).mp4
Haikyuu!! To the Top – 10 (TBS 1280×720 x264 AAC).mp4
Haikyuu!! To the Top – 11 (TBS 1280×720 x264 AAC).mp4
Haikyuu!! To the Top – 12 (TBS 1280×720 x264 AAC).mp4
Haikyuu!! To the Top – 13 END (TBS 1280×720 x264 AAC).mp4