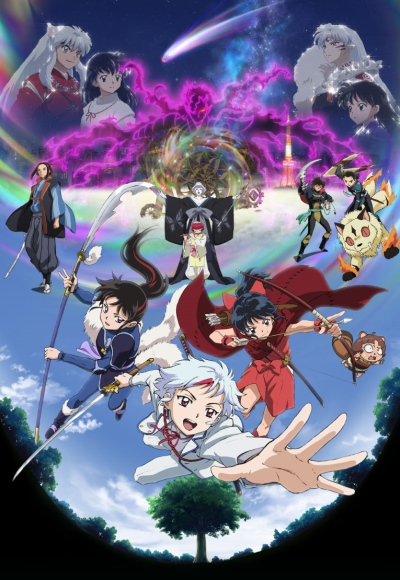 [TVRIP] Han`you no Yashahime: Sengoku Otogizoushi (2021) [半妖の夜叉姫 -戦国御伽草子- (2021)] 第01-24話 全
Alternative Titles
English: Yashahime: Princess Half-Demon (2021)
Official Title 半妖の夜叉姫 -戦国御伽草子- (2021)
Type TV Series, unknown number of episodes
Year 02.10.2021 until ?
Set in feudal Japan, half-demon twins Towa and Setsuna are separated from each other during a forest fire. While desperately searching for her younger sister, Towa wanders into a mysterious tunnel that sends her into present-day Japan, where she is found and raised by Kagome Higurashi's brother, Sota, and his family.
Ten years later, the tunnel that connects the two eras has reopened, allowing Towa to be reunited with Setsuna, who is now a demon slayer working for Kohaku. But to Towa's shock, Setsuna appears to have lost all memories of her older sister.
*Uploaded by@https://animerss.com
*Do not simply copy and paste the download links to your site. (Thank you!)
いつもありがとうございます!
プレミアムアカウントの有効期限が切れたら、なるべく以下のリンクから新アカウントを購入して頂けませんか。
RapidGator -> https://rapidgator.net/article/premium/ref/22000
Aniemrssご支援いただき、ありがとうございます。
FREE DOWNLOAD/無料ダウンロード :
RG (RapidGator)
Sengoku Otogizoushi Part 2 – 01 (NTV 1280×720 x264 AAC).mp4
Sengoku Otogizoushi Part 2 – 02 (NTV 1280×720 x264 AAC).mp4
Sengoku Otogizoushi Part 2 – 03 (NTV 1280×720 x264 AAC).mp4
Sengoku Otogizoushi Part 2 – 04 (NTV 1280×720 x264 AAC).mp4
Sengoku Otogizoushi Part 2 – 05 (NTV 1280×720 x264 AAC).mp4
Sengoku Otogizoushi Part 2 – 06 (NTV 1280×720 x264 AAC).mp4
Sengoku Otogizoushi Part 2 – 07 (NTV 1280×720 x264 AAC).mp4
Sengoku Otogizoushi Part 2 – 08 (NTV 1280×720 x264 AAC).mp4
Sengoku Otogizoushi Part 2 – 09 (NTV 1280×720 x264 AAC).mp4
Sengoku Otogizoushi Part 2 – 10 (NTV 1280×720 x264 AAC).mp4
Sengoku Otogizoushi Part 2 – 11 (NTV 1280×720 x264 AAC).mp4
Sengoku Otogizoushi Part 2 – 12 (NTV 1280×720 x264 AAC).mp4
Sengoku Otogizoushi Part 2 – 13 (NTV 1280×720 x264 AAC).mp4
Sengoku Otogizoushi Part 2 – 14 (NTV 1280×720 x264 AAC).mp4
Sengoku Otogizoushi Part 2 – 15 (NTV 1280×720 x264 AAC).mp4
Sengoku Otogizoushi Part 2 – 16 (NTV 1280×720 x264 AAC).mp4
Sengoku Otogizoushi Part 2 – 17 (NTV 1280×720 x264 AAC).mp4
Sengoku Otogizoushi Part 2 – 18 (NTV 1280×720 x264 AAC).mp4
Sengoku Otogizoushi Part 2 – 19 (NTV 1280×720 x264 AAC).mp4
Sengoku Otogizoushi Part 2 – 20 (NTV 1280×720 x264 AAC).mp4
Sengoku Otogizoushi Part 2 – 21 (NTV 1280×720 x264 AAC).mp4
Sengoku Otogizoushi Part 2 – 22 (NTV 1280×720 x264 AAC).mp4
Sengoku Otogizoushi Part 2 – 23 (NTV 1280×720 x264 AAC).mp4
Sengoku Otogizoushi Part 2 – 24 END (NTV 1280×720 x264 AAC).mp4