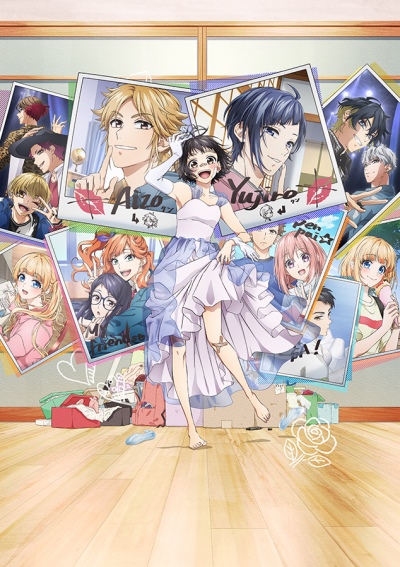 [TVRIP] Heroine Taru Mono! Kiraware Heroine to Naisho no Oshigoto [ヒロインたるもの! ~嫌われヒロインと内緒のお仕事~] 第01-12話 全
Alternative Titles
English: Heroines Run the Show: The Unpopular Girl and the Secret Task
Official Title ヒロインたるもの! ~嫌われヒロインと内緒のお仕事~
Type TV Series, unknown number of episodes
Year 07.04.2022 until ?
Suzumi Hiyori is a high school student who moves to Tokyo and takes a part-time job as an assistant manager to the male idol duo LIP x LIP in order to make ends meet. Hiyori soon learns that it's tough to juggle work, school life, and club activities, especially when the talent she's managing are also her classmates.
*Uploaded [email protected]https://animerss.com
*Do not simply copy and paste the download links to your site. (Thank you!)
いつもありがとうございます!
プレミアムアカウントの有効期限が切れたら、なるべく以下のリンクから新アカウントを購入して頂けませんか。
RapidGator -> https://rapidgator.net/article/premium/ref/22000
Aniemrssご支援いただき、ありがとうございます。
FREE DOWNLOAD/無料ダウンロード :
RG (RapidGator)
Heroine Taru Mono! Kiraware Heroine to Naisho no Oshigoto – 01 (BS8 1280×720 x264 AAC).mp4
Heroine Taru Mono! Kiraware Heroine to Naisho no Oshigoto – 02 (BS8 1280×720 x264 AAC).mp4
Heroine Taru Mono! Kiraware Heroine to Naisho no Oshigoto – 03 (AT-X 1280×720 x264 AAC).mp4
Heroine Taru Mono! Kiraware Heroine to Naisho no Oshigoto – 04 (BS8 1280×720 x264 AAC).mp4
Heroine Taru Mono! Kiraware Heroine to Naisho no Oshigoto – 05 (BS8 1280×720 x264 AAC).mp4
Heroine Taru Mono! Kiraware Heroine to Naisho no Oshigoto – 06 (BS8 1280×720 x264 AAC).mp4
Heroine Taru Mono! Kiraware Heroine to Naisho no Oshigoto – 07 (BS8 1280×720 x264 AAC).mp4
Heroine Taru Mono! Kiraware Heroine to Naisho no Oshigoto – 08 (BS8 1280×720 x264 AAC).mp4
Heroine Taru Mono! Kiraware Heroine to Naisho no Oshigoto – 09 (BS8 1280×720 x264 AAC).mp4
Heroine Taru Mono! Kiraware Heroine to Naisho no Oshigoto – 10 (BS8 1280×720 x264 AAC).mp4
Heroine Taru Mono! Kiraware Heroine to Naisho no Oshigoto – 11 (BS8 1280×720 x264 AAC).mp4
Heroine Taru Mono! Kiraware Heroine to Naisho no Oshigoto – 12 END (AT-X 1280×720 x264 AAC).mp4