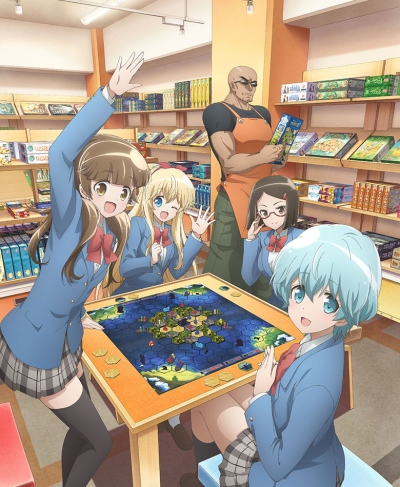 [TVRIP] Houkago Saikoro Club [放課後さいころ倶楽部] 第01-12話 全
Alternative Titles
English: After School Dice Club
Official Title 放課後さいころ倶楽部
Type TV Series, unknown number of episodes
Year 03.10.2019 till ?
Aya moves and starts to attend an all-girls high school in Kyoto. Her first friend is her reserved classmate Miki. After school one day, the committee chairwoman Midori takes them both to an analogue game specialty shop called "Saikoro Club" (Dice Club). There, they start playing a German board game without thinking. Thus begins Aya and Miki's search for fun through the world of analogue games.
*Uploaded [email protected]https://animerss.com
*Do not simply copy and paste the download links to your site. (Thank you!)
いつもありがとうございます!
プレミアムアカウントの有効期限が切れたら、なるべく以下のリンクから新アカウントを購入して頂けませんか。
RapidGator -> https://rapidgator.net/article/premium/ref/22000
Aniemrssご支援いただき、ありがとうございます。
FREE DOWNLOAD/無料ダウンロード :
RG (RapidGator)
Houkago Saikoro Club – 01 (ABC 1280×720 x264 AAC).mp4
Houkago Saikoro Club – 02 (BS11 1280×720 x264 AAC).mp4
Houkago Saikoro Club – 03 (BS11 1280×720 x264 AAC).mp4
Houkago Saikoro Club – 04 (BS11 1280×720 x264 AAC).mp4
Houkago Saikoro Club – 05 (BS11 1280×720 x264 AAC).mp4
Houkago Saikoro Club – 06 (BS11 1280×720 x264 AAC).mp4
Houkago Saikoro Club – 07 (BS11 1280×720 x264 AAC).mp4
Houkago Saikoro Club – 08 (BS11 1280×720 x264 AAC).mp4
Houkago Saikoro Club – 09 (BS11 1280×720 x264 AAC).mp4
Houkago Saikoro Club – 10 (BS11 1280×720 x264 AAC).mp4
Houkago Saikoro Club – 11 (BS11 1280×720 x264 AAC).mp4
Houkago Saikoro Club – 12 END (BS11 1280×720 x264 AAC).mp4