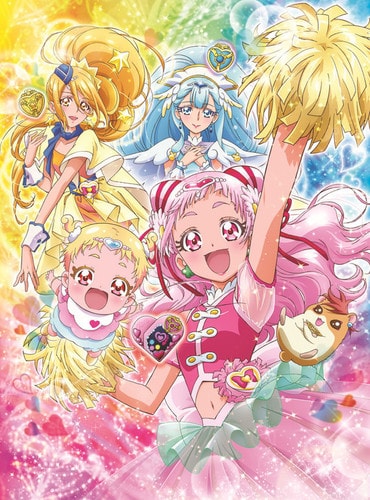 [TVRIP] Hugtto! Precure [HuGっと! プリキュア] 第01-15話
Alternative Titles
English: Hugtto! Precure
Official Title HuGっと! プリキュア
Type TV Series, unknown number of episodes
Year 04.02.2018 till ?
Second year junior high school girl Nono Hana wants to be a cool big sister. Her first day at her new school gets off to a rocky start, but she meets some nice people and is looking forward to the next day when a mysterious baby named Hug-tan falls out of the sky along with her hamster caregiver Harry. Hug-tan is pursued by the evil Criasu Company and its monsters that want her Mirai Crystal. Soon, Hug-tan is attacked but Hana's desire to protect the baby creates a new Mirai Crystal and she transforms into Cure Yell. Hana learns that the Mirai Crystals have the power to create tomorrow and if the crystals are taken, everyone's future will disappear.
*Uploaded [email protected]https://animerss.com
*Do not simply copy and paste the download links to your site. (Thank you!)
いつもありがとうございます!
プレミアムアカウントの有効期限が切れたら、なるべく以下のリンクから新アカウントを購入して頂けませんか。
RapidGator -> https://rapidgator.net/article/premium/ref/22000
Aniemrssご支援いただき、ありがとうございます。
FREE DOWNLOAD/無料ダウンロード :
RG (RapidGator)
Hugtto! Precure – 01 RAW (ABC 1280×720 x264 AAC).mp4
Hugtto! Precure – 02 RAW (ABC 1280×720 x264 AAC).mp4
Hugtto! Precure – 03 RAW (ABC 1280×720 x264 AAC).mp4
Hugtto! Precure – 04 RAW (ABC 1280×720 x264 AAC).mp4
Hugtto! Precure – 05 RAW (ABC 1280×720 x264 AAC).mp4
Hugtto! Precure – 06 RAW (ABC 1280×720 x264 AAC).mp4
Hugtto! Precure – 07 RAW (ABC 1280×720 x264 AAC).mp4
Hugtto! Precure – 08 RAW (ABC 1280×720 x264 AAC).mp4
Hugtto! Precure – 09 RAW (ABC 1280×720 x264 AAC).mp4
Hugtto! Precure – 10 RAW (ABC 1280×720 x264 AAC).mp4
Hugtto! Precure – 11 RAW (ABC 1280×720 x264 AAC).mp4
Hugtto! Precure – 12 RAW (ABC 1280×720 x264 AAC).mp4
Hugtto! Precure – 13 RAW (ABC 1280×720 x264 AAC).mp4
Hugtto! Precure – 14 RAW (ABC 1280×720 x264 AAC).mp4
Hugtto! Precure – 15 RAW (ABC 1280×720 x264 AAC).mp4