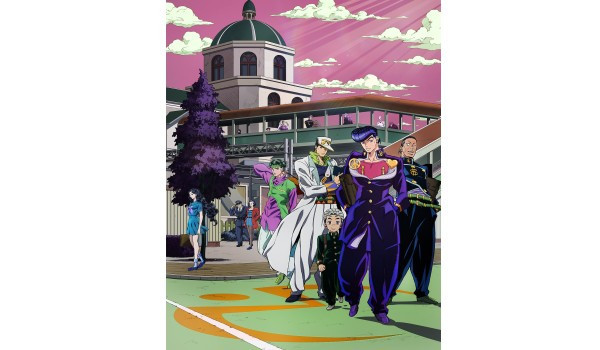 Title: [TVRIP] JoJo no Kimyou na Bouken: Diamond wa Kudakenai [ジョジョの奇妙な冒険 ダイヤモンドは砕けない] 第01-39話 全
Anime Information
Japanese Title: ジョジョの奇妙な冒険 ダイヤモンドは砕けない
English Title: JoJo`s Bizarre Adventure: Diamond Is Unbreakable
Type: TV Series, unknown number of episodes
Year: 02.04.2016 till ?
Categories: ——
AniDB: http://anidb.net/perl-bin/animedb.pl?show=anime&aid=11734
Plot Summary: Animerss.com
It is 1999 (10 years after Jotaro Kujo defeated DIO in Egypt), and high schooler Josuke Higashikata (illegitimate son of Joseph Josestar) lives in the small & peaceful town of Morioh, Japan.
The Arrow, manifesting latent Stand abilities, travels throughout Morioh; as Josuke and his friends seek out the culprits of a series of homicides.
----ダウンロード・/Download↓----
*Uploaded [email protected]https://animerss.com
*Do not simply copy and paste the download links to your site. (Thank you!)
いつもありがとうございます!
プレミアムアカウントの有効期限が切れたら、なるべく以下のリンクから新アカウントを購入して頂けませんか。
RapidGator -> http://rapidgator.net/account/registration/ref/22000
ANIMERSSご支援いただき、ありがとうございます。
*Download Prenium Here*
RG (RapidGator)
JoJo no Kimyou na Bouken – Diamond wa Kudakenai – 01 RAW (MBS 1280×720 x264 AAC).mp4
JoJo no Kimyou na Bouken – Diamond wa Kudakenai – 02 RAW (MBS 1280×720 x264 AAC).mp4
JoJo no Kimyou na Bouken – Diamond wa Kudakenai – 03 RAW (MBS 1280×720 x264 AAC).mp4
JoJo no Kimyou na Bouken – Diamond wa Kudakenai – 04 RAW (MBS 1280×720 x264 AAC).mp4
JoJo no Kimyou na Bouken – Diamond wa Kudakenai – 05 RAW (MBS 1280×720 x264 AAC).mp4
JoJo no Kimyou na Bouken – Diamond wa Kudakenai – 06 RAW (MBS 1280×720 x264 AAC).mp4
JoJo no Kimyou na Bouken – Diamond wa Kudakenai – 07 RAW (MBS 1280×720 x264 AAC).mp4
JoJo no Kimyou na Bouken – Diamond wa Kudakenai – 08 RAW (MBS 1280×720 x264 AAC).mp4
JoJo no Kimyou na Bouken – Diamond wa Kudakenai – 09 RAW (MBS 1280×720 x264 AAC).mp4
JoJo no Kimyou na Bouken – Diamond wa Kudakenai – 10 RAW (MBS 1280×720 x264 AAC).mp4
JoJo no Kimyou na Bouken – Diamond wa Kudakenai – 11 RAW (MBS 1280×720 x264 AAC).mp4
JoJo no Kimyou na Bouken – Diamond wa Kudakenai – 12 RAW (MBS 1280×720 x264 AAC).mp4
JoJo no Kimyou na Bouken – Diamond wa Kudakenai – 13 RAW (MBS 1280×720 x264 AAC).mp4
JoJo no Kimyou na Bouken – Diamond wa Kudakenai – 14 RAW (MBS 1280×720 x264 AAC).mp4
JoJo no Kimyou na Bouken – Diamond wa Kudakenai – 15 RAW (MBS 1280×720 x264 AAC).mp4
JoJo no Kimyou na Bouken – Diamond wa Kudakenai – 16 RAW (MBS 1280×720 x264 AAC).mp4
JoJo no Kimyou na Bouken – Diamond wa Kudakenai – 17 RAW (MBS 1280×720 x264 AAC).mp4
JoJo no Kimyou na Bouken – Diamond wa Kudakenai – 18 RAW (MBS 1280×720 x264 AAC).mp4
JoJo no Kimyou na Bouken – Diamond wa Kudakenai – 19 RAW (MBS 1280×720 x264 AAC).mp4
JoJo no Kimyou na Bouken – Diamond wa Kudakenai – 20 RAW (MBS 1280×720 x264 AAC).mp4
JoJo no Kimyou na Bouken – Diamond wa Kudakenai – 21 RAW (MBS 1280×720 x264 AAC).mp4
JoJo no Kimyou na Bouken – Diamond wa Kudakenai – 22 RAW (MBS 1280×720 x264 AAC).mp4
JoJo no Kimyou na Bouken – Diamond wa Kudakenai – 23 RAW (MBS 1280×720 x264 AAC).mp4
JoJo no Kimyou na Bouken – Diamond wa Kudakenai – 24 RAW (MBS 1280×720 x264 AAC).mp4
JoJo no Kimyou na Bouken – Diamond wa Kudakenai – 25 RAW (MBS 1280×720 x264 AAC).mp4
JoJo no Kimyou na Bouken – Diamond wa Kudakenai – 26 RAW (MBS 1280×720 x264 AAC).mp4
JoJo no Kimyou na Bouken – Diamond wa Kudakenai – 27 RAW (MBS 1280×720 x264 AAC).mp4
JoJo no Kimyou na Bouken – Diamond wa Kudakenai – 28 RAW (BS11 1280×720 x264 AAC).mp4
JoJo no Kimyou na Bouken – Diamond wa Kudakenai – 29 RAW (MBS 1280×720 x264 AAC).mp4
JoJo no Kimyou na Bouken – Diamond wa Kudakenai – 30 RAW (BS11 1280×720 x264 AAC).mp4
JoJo no Kimyou na Bouken – Diamond wa Kudakenai – 31 RAW (MBS 1280×720 x264 AAC).mp4
JoJo no Kimyou na Bouken – Diamond wa Kudakenai – 32 RAW (MBS 1280×720 x264 AAC).mp4
JoJo no Kimyou na Bouken – Diamond wa Kudakenai – 33 RAW (MBS 1280×720 x264 AAC).mp4
JoJo no Kimyou na Bouken – Diamond wa Kudakenai – 34 RAW (MBS 1280×720 x264 AAC).mp4
JoJo no Kimyou na Bouken – Diamond wa Kudakenai – 35 RAW (MBS 1280×720 x264 AAC).mp4
JoJo no Kimyou na Bouken – Diamond wa Kudakenai – 36 RAW (MBS 1280×720 x264 AAC).mp4
JoJo no Kimyou na Bouken – Diamond wa Kudakenai – 37 RAW (MBS 1280×720 x264 AAC).mp4
JoJo no Kimyou na Bouken – Diamond wa Kudakenai – 38 RAW (MBS 1280×720 x264 AAC).mp4
JoJo no Kimyou na Bouken – Diamond wa Kudakenai – 39 END (MBS 1280×720 x264 AAC).mp4
*Download Free Here*
DF (DataFile)
JoJo no Kimyou na Bouken – Diamond wa Kudakenai – 01 RAW (MBS 1280×720 x264 AAC).mp4
JoJo no Kimyou na Bouken – Diamond wa Kudakenai – 02 RAW (MBS 1280×720 x264 AAC).mp4
JoJo no Kimyou na Bouken – Diamond wa Kudakenai – 03 RAW (MBS 1280×720 x264 AAC).mp4
JoJo no Kimyou na Bouken – Diamond wa Kudakenai – 04 RAW (MBS 1280×720 x264 AAC).mp4
JoJo no Kimyou na Bouken – Diamond wa Kudakenai – 05 RAW (MBS 1280×720 x264 AAC).mp4
JoJo no Kimyou na Bouken – Diamond wa Kudakenai – 06 RAW (MBS 1280×720 x264 AAC).mp4
JoJo no Kimyou na Bouken – Diamond wa Kudakenai – 07 RAW (MBS 1280×720 x264 AAC).mp4
JoJo no Kimyou na Bouken – Diamond wa Kudakenai – 08 RAW (MBS 1280×720 x264 AAC).mp4
JoJo no Kimyou na Bouken – Diamond wa Kudakenai – 09 RAW (MBS 1280×720 x264 AAC).mp4
JoJo no Kimyou na Bouken – Diamond wa Kudakenai – 10 RAW (MBS 1280×720 x264 AAC).mp4
JoJo no Kimyou na Bouken – Diamond wa Kudakenai – 11 RAW (MBS 1280×720 x264 AAC).mp4
JoJo no Kimyou na Bouken – Diamond wa Kudakenai – 12 RAW (MBS 1280×720 x264 AAC).mp4
JoJo no Kimyou na Bouken – Diamond wa Kudakenai – 13 RAW (MBS 1280×720 x264 AAC).mp4
JoJo no Kimyou na Bouken – Diamond wa Kudakenai – 14 RAW (MBS 1280×720 x264 AAC).mp4
JoJo no Kimyou na Bouken – Diamond wa Kudakenai – 15 RAW (MBS 1280×720 x264 AAC).mp4
JoJo no Kimyou na Bouken – Diamond wa Kudakenai – 16 RAW (MBS 1280×720 x264 AAC).mp4
JoJo no Kimyou na Bouken – Diamond wa Kudakenai – 17 RAW (MBS 1280×720 x264 AAC).mp4
JoJo no Kimyou na Bouken – Diamond wa Kudakenai – 18 RAW (MBS 1280×720 x264 AAC).mp4
JoJo no Kimyou na Bouken – Diamond wa Kudakenai – 19 RAW (MBS 1280×720 x264 AAC).mp4
JoJo no Kimyou na Bouken – Diamond wa Kudakenai – 20 RAW (MBS 1280×720 x264 AAC).mp4
JoJo no Kimyou na Bouken – Diamond wa Kudakenai – 21 RAW (MBS 1280×720 x264 AAC).mp4
JoJo no Kimyou na Bouken – Diamond wa Kudakenai – 22 RAW (MBS 1280×720 x264 AAC).mp4
JoJo no Kimyou na Bouken – Diamond wa Kudakenai – 23 RAW (MBS 1280×720 x264 AAC).mp4
JoJo no Kimyou na Bouken – Diamond wa Kudakenai – 24 RAW (MBS 1280×720 x264 AAC).mp4
JoJo no Kimyou na Bouken – Diamond wa Kudakenai – 25 RAW (MBS 1280×720 x264 AAC).mp4
JoJo no Kimyou na Bouken – Diamond wa Kudakenai – 26 RAW (MBS 1280×720 x264 AAC).mp4
JoJo no Kimyou na Bouken – Diamond wa Kudakenai – 27 RAW (MBS 1280×720 x264 AAC).mp4
JoJo no Kimyou na Bouken – Diamond wa Kudakenai – 28 RAW (BS11 1280×720 x264 AAC).mp4
JoJo no Kimyou na Bouken – Diamond wa Kudakenai – 29 RAW (MBS 1280×720 x264 AAC).mp4
JoJo no Kimyou na Bouken – Diamond wa Kudakenai – 30 RAW (BS11 1280×720 x264 AAC).mp4
JoJo no Kimyou na Bouken – Diamond wa Kudakenai – 31 RAW (MBS 1280×720 x264 AAC).mp4
JoJo no Kimyou na Bouken – Diamond wa Kudakenai – 32 RAW (MBS 1280×720 x264 AAC).mp4
JoJo no Kimyou na Bouken – Diamond wa Kudakenai – 33 RAW (MBS 1280×720 x264 AAC).mp4
JoJo no Kimyou na Bouken – Diamond wa Kudakenai – 34 RAW (MBS 1280×720 x264 AAC).mp4
JoJo no Kimyou na Bouken – Diamond wa Kudakenai – 35 RAW (MBS 1280×720 x264 AAC).mp4
JoJo no Kimyou na Bouken – Diamond wa Kudakenai – 36 RAW (MBS 1280×720 x264 AAC).mp4
JoJo no Kimyou na Bouken – Diamond wa Kudakenai – 37 RAW (MBS 1280×720 x264 AAC).mp4
JoJo no Kimyou na Bouken – Diamond wa Kudakenai – 38 RAW (MBS 1280×720 x264 AAC).mp4
JoJo no Kimyou na Bouken – Diamond wa Kudakenai – 39 END (MBS 1280×720 x264 AAC).mp4
BF (BigFile)
JoJo no Kimyou na Bouken – Diamond wa Kudakenai – 01 RAW (MBS 1280×720 x264 AAC).mp4
JoJo no Kimyou na Bouken – Diamond wa Kudakenai – 02 RAW (MBS 1280×720 x264 AAC).mp4
JoJo no Kimyou na Bouken – Diamond wa Kudakenai – 03 RAW (MBS 1280×720 x264 AAC).mp4
JoJo no Kimyou na Bouken – Diamond wa Kudakenai – 04 RAW (MBS 1280×720 x264 AAC).mp4
JoJo no Kimyou na Bouken – Diamond wa Kudakenai – 05 RAW (MBS 1280×720 x264 AAC).mp4
JoJo no Kimyou na Bouken – Diamond wa Kudakenai – 06 RAW (MBS 1280×720 x264 AAC).mp4
JoJo no Kimyou na Bouken – Diamond wa Kudakenai – 07 RAW (MBS 1280×720 x264 AAC).mp4
JoJo no Kimyou na Bouken – Diamond wa Kudakenai – 08 RAW (MBS 1280×720 x264 AAC).mp4
JoJo no Kimyou na Bouken – Diamond wa Kudakenai – 09 RAW (MBS 1280×720 x264 AAC).mp4
JoJo no Kimyou na Bouken – Diamond wa Kudakenai – 10 RAW (MBS 1280×720 x264 AAC).mp4
JoJo no Kimyou na Bouken – Diamond wa Kudakenai – 11 RAW (MBS 1280×720 x264 AAC).mp4
JoJo no Kimyou na Bouken – Diamond wa Kudakenai – 12 RAW (MBS 1280×720 x264 AAC).mp4
JoJo no Kimyou na Bouken – Diamond wa Kudakenai – 13 RAW (MBS 1280×720 x264 AAC).mp4
JoJo no Kimyou na Bouken – Diamond wa Kudakenai – 14 RAW (MBS 1280×720 x264 AAC).mp4
JoJo no Kimyou na Bouken – Diamond wa Kudakenai – 15 RAW (MBS 1280×720 x264 AAC).mp4
JoJo no Kimyou na Bouken – Diamond wa Kudakenai – 16 RAW (MBS 1280×720 x264 AAC).mp4
JoJo no Kimyou na Bouken – Diamond wa Kudakenai – 17 RAW (MBS 1280×720 x264 AAC).mp4
JoJo no Kimyou na Bouken – Diamond wa Kudakenai – 18 RAW (MBS 1280×720 x264 AAC).mp4
JoJo no Kimyou na Bouken – Diamond wa Kudakenai – 19 RAW (MBS 1280×720 x264 AAC).mp4
JoJo no Kimyou na Bouken – Diamond wa Kudakenai – 20 RAW (MBS 1280×720 x264 AAC).mp4
JoJo no Kimyou na Bouken – Diamond wa Kudakenai – 21 RAW (MBS 1280×720 x264 AAC).mp4
JoJo no Kimyou na Bouken – Diamond wa Kudakenai – 22 RAW (MBS 1280×720 x264 AAC).mp4
JoJo no Kimyou na Bouken – Diamond wa Kudakenai – 23 RAW (MBS 1280×720 x264 AAC).mp4
JoJo no Kimyou na Bouken – Diamond wa Kudakenai – 24 RAW (MBS 1280×720 x264 AAC).mp4
JoJo no Kimyou na Bouken – Diamond wa Kudakenai – 25 RAW (MBS 1280×720 x264 AAC).mp4
JoJo no Kimyou na Bouken – Diamond wa Kudakenai – 26 RAW (MBS 1280×720 x264 AAC).mp4
JoJo no Kimyou na Bouken – Diamond wa Kudakenai – 27 RAW (MBS 1280×720 x264 AAC).mp4
JoJo no Kimyou na Bouken – Diamond wa Kudakenai – 28 RAW (BS11 1280×720 x264 AAC).mp4
JoJo no Kimyou na Bouken – Diamond wa Kudakenai – 29 RAW (MBS 1280×720 x264 AAC).mp4
JoJo no Kimyou na Bouken – Diamond wa Kudakenai – 30 RAW (BS11 1280×720 x264 AAC).mp4
JoJo no Kimyou na Bouken – Diamond wa Kudakenai – 31 RAW (MBS 1280×720 x264 AAC).mp4
JoJo no Kimyou na Bouken – Diamond wa Kudakenai – 32 RAW (MBS 1280×720 x264 AAC).mp4
JoJo no Kimyou na Bouken – Diamond wa Kudakenai – 33 RAW (MBS 1280×720 x264 AAC).mp4
JoJo no Kimyou na Bouken – Diamond wa Kudakenai – 34 RAW (MBS 1280×720 x264 AAC).mp4
JoJo no Kimyou na Bouken – Diamond wa Kudakenai – 35 RAW (MBS 1280×720 x264 AAC).mp4
JoJo no Kimyou na Bouken – Diamond wa Kudakenai – 36 RAW (MBS 1280×720 x264 AAC).mp4
JoJo no Kimyou na Bouken – Diamond wa Kudakenai – 37 RAW (MBS 1280×720 x264 AAC).mp4
JoJo no Kimyou na Bouken – Diamond wa Kudakenai – 38 RAW (MBS 1280×720 x264 AAC).mp4
JoJo no Kimyou na Bouken – Diamond wa Kudakenai – 39 END (MBS 1280×720 x264 AAC).mp4
SF (SaleFiles)
JoJo no Kimyou na Bouken – Diamond wa Kudakenai – 01 RAW (MBS 1280×720 x264 AAC).mp4
JoJo no Kimyou na Bouken – Diamond wa Kudakenai – 02 RAW (MBS 1280×720 x264 AAC).mp4
JoJo no Kimyou na Bouken – Diamond wa Kudakenai – 03 RAW (MBS 1280×720 x264 AAC).mp4
JoJo no Kimyou na Bouken – Diamond wa Kudakenai – 04 RAW (MBS 1280×720 x264 AAC).mp4
JoJo no Kimyou na Bouken – Diamond wa Kudakenai – 05 RAW (MBS 1280×720 x264 AAC).mp4
JoJo no Kimyou na Bouken – Diamond wa Kudakenai – 06 RAW (MBS 1280×720 x264 AAC).mp4
JoJo no Kimyou na Bouken – Diamond wa Kudakenai – 07 RAW (MBS 1280×720 x264 AAC).mp4
JoJo no Kimyou na Bouken – Diamond wa Kudakenai – 08 RAW (MBS 1280×720 x264 AAC).mp4
JoJo no Kimyou na Bouken – Diamond wa Kudakenai – 09 RAW (MBS 1280×720 x264 AAC).mp4
JoJo no Kimyou na Bouken – Diamond wa Kudakenai – 10 RAW (MBS 1280×720 x264 AAC).mp4
JoJo no Kimyou na Bouken – Diamond wa Kudakenai – 11 RAW (MBS 1280×720 x264 AAC).mp4
JoJo no Kimyou na Bouken – Diamond wa Kudakenai – 12 RAW (MBS 1280×720 x264 AAC).mp4
JoJo no Kimyou na Bouken – Diamond wa Kudakenai – 13 RAW (MBS 1280×720 x264 AAC).mp4
JoJo no Kimyou na Bouken – Diamond wa Kudakenai – 14 RAW (MBS 1280×720 x264 AAC).mp4
JoJo no Kimyou na Bouken – Diamond wa Kudakenai – 15 RAW (MBS 1280×720 x264 AAC).mp4
JoJo no Kimyou na Bouken – Diamond wa Kudakenai – 16 RAW (MBS 1280×720 x264 AAC).mp4
JoJo no Kimyou na Bouken – Diamond wa Kudakenai – 17 RAW (MBS 1280×720 x264 AAC).mp4
JoJo no Kimyou na Bouken – Diamond wa Kudakenai – 18 RAW (MBS 1280×720 x264 AAC).mp4
JoJo no Kimyou na Bouken – Diamond wa Kudakenai – 19 RAW (MBS 1280×720 x264 AAC).mp4
JoJo no Kimyou na Bouken – Diamond wa Kudakenai – 20 RAW (MBS 1280×720 x264 AAC).mp4
JoJo no Kimyou na Bouken – Diamond wa Kudakenai – 21 RAW (MBS 1280×720 x264 AAC).mp4
JoJo no Kimyou na Bouken – Diamond wa Kudakenai – 22 RAW (MBS 1280×720 x264 AAC).mp4
JoJo no Kimyou na Bouken – Diamond wa Kudakenai – 23 RAW (MBS 1280×720 x264 AAC).mp4
JoJo no Kimyou na Bouken – Diamond wa Kudakenai – 24 RAW (MBS 1280×720 x264 AAC).mp4
JoJo no Kimyou na Bouken – Diamond wa Kudakenai – 25 RAW (MBS 1280×720 x264 AAC).mp4
JoJo no Kimyou na Bouken – Diamond wa Kudakenai – 26 RAW MBS 1280×720 x264 AAC .mp4
JoJo no Kimyou na Bouken – Diamond wa Kudakenai – 27 RAW MBS 1280×720 x264 AAC .mp4
JoJo no Kimyou na Bouken – Diamond wa Kudakenai – 28 RAW BS11 1280×720 x264 AAC .mp4
JoJo no Kimyou na Bouken – Diamond wa Kudakenai – 29 RAW MBS 1280×720 x264 AAC .mp4
JoJo no Kimyou na Bouken – Diamond wa Kudakenai – 30 RAW BS11 1280×720 x264 AAC .mp4
JoJo no Kimyou na Bouken – Diamond wa Kudakenai – 31 RAW MBS 1280×720 x264 AAC .mp4
JoJo no Kimyou na Bouken – Diamond wa Kudakenai – 32 RAW MBS 1280×720 x264 AAC .mp4
JoJo no Kimyou na Bouken – Diamond wa Kudakenai – 33 RAW MBS 1280×720 x264 AAC .mp4
JoJo no Kimyou na Bouken – Diamond wa Kudakenai – 34 RAW MBS 1280×720 x264 AAC .mp4
JoJo no Kimyou na Bouken – Diamond wa Kudakenai – 35 RAW MBS 1280×720 x264 AAC .mp4
JoJo no Kimyou na Bouken – Diamond wa Kudakenai – 36 RAW MBS 1280×720 x264 AAC .mp4
JoJo no Kimyou na Bouken – Diamond wa Kudakenai – 37 RAW MBS 1280×720 x264 AAC .mp4
JoJo no Kimyou na Bouken – Diamond wa Kudakenai – 38 RAW MBS 1280×720 x264 AAC .mp4
JoJo no Kimyou na Bouken – Diamond wa Kudakenai – 39 END MBS 1280×720 x264 AAC .mp4