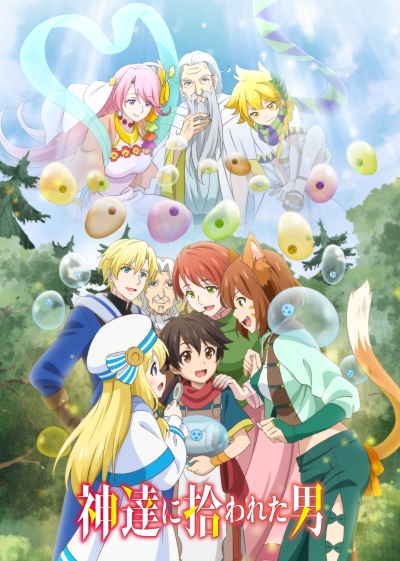 [TVRIP] Kami-tachi ni Hirowareta Otoko [神達に拾われた男] 第01-12話 全
Alternative Titles
English: By the Grace of the Gods
Official Title 神達に拾われた男
Type TV Series, 12 episodes
Year 04.10.2020 till ?
One day, the life of middle-aged Japanese businessman Takebayashi Ryouma came to a rather sudden and disappointing end. Ryouma had never had a blessed life, but after his death, three great gods sought his cooperation and reincarnated him as a child in another world with swords and magic! Receiving a most cordial and divine welcome from the gods, Ryouma decides to live leisurely on his own in the forest for the time being. Working diligently at magic and hunting, Ryouma's greatest passion comes to be researching his tamed slimes?!
*Uploaded [email protected]https://animerss.com
*Do not simply copy and paste the download links to your site. (Thank you!)
いつもありがとうございます!
プレミアムアカウントの有効期限が切れたら、なるべく以下のリンクから新アカウントを購入して頂けませんか。
RapidGator -> https://rapidgator.net/article/premium/ref/22000
Aniemrssご支援いただき、ありがとうございます。
FREE DOWNLOAD/無料ダウンロード :
RG (RapidGator)
Kami-tachi ni Hirowareta Otoko – 01 (BSFUJI 1280×720 x264 AAC).mp4
Kami-tachi ni Hirowareta Otoko – 02 (BSFUJI 1280×720 x264 AAC).mp4
Kami-tachi ni Hirowareta Otoko – 03 (MX 1280×720 x264 AAC).mp4
Kami-tachi ni Hirowareta Otoko – 04 (MX 1280×720 x264 AAC).mp4
Kami-tachi ni Hirowareta Otoko – 05 (MX 1280×720 x264 AAC).mp4
Kami-tachi ni Hirowareta Otoko – 06 (MX 1280×720 x264 AAC).mp4
Kami-tachi ni Hirowareta Otoko – 07 (MX 1280×720 x264 AAC).mp4
Kami-tachi ni Hirowareta Otoko – 08 (MX 1280×720 x264 AAC).mp4
Kami-tachi ni Hirowareta Otoko – 09 (MX 1280×720 x264 AAC).mp4
Kami-tachi ni Hirowareta Otoko – 10 (MX 1280×720 x264 AAC).mp4
Kami-tachi ni Hirowareta Otoko – 11 (MX 1280×720 x264 AAC).mp4
Kami-tachi ni Hirowareta Otoko – 12 END (MX 1280×720 x264 AAC).mp4