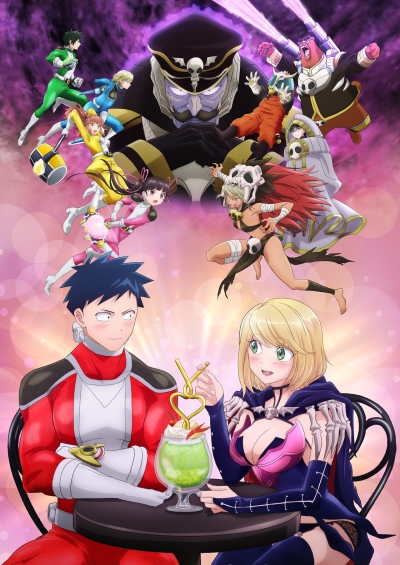 [TVRIP] Koi wa Sekai Seifuku no Ato de [恋は世界征服のあとで] 第01-12話
Alternative Titles
English: Love After World Domination
Official Title 恋は世界征服のあとで
Type TV Series, 12 episodes
Year 08.04.2022 until ?
There are two sides to every coin…light vs. dark, good vs. evil, love vs. hate. Sometimes the line between the two grows thin…and it's so, so easy to cross. So it's no surprise that Aikawa Fudou, A.K.A. Red Gelato of the Gelato Five and hero to all people, just may have happened to fall for the villainess and member of the shadow organization Gekko, Magahara Desumi! But when opposites like these attract, there's more than a few obstacles to their love…! What's a pair like this to do?
*Uploaded [email protected]https://animerss.com
*Do not simply copy and paste the download links to your site. (Thank you!)
いつもありがとうございます!
プレミアムアカウントの有効期限が切れたら、なるべく以下のリンクから新アカウントを購入して頂けませんか。
RapidGator -> https://rapidgator.net/article/premium/ref/22000
Aniemrssご支援いただき、ありがとうございます。
FREE DOWNLOAD/無料ダウンロード :
RG (RapidGator)
Koi wa Sekai Seifuku no Ato de – 01 (AT-X 1280×720 x264 AAC).mp4
Koi wa Sekai Seifuku no Ato de – 02 (AT-X 1280×720 x264 AAC).mp4
Koi wa Sekai Seifuku no Ato de – 03 (AT-X 1280×720 x264 AAC).mp4
Koi wa Sekai Seifuku no Ato de – 04 (AT-X 1280×720 x264 AAC).mp4
Koi wa Sekai Seifuku no Ato de – 05 (AT-X 1280×720 x264 AAC).mp4
Koi wa Sekai Seifuku no Ato de – 06 (AT-X 1280×720 x264 AAC).mp4
Koi wa Sekai Seifuku no Ato de – 07 (AT-X 1280×720 x264 AAC).mp4
Koi wa Sekai Seifuku no Ato de – 08 (AT-X 1280×720 x264 AAC).mp4
Koi wa Sekai Seifuku no Ato de – 09 (AT-X 1280×720 x264 AAC).mp4
Koi wa Sekai Seifuku no Ato de – 10 (AT-X 1280×720 x264 AAC).mp4
Koi wa Sekai Seifuku no Ato de – 11 (AT-X 1280×720 x264 AAC).mp4
Koi wa Sekai Seifuku no Ato de – 12 END (AT-X 1280×720 x264 AAC).mp4