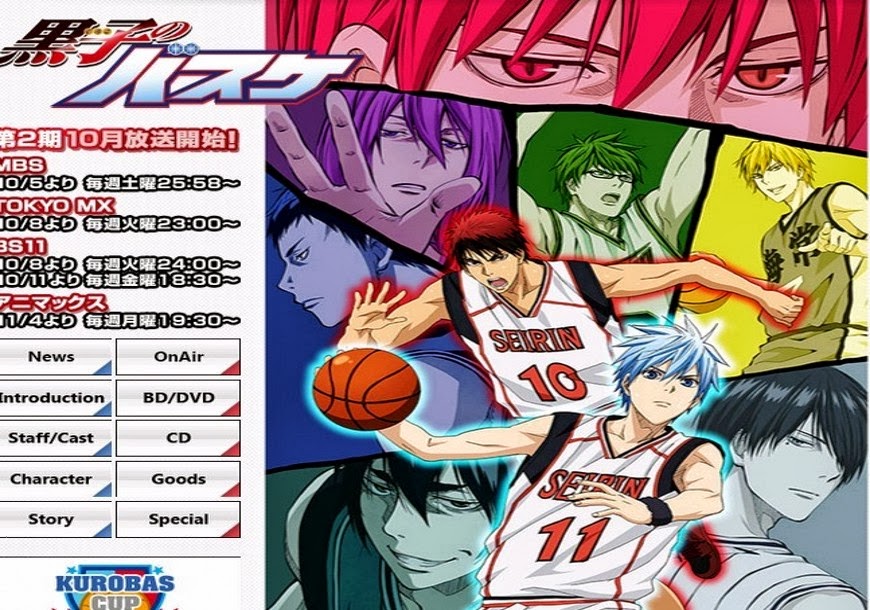 Title: [TVRIP] Kuroko no Baske [ 黒子のバスケ] 第25話 全
Anime Information
Japanese Title: 黒子のバスケ
English Title: Kuroko no Baske
Type: TV Series, unknown number of episodes
Year: 08.04.2012 till ?
Categories: Basketball, Manga, Shounen, Sports –
AniDB: http://anidb.net/perl-bin/animedb.pl?show=anime&aid=8681
Plot Summary: Animerss.com
In the story, Kagami Taiga has just enrolled into Seirin High School when he meets Kuroko Tetsuya of the school's basketball team. Kuroko happens to be the shadowy sixth member of the legendary Generation of Miracles basketball team. Together, Kagami and Kuroko aim to take their team to the inter-high school championship — against Kuroko's former teammates.
----ダウンロード・/Download↓----
*Uploaded [email protected]https://animerss.com
*Do not simply copy and paste the download links to your site. (Thank you!)
*Permanent Preservation. Please Support VIPFILESHARE~~
いつもありがとうございます!
プレミアムアカウントの有効期限が切れたら、なるべく以下のリンクから新アカウントを購入して頂けませんか。
RapidGator -> http://rapidgator.net/account/registration/ref/22000
ANIMERSSご支援いただき、ありがとうございます。
*Download Prenium Here*
VFS (VipFileShare)
[Animerss.com] Kuroko no Basuke – 01 RAW (MX 1280×720 x264 AAC).mp4 – 361.1 MB
[Animerss.com] Kuroko no Basuke – 02 RAW (MX 1280×720 x264 AAC).mp4 – 324.8 MB
[Animerss.com] Kuroko no Basuke – 03 RAW (MX 1280×720 x264 AAC).mp4 – 367.2 MB
[Animerss.com] Kuroko no Basuke – 04 RAW (MX 1280×720 x264 AAC).mp4 – 311.2 MB
[Animerss.com] Kuroko no Basuke – 05 RAW (MX 1280×720 x264 AAC).mp4 – 273.3 MB
[Animerss.com] Kuroko no Basuke – 06 RAW (MX 1280×720 x264 AAC).mp4 – 287.1 MB
[Animerss.com] Kuroko no Basuke – 07 RAW (MX 1280×720 x264 AAC).mp4 – 278.3 MB
[Animerss.com] Kuroko no Basuke – 08 RAW (MX 1280×720 x264 AAC).mp4 – 266.0 MB
[Animerss.com] Kuroko no Basuke – 09 RAW (MX 1280×720 x264 AAC).mp4 – 292.7 MB
[Animerss.com] Kuroko no Basuke – 10 RAW (MX 1280×720 x264 AAC).mp4 – 284.2 MB
[Animerss.com] Kuroko no Basuke – 11 RAW (MX 1280×720 x264 AAC).mp4 – 312.9 MB
[Animerss.com] Kuroko no Basuke – 12 RAW (MX 1280×720 x264 AAC).mp4 – 375.2 MB
[Animerss.com] Kuroko no Basuke – 13 RAW (MX 1280×720 x264 AAC).mp4 – 304.6 MB
[Animerss.com] Kuroko no Basuke – 14 RAW (MX 1280×720 x264 AAC).mp4 – 289.6 MB
[Animerss.com] Kuroko no Basuke – 15 RAW (MX 1280×720 x264 AAC).mp4 – 299.7 MB
[Animerss.com] Kuroko no Basuke – 16 RAW (MX 1280×720 x264 AAC).mp4 – 335.9 MB
[Animerss.com] Kuroko no Basuke – 17 RAW (MX 1280×720 x264 AAC).mp4 – 323.5 MB
[Animerss.com] Kuroko no Basuke – 18 RAW (MX 1280×720 x264 AAC).mp4 – 353.6 MB
[Animerss.com] Kuroko no Basuke – 19 RAW (MX 1280×720 x264 AAC).mp4 – 281.4 MB
[Animerss.com] Kuroko no Basuke – 20 RAW (MX 1280×720 x264 AAC).mp4 – 240.1 MB
[Animerss.com] Kuroko no Basuke – 21 RAW (MX 1280×720 x264 AAC).mp4 – 261.3 MB
[Animerss.com] Kuroko no Basuke – 22 RAW (MX 1280×720 x264 AAC).mp4 – 279.2 MB
[Animerss.com] Kuroko no Basuke – 23 RAW (MX 1280×720 x264 AAC).mp4 – 337.9 MB
[Animerss.com] Kuroko no Basuke – 24 RAW (MX 1280×720 x264 AAC).mp4 – 308.8 MB
[Animerss.com] Kuroko no Basuke – 25 END (MX 1280×720 x264 AAC).mp4 – 339.1 MB
RG (RapidGator)
[Animerss.com]_Kuroko_no_Basuke_-_01_RAW_(MX_1280x720_x264_AAC).mp4
[Animerss.com]_Kuroko_no_Basuke_-_02_RAW_(MX_1280x720_x264_AAC).mp4
[Animerss.com]_Kuroko_no_Basuke_-_03_RAW_(MX_1280x720_x264_AAC).mp4
[Animerss.com]_Kuroko_no_Basuke_-_04_RAW_(MX_1280x720_x264_AAC).mp4
[Animerss.com]_Kuroko_no_Basuke_-_05_RAW_(MX_1280x720_x264_AAC).mp4
[Animerss.com]_Kuroko_no_Basuke_-_06_RAW_(MX_1280x720_x264_AAC).mp4
[Animerss.com]_Kuroko_no_Basuke_-_07_RAW_(MX_1280x720_x264_AAC).mp4
[Animerss.com]_Kuroko_no_Basuke_-_08_RAW_(MX_1280x720_x264_AAC).mp4
[Animerss.com]_Kuroko_no_Basuke_-_09_RAW_(MX_1280x720_x264_AAC).mp4
[Animerss.com]_Kuroko_no_Basuke_-_10_RAW_(MX_1280x720_x264_AAC).mp4
[Animerss.com]_Kuroko_no_Basuke_-_11_RAW_(MX_1280x720_x264_AAC).mp4
[Animerss.com]_Kuroko_no_Basuke_-_12_RAW_(MX_1280x720_x264_AAC).mp4
[Animerss.com]_Kuroko_no_Basuke_-_13_RAW_(MX_1280x720_x264_AAC).mp4
[Animerss.com]_Kuroko_no_Basuke_-_14_RAW_(MX_1280x720_x264_AAC).mp4
[Animerss.com]_Kuroko_no_Basuke_-_15_RAW_(MX_1280x720_x264_AAC).mp4
[Animerss.com]_Kuroko_no_Basuke_-_16_RAW_(MX_1280x720_x264_AAC).mp4
[Animerss.com]_Kuroko_no_Basuke_-_17_RAW_(MX_1280x720_x264_AAC).mp4
[Animerss.com]_Kuroko_no_Basuke_-_18_RAW_(MX_1280x720_x264_AAC).mp4
[Animerss.com]_Kuroko_no_Basuke_-_19_RAW_(MX_1280x720_x264_AAC).mp4
[Animerss.com]_Kuroko_no_Basuke_-_20_RAW_(MX_1280x720_x264_AAC).mp4
[Animerss.com]_Kuroko_no_Basuke_-_21_RAW_(MX_1280x720_x264_AAC).mp4
[Animerss.com]_Kuroko_no_Basuke_-_22_RAW_(MX_1280x720_x264_AAC).mp4
[Animerss.com]_Kuroko_no_Basuke_-_23_RAW_(MX_1280x720_x264_AAC).mp4
[Animerss.com]_Kuroko_no_Basuke_-_24_RAW_(MX_1280x720_x264_AAC).mp4
[Animerss.com]_Kuroko_no_Basuke_-_25_END_(MX_1280x720_x264_AAC).mp4
*Download Free Here*
UA (UploadAble)
[Animerss.com]_Kuroko_no_Basuke_-_02_RAW_(MX_1280x720_x264_AAC).mp4
[Animerss.com]_Kuroko_no_Basuke_-_04_RAW_(MX_1280x720_x264_AAC).mp4
[Animerss.com]_Kuroko_no_Basuke_-_06_RAW_(MX_1280x720_x264_AAC).mp4
[Animerss.com]_Kuroko_no_Basuke_-_08_RAW_(MX_1280x720_x264_AAC).mp4
[Animerss.com]_Kuroko_no_Basuke_-_10_RAW_(MX_1280x720_x264_AAC).mp4
[Animerss.com]_Kuroko_no_Basuke_-_01_RAW_(MX_1280x720_x264_AAC).mp4
[Animerss.com]_Kuroko_no_Basuke_-_13_RAW_(MX_1280x720_x264_AAC).mp4
[Animerss.com]_Kuroko_no_Basuke_-_15_RAW_(MX_1280x720_x264_AAC).mp4
[Animerss.com]_Kuroko_no_Basuke_-_17_RAW_(MX_1280x720_x264_AAC).mp4
[Animerss.com]_Kuroko_no_Basuke_-_19_RAW_(MX_1280x720_x264_AAC).mp4
[Animerss.com]_Kuroko_no_Basuke_-_21_RAW_(MX_1280x720_x264_AAC).mp4
[Animerss.com]_Kuroko_no_Basuke_-_23_RAW_(MX_1280x720_x264_AAC).mp4
[Animerss.com]_Kuroko_no_Basuke_-_25_END_(MX_1280x720_x264_AAC).mp4
DF (DataFile)
[Animerss.com]_Kuroko_no_Basuke_-_01_RAW_(MX_1280x720_x264_AAC).mp4
[Animerss.com]_Kuroko_no_Basuke_-_02_RAW_(MX_1280x720_x264_AAC).mp4
[Animerss.com]_Kuroko_no_Basuke_-_03_RAW_(MX_1280x720_x264_AAC).mp4
[Animerss.com]_Kuroko_no_Basuke_-_04_RAW_(MX_1280x720_x264_AAC).mp4
[Animerss.com]_Kuroko_no_Basuke_-_05_RAW_(MX_1280x720_x264_AAC).mp4
[Animerss.com]_Kuroko_no_Basuke_-_06_RAW_(MX_1280x720_x264_AAC).mp4
[Animerss.com]_Kuroko_no_Basuke_-_07_RAW_(MX_1280x720_x264_AAC).mp4
[Animerss.com]_Kuroko_no_Basuke_-_08_RAW_(MX_1280x720_x264_AAC).mp4
[Animerss.com]_Kuroko_no_Basuke_-_09_RAW_(MX_1280x720_x264_AAC).mp4
[Animerss.com]_Kuroko_no_Basuke_-_10_RAW_(MX_1280x720_x264_AAC).mp4
[Animerss.com]_Kuroko_no_Basuke_-_11_RAW_(MX_1280x720_x264_AAC).mp4
[Animerss.com]_Kuroko_no_Basuke_-_12_RAW_(MX_1280x720_x264_AAC).mp4
[Animerss.com]_Kuroko_no_Basuke_-_13_RAW_(MX_1280x720_x264_AAC).mp4
[Animerss.com]_Kuroko_no_Basuke_-_14_RAW_(MX_1280x720_x264_AAC).mp4
[Animerss.com]_Kuroko_no_Basuke_-_15_RAW_(MX_1280x720_x264_AAC).mp4
[Animerss.com]_Kuroko_no_Basuke_-_16_RAW_(MX_1280x720_x264_AAC).mp4
[Animerss.com]_Kuroko_no_Basuke_-_17_RAW_(MX_1280x720_x264_AAC).mp4
[Animerss.com]_Kuroko_no_Basuke_-_18_RAW_(MX_1280x720_x264_AAC).mp4
[Animerss.com]_Kuroko_no_Basuke_-_19_RAW_(MX_1280x720_x264_AAC).mp4
[Animerss.com]_Kuroko_no_Basuke_-_20_RAW_(MX_1280x720_x264_AAC).mp4
[Animerss.com]_Kuroko_no_Basuke_-_21_RAW_(MX_1280x720_x264_AAC).mp4
[Animerss.com]_Kuroko_no_Basuke_-_22_RAW_(MX_1280x720_x264_AAC).mp4
[Animerss.com]_Kuroko_no_Basuke_-_23_RAW_(MX_1280x720_x264_AAC).mp4
[Animerss.com]_Kuroko_no_Basuke_-_24_RAW_(MX_1280x720_x264_AAC).mp4
[Animerss.com]_Kuroko_no_Basuke_-_25_END_(MX_1280x720_x264_AAC).mp4
TB (TurboBit)
[Animerss.com] Kuroko no Basuke – 25 END (MX 1280×720 x264 AAC).mp4
[Animerss.com] Kuroko no Basuke – 23 RAW (MX 1280×720 x264 AAC).mp4
[Animerss.com] Kuroko no Basuke – 24 RAW (MX 1280×720 x264 AAC).mp4
[Animerss.com] Kuroko no Basuke – 22 RAW (MX 1280×720 x264 AAC).mp4
[Animerss.com] Kuroko no Basuke – 21 RAW (MX 1280×720 x264 AAC).mp4
[Animerss.com] Kuroko no Basuke – 20 RAW (MX 1280×720 x264 AAC).mp4
[Animerss.com] Kuroko no Basuke – 17 RAW (MX 1280×720 x264 AAC).mp4
[Animerss.com] Kuroko no Basuke – 16 RAW (MX 1280×720 x264 AAC).mp4
[Animerss.com] Kuroko no Basuke – 19 RAW (MX 1280×720 x264 AAC).mp4
[Animerss.com] Kuroko no Basuke – 18 RAW (MX 1280×720 x264 AAC).mp4
[Animerss.com] Kuroko no Basuke – 15 RAW (MX 1280×720 x264 AAC).mp4
[Animerss.com] Kuroko no Basuke – 13 RAW (MX 1280×720 x264 AAC).mp4
[Animerss.com] Kuroko no Basuke – 12 RAW (MX 1280×720 x264 AAC).mp4
[Animerss.com] Kuroko no Basuke – 14 RAW (MX 1280×720 x264 AAC).mp4
[Animerss.com] Kuroko no Basuke – 11 RAW (MX 1280×720 x264 AAC).mp4
[Animerss.com] Kuroko no Basuke – 10 RAW (MX 1280×720 x264 AAC).mp4
[Animerss.com] Kuroko no Basuke – 09 RAW (MX 1280×720 x264 AAC).mp4
[Animerss.com] Kuroko no Basuke – 08 RAW (MX 1280×720 x264 AAC).mp4
[Animerss.com] Kuroko no Basuke – 03 RAW (MX 1280×720 x264 AAC).mp4
[Animerss.com] Kuroko no Basuke – 06 RAW (MX 1280×720 x264 AAC).mp4
[Animerss.com] Kuroko no Basuke – 07 RAW (MX 1280×720 x264 AAC).mp4
UL (Uploaded)
[Animerss.com] Kuroko no Basuke – 01 RAW (MX 1280×720 x264 AAC).mp4
[Animerss.com] Kuroko no Basuke – 02 RAW (MX 1280×720 x264 AAC).mp4
[Animerss.com] Kuroko no Basuke – 03 RAW (MX 1280×720 x264 AAC).mp4
[Animerss.com] Kuroko no Basuke – 04 RAW (MX 1280×720 x264 AAC).mp4
[Animerss.com] Kuroko no Basuke – 05 RAW (MX 1280×720 x264 AAC).mp4
[Animerss.com] Kuroko no Basuke – 06 RAW (MX 1280×720 x264 AAC).mp4
[Animerss.com] Kuroko no Basuke – 07 RAW (MX 1280×720 x264 AAC).mp4
[Animerss.com] Kuroko no Basuke – 08 RAW (MX 1280×720 x264 AAC).mp4
[Animerss.com] Kuroko no Basuke – 09 RAW (MX 1280×720 x264 AAC).mp4
[Animerss.com] Kuroko no Basuke – 10 RAW (MX 1280×720 x264 AAC).mp4
[Animerss.com] Kuroko no Basuke – 11 RAW (MX 1280×720 x264 AAC).mp4
[Animerss.com] Kuroko no Basuke – 12 RAW (MX 1280×720 x264 AAC).mp4
[Animerss.com] Kuroko no Basuke – 13 RAW (MX 1280×720 x264 AAC).mp4
[Animerss.com] Kuroko no Basuke – 14 RAW (MX 1280×720 x264 AAC).mp4
[Animerss.com] Kuroko no Basuke – 15 RAW (MX 1280×720 x264 AAC).mp4
[Animerss.com] Kuroko no Basuke – 16 RAW (MX 1280×720 x264 AAC).mp4
[Animerss.com] Kuroko no Basuke – 17 RAW (MX 1280×720 x264 AAC).mp4
[Animerss.com] Kuroko no Basuke – 18 RAW (MX 1280×720 x264 AAC).mp4
[Animerss.com] Kuroko no Basuke – 19 RAW (MX 1280×720 x264 AAC).mp4
[Animerss.com] Kuroko no Basuke – 20 RAW (MX 1280×720 x264 AAC).mp4
[Animerss.com] Kuroko no Basuke – 21 RAW (MX 1280×720 x264 AAC).mp4
[Animerss.com] Kuroko no Basuke – 22 RAW (MX 1280×720 x264 AAC).mp4
[Animerss.com] Kuroko no Basuke – 23 RAW (MX 1280×720 x264 AAC).mp4
[Animerss.com] Kuroko no Basuke – 24 RAW (MX 1280×720 x264 AAC).mp4
[Animerss.com] Kuroko no Basuke – 25 END (MX 1280×720 x264 AAC).mp4