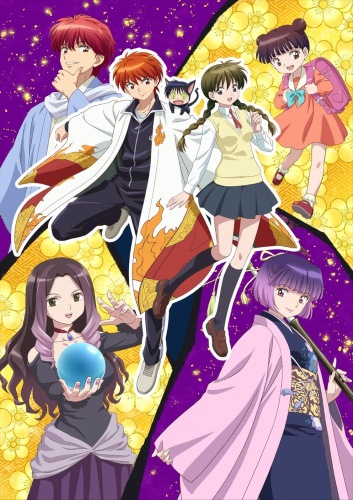 [TVRIP] Kyoukai no Rinne (2017) [境界のRINNE (2017)] 第01-25話 全
Alternative Titles
English: Rin-ne: Season 3
Japanese: 境界のRINNE (2017)
Type TV Series, 25 episodes
Year 08.04.2017 till ?
Saving lost souls on the tightest budget known to man is only a day's work for half-human, half-Shinigami kind-of-thing Rinne! Together with the almost too-collected Sakura and his black cat Rokumon, life continues as normal as Rinne helps guide the dead to their final rest. However, new transfers are never a good sign, and a popular fortune teller ends up at Rinne and Sakura's school as their new teacher. Things get chaotic when a strange girl wielding a scythe makes an appearance, and Rinne realizes that he might discover a major piece surrounding the mystery of his past.
*Uploaded [email protected]https://animerss.com
*Do not simply copy and paste the download links to your site. (Thank you!)
いつもありがとうございます!
プレミアムアカウントの有効期限が切れたら、なるべく以下のリンクから新アカウントを購入して頂けませんか。
RapidGator -> https://rapidgator.net/article/premium/ref/22000
Aniemrssご支援いただき、ありがとうございます。
FREE DOWNLOAD/無料ダウンロード :
RG (RapidGator)
Kyoukai no Rinne (2017) – 01 RAW (NHKE 1280×720 x264 AAC).mp4
Kyoukai no Rinne (2017) – 02 RAW (NHKE 1280×720 x264 AAC).mp4
Kyoukai no Rinne (2017) – 04 RAW (NHKE 1280×720 x264 AAC).mp4
Kyoukai no Rinne (2017) – 05 RAW (NHKE 1280×720 x264 AAC).mp4
Kyoukai no Rinne (2017) – 06 RAW (NHKE 1280×720 x264 AAC).mp4
Kyoukai no Rinne (2017) – 07 RAW (NHKE 1280×720 x264 AAC).mp4
Kyoukai no Rinne (2017) – 08 RAW (NHKE 1280×720 x264 AAC).mp4
Kyoukai no Rinne (2017) – 09 RAW (NHKE 1280×720 x264 AAC).mp4
Kyoukai no Rinne (2017) – 10 RAW (NHKE 1280×720 x264 AAC).mp4
Kyoukai no Rinne (2017) – 11 RAW (NHKE 1280×720 x264 AAC).mp4
Kyoukai no Rinne (2017) – 12 RAW (NHKE 1280×720 x264 AAC).mp4
Kyoukai no Rinne (2017) – 13 RAW (NHKE 1280×720 x264 AAC).mp4
Kyoukai no Rinne (2017) – 14 RAW (NHKE 1280×720 x264 AAC).mp4
Kyoukai no Rinne (2017) – 18 RAW (NHKE 1280×720 x264 AAC).mp4
Kyoukai no Rinne (2017) – 19 RAW (NHKE 1280×720 x264 AAC).mp4
Kyoukai no Rinne (2017) – 22 RAW (NHKE 1280×720 x264 AAC).mp4
Kyoukai no Rinne (2017) – 23 RAW (NHKE 1280×720 x264 AAC).mp4
Kyoukai no Rinne (2017) – 24 RAW (NHKE 1280×720 x264 AAC).mp4
Kyoukai no Rinne (2017) – 25 END (NHKE 1280×720 x264 AAC).mp4