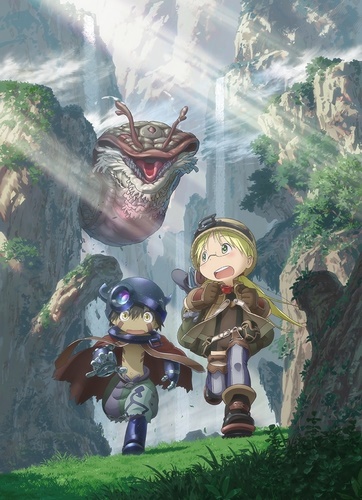 [TVRIP] Made in Abyss [メイドインアビス] 第01-13話 全
Alternative Titles
English: Made in Abyss
Official Title Made in Abyss
Official Title メイドインアビス
Type TV Series, unknown number of episodes
Year 07.07.2017 till ?
Tags manga
* Based on Tsukushi Akihito's seinen manga series.
The enormous cave system, known as the Abyss, is the last unexplored place in the world. Nobody knows how deep down goes this titanic pit, inhabited by strange and wondrous creatures and full of mysterious ancient relics which purpose in unknown to modern man. Generations of bold adventurers have been drawn by the cryptic depths of the Abyss. In course of time those brave enough to explore the dangerous pit came to be known as Cave Raiders.
In Oosu, the town at the edge of the Abyss, there lives a little orphan named Rico, who dreams of becoming as great a cave raider as her mother was and solving the great mystery of the pit. One day exploring the murky depths she stumbles upon a little boy, who turns out to be a robot…
Source: M-U
Note: First episode received a special pre-air on June 18, 2017. Regular TV airing started in July 2017.
*Uploaded [email protected]https://animerss.com
*Do not simply copy and paste the download links to your site. (Thank you!)
いつもありがとうございます!
プレミアムアカウントの有効期限が切れたら、なるべく以下のリンクから新アカウントを購入して頂けませんか。
RapidGator -> https://rapidgator.net/article/premium/ref/22000
Aniemrssご支援いただき、ありがとうございます。
FREE DOWNLOAD/無料ダウンロード :
RG (RapidGator)
Made in Abyss – 01 RAW (BS11 1280×720 x264 AAC).mp4
Made in Abyss – 02 RAW (BS11 1280×720 x264 AAC).mp4
Made in Abyss – 03 RAW (BS11 1280×720 x264 AAC).mp4
Made in Abyss – 04 RAW (BS11 1280×720 x264 AAC).mp4
Made in Abyss – 05 RAW (BS11 1280×720 x264 AAC).mp4
Made in Abyss – 06 RAW (BS11 1280×720 x264 AAC).mp4
Made in Abyss – 07 RAW (BS11 1280×720 x264 AAC).mp4
Made in Abyss – 08 RAW (BS11 1280×720 x264 AAC).mp4
Made in Abyss – 09 RAW (BS11 1280×720 x264 AAC).mp4
Made in Abyss – 10 RAW (BS11 1280×720 x264 AAC).mp4
Made in Abyss – 11 RAW (BS11 1280×720 x264 AAC).mp4
Made in Abyss – 12 RAW (BS11 1280×720 x264 AAC).mp4
Made in Abyss – 13 END (BS11 1280×720 x264 AAC).mp4