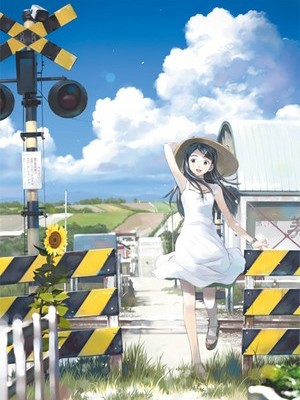 [TVRIP] Mahou Tsukai ni Taisetsu na Koto: Natsu no Sora [魔法遣いに大切なこと ~夏のソラ~] 第01-12話 全
Alternative Titles
English: Mahou Tsukai ni Taisetsu na Koto: Natsu no Sora
Official Title Someday`s Dreamers II: Sora
Official Title 魔法遣いに大切なこと ~夏のソラ~
Type TV Series, 12 episodes
Year 03.07.2008 till 25.09.2008
Tags daily life, magic, manga, shounen, tragedy –
* Based on the Mahou Tsukai ni Taisetsu na Koto ~Natsu no Sora~ shounen manga by Yamada Norie and illustrated by Yoshizuki Kumichi, serialised in Shounen Ace in 2008.
Sora Suzuki is a cheerful country girl from the small town of Biei. She made a promise to her father, and following this promise applies and is accepted for a magic internship in Tokyo, where she will face the life in a big city. While training to get better with her magic, she meets a mysterious boy also practicing to become a mage. While he can not use magic that well and he seems distant and cold at first, Sora's fate intertwines with his and the two are thrown together, learning a lot of new things about life and each other.
In Tokyo is the Bureau of Magic, which employs Mage Labour for certain special requests by everyday people. However, the mages must only use their magic with special permission, and any unlicensed use results in a penalty.
Note: The story is set in present day Tokyo. Much of the setting is based upon real areas, the more obvious ones being the Shibuya Crossing and Tokyo Tower. The main backdrop of the series where they all reside is in Shimokitazawa, roughly 6 minutes west of Shibuya on the Keio Inokashira Line.
*Uploaded [email protected]https://animerss.com
*Do not simply copy and paste the download links to your site. (Thank you!)
いつもありがとうございます!
プレミアムアカウントの有効期限が切れたら、なるべく以下のリンクから新アカウントを購入して頂けませんか。
RapidGator -> https://rapidgator.net/article/premium/ref/22000
Aniemrssご支援いただき、ありがとうございます。
FREE DOWNLOAD/無料ダウンロード :
RG (RapidGator)
Mahou Tsukai ni Taisetsu na Koto – Natsu no Sora – 01 RAW (ATX 1280×720 x264 AAC).mp4
Mahou Tsukai ni Taisetsu na Koto – Natsu no Sora – 02 RAW (ATX 1280×720 x264 AAC).mp4
Mahou Tsukai ni Taisetsu na Koto – Natsu no Sora – 03 RAW (ATX 1280×720 x264 AAC).mp4
Mahou Tsukai ni Taisetsu na Koto – Natsu no Sora – 04 RAW (ATX 1280×720 x264 AAC).mp4
Mahou Tsukai ni Taisetsu na Koto – Natsu no Sora – 05 RAW (ATX 1280×720 x264 AAC).mp4
Mahou Tsukai ni Taisetsu na Koto – Natsu no Sora – 06 RAW (ATX 1280×720 x264 AAC).mp4
Mahou Tsukai ni Taisetsu na Koto – Natsu no Sora – 07 RAW (ATX 1280×720 x264 AAC).mp4
Mahou Tsukai ni Taisetsu na Koto – Natsu no Sora – 08 RAW (ATX 1280×720 x264 AAC).mp4
Mahou Tsukai ni Taisetsu na Koto – Natsu no Sora – 09 RAW (ATX 1280×720 x264 AAC).mp4
Mahou Tsukai ni Taisetsu na Koto – Natsu no Sora – 10 RAW (ATX 1280×720 x264 AAC).mp4
Mahou Tsukai ni Taisetsu na Koto – Natsu no Sora – 11 RAW (ATX 1280×720 x264 AAC).mp4
Mahou Tsukai ni Taisetsu na Koto – Natsu no Sora – 12 END (ATX 1280×720 x264 AAC).mp4