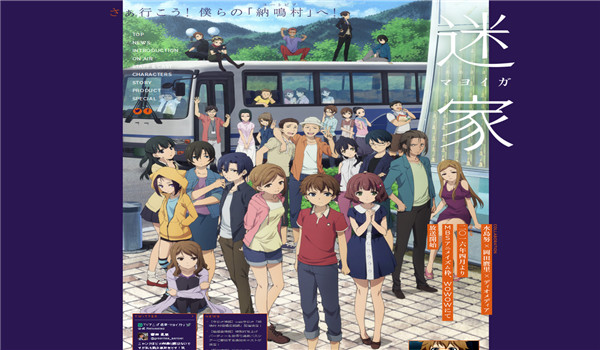 Title: [TVRIP] Mayoiga [迷家[マヨイガ]] 第01-12話 全
Anime Information
Japanese Title: 迷家[マヨイガ]
English Title: Mayoiga
Type: TV Series, unknown number of episodes
Year: 01.04.2016 till ?
Categories: horror, new, short episodes –
AniDB: http://anidb.net/perl-bin/animedb.pl?show=anime&aid=11863
Plot Summary: Animerss.com
30 young men and women who came together on a shady bus tour. The tour's destination: an illusive, possibly nonexistent village called Nanakimura. In Nanakimura, one can lead a utopian existence, free of the world's obstacles … or so it was rumored, like an urban legend.
"In despair over the real world … wanting to escape the tedious daily life … wanting to restart your life from scratch…"
The bus headed deep into the mountains, carrying 30 people each harboring their own expectations and wounds in their hearts…
And so, the place these 30 arrived at, was an uninhabited village with the lingering faint scents of life, even though it was falling apart.
What is the truth of Nanakimura facing the 30?
----ダウンロード・/Download↓----
*Uploaded [email protected]https://animerss.com
*Do not simply copy and paste the download links to your site. (Thank you!)
いつもありがとうございます!
プレミアムアカウントの有効期限が切れたら、なるべく以下のリンクから新アカウントを購入して頂けませんか。
RapidGator -> http://rapidgator.net/account/registration/ref/22000
ANIMERSSご支援いただき、ありがとうございます。
*Download Prenium Here*
RG (RapidGator)
Mayoiga – 01 RAW (WOWOW 1280×720 x264 AAC).mp4
Mayoiga – 02 RAW (WOWOW 1280×720 x264 AAC).mp4
Mayoiga – 03 RAW (WOWOW 1280×720 x264 AAC rev).mp4
Mayoiga – 04 RAW (WOWOW 1280×720 x264 AAC).mp4
Mayoiga – 05 RAW (WOWOW 1280×720 x264 AAC).mp4
Mayoiga – 06 RAW (WOWOW 1280×720 x264 AAC).mp4
Mayoiga – 07 RAW (WOWOW 1280×720 x264 AAC).mp4
Mayoiga – 08 RAW (WOWOW 1280×720 x264 AAC).mp4
Mayoiga – 09 RAW (WOWOW 1280×720 x264 AAC).mp4
Mayoiga – 10 RAW (WOWOW 1280×720 x264 AAC).mp4
Mayoiga – 11 RAW (WOWOW 1280×720 x264 AAC).mp4
Mayoiga – 12 END (WOWOW 1280×720 x264 AAC).mp4
*Download Free Here*
DF (DataFile)
Mayoiga – 01 RAW (WOWOW 1280×720 x264 AAC).mp4
Mayoiga – 02 RAW (WOWOW 1280×720 x264 AAC).mp4
Mayoiga – 03 RAW (WOWOW 1280×720 x264 AAC rev).mp4
Mayoiga – 04 RAW (WOWOW 1280×720 x264 AAC).mp4
Mayoiga – 05 RAW (WOWOW 1280×720 x264 AAC).mp4
Mayoiga – 06 RAW (WOWOW 1280×720 x264 AAC).mp4
Mayoiga – 07 RAW (WOWOW 1280×720 x264 AAC).mp4
Mayoiga – 08 RAW (WOWOW 1280×720 x264 AAC).mp4
Mayoiga – 09 RAW (WOWOW 1280×720 x264 AAC).mp4
Mayoiga – 10 RAW (WOWOW 1280×720 x264 AAC).mp4
Mayoiga – 11 RAW (WOWOW 1280×720 x264 AAC).mp4
Mayoiga – 12 END (WOWOW 1280×720 x264 AAC).mp4
BF (BigFile)
Mayoiga – 01 RAW (WOWOW 1280×720 x264 AAC).mp4
Mayoiga – 02 RAW (WOWOW 1280×720 x264 AAC).mp4
Mayoiga – 03 RAW (WOWOW 1280×720 x264 AAC rev).mp4
Mayoiga – 04 RAW (WOWOW 1280×720 x264 AAC).mp4
Mayoiga – 05 RAW (WOWOW 1280×720 x264 AAC).mp4
Mayoiga – 06 RAW (WOWOW 1280×720 x264 AAC).mp4
Mayoiga – 07 RAW (WOWOW 1280×720 x264 AAC).mp4
Mayoiga – 08 RAW (WOWOW 1280×720 x264 AAC).mp4
Mayoiga – 09 RAW (WOWOW 1280×720 x264 AAC).mp4
Mayoiga – 10 RAW (WOWOW 1280×720 x264 AAC).mp4
Mayoiga – 11 RAW (WOWOW 1280×720 x264 AAC).mp4
Mayoiga – 12 END (WOWOW 1280×720 x264 AAC).mp4
SF (SaleFiles)
Mayoiga – 01 RAW (WOWOW 1280×720 x264 AAC).mp4
Mayoiga – 02 RAW (WOWOW 1280×720 x264 AAC).mp4
Mayoiga – 03 RAW (WOWOW 1280×720 x264 AAC rev).mp4
Mayoiga – 04 RAW (WOWOW 1280×720 x264 AAC).mp4
Mayoiga – 05 RAW (WOWOW 1280×720 x264 AAC).mp4
Mayoiga – 06 RAW (WOWOW 1280×720 x264 AAC).mp4
Mayoiga – 07 RAW (WOWOW 1280×720 x264 AAC).mp4
Mayoiga – 08 RAW (WOWOW 1280×720 x264 AAC).mp4
Mayoiga – 09 RAW (WOWOW 1280×720 x264 AAC).mp4
Mayoiga – 10 RAW (WOWOW 1280×720 x264 AAC).mp4
Mayoiga – 11 RAW (WOWOW 1280×720 x264 AAC).mp4
Mayoiga – 12 END (WOWOW 1280×720 x264 AAC).mp4
FS (FastStore)
Mayoiga – 01 RAW (WOWOW 1280×720 x264 AAC).mp4
Mayoiga – 02 RAW (WOWOW 1280×720 x264 AAC).mp4
Mayoiga – 03 RAW (WOWOW 1280×720 x264 AAC rev).mp4
Mayoiga – 04 RAW (WOWOW 1280×720 x264 AAC).mp4
Mayoiga – 05 RAW (WOWOW 1280×720 x264 AAC).mp4
Mayoiga – 06 RAW (WOWOW 1280×720 x264 AAC).mp4
Mayoiga – 07 RAW (WOWOW 1280×720 x264 AAC).mp4
Mayoiga – 08 RAW (WOWOW 1280×720 x264 AAC).mp4
Mayoiga – 09 RAW (WOWOW 1280×720 x264 AAC).mp4
Mayoiga – 10 RAW (WOWOW 1280×720 x264 AAC).mp4
Mayoiga – 11 RAW (WOWOW 1280×720 x264 AAC).mp4
Mayoiga – 12 END (WOWOW 1280×720 x264 AAC).mp4