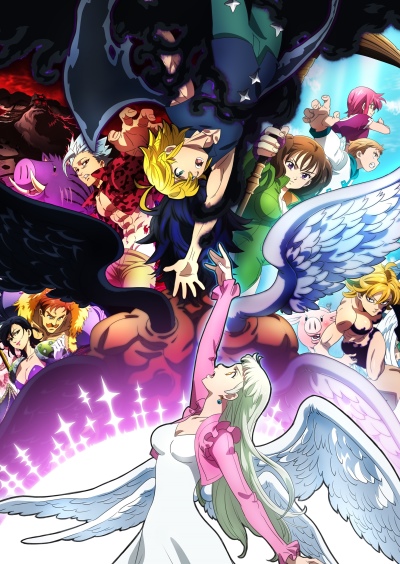 [TVRIP] Nanatsu no Taizai: Fundo no Shinpan [七つの大罪 憤怒の審判] 第01-24話 全
Alternative Titles
English: The Seven Deadly Sins: Dragon`s Judgement
Official Title 七つの大罪 憤怒の審判
Type TV Series, 24 episodes
Year 13.01.2021 till ?
As war rages on, the heroes will cross the boundaries of heaven and hell to save the people they love.
The 3000-year journey of Meliodas and Elizabeth is heading towards the conclusion.
*Uploaded [email protected]https://animerss.com
*Do not simply copy and paste the download links to your site. (Thank you!)
いつもありがとうございます!
プレミアムアカウントの有効期限が切れたら、なるべく以下のリンクから新アカウントを購入して頂けませんか。
RapidGator -> https://rapidgator.net/article/premium/ref/22000
Aniemrssご支援いただき、ありがとうございます。
FREE DOWNLOAD/無料ダウンロード :
RG (RapidGator)
Nanatsu no Taizai Fundo no Shinpan – 01 (TX 1280×720 x264 AAC).mp4
Nanatsu no Taizai Fundo no Shinpan – 02 (TX 1280×720 x264 AAC).mp4
Nanatsu no Taizai Fundo no Shinpan – 03 (TX 1280×720 x264 AAC).mp4
Nanatsu no Taizai Fundo no Shinpan – 04 (TX 1280×720 x264 AAC).mp4
Nanatsu no Taizai Fundo no Shinpan – 05 (TX 1280×720 x264 AAC).mp4
Nanatsu no Taizai Fundo no Shinpan – 06 (TX 1280×720 x264 AAC).mp4
Nanatsu no Taizai Fundo no Shinpan – 07 (TX 1280×720 x264 AAC).mp4
Nanatsu no Taizai Fundo no Shinpan – 08 (TX 1280×720 x264 AAC).mp4
Nanatsu no Taizai Fundo no Shinpan – 09 (TX 1280×720 x264 AAC).mp4
Nanatsu no Taizai Fundo no Shinpan – 10 (TX 1280×720 x264 AAC).mp4
Nanatsu no Taizai Fundo no Shinpan – 11 (BSJ 1280×720 x264 AAC).mp4
Nanatsu no Taizai Fundo no Shinpan – 12 (BSJ 1280×720 x264 AAC).mp4
Nanatsu no Taizai Fundo no Shinpan – 13 (TX 1280×720 x264 AAC).mp4
Nanatsu no Taizai Fundo no Shinpan – 14 (TX 1280×720 x264 AAC).mp4
Nanatsu no Taizai Fundo no Shinpan – 15 (TX 1280×720 x264 AAC).mp4
Nanatsu no Taizai Fundo no Shinpan – 16 (TX 1280×720 x264 AAC).mp4
Nanatsu no Taizai Fundo no Shinpan – 17 (TX 1280×720 x264 AAC).mp4
Nanatsu no Taizai Fundo no Shinpan – 17 (TX 1920×1080 x264 AAC).mp4
Nanatsu no Taizai Fundo no Shinpan – 18 (TX 1280×720 x264 AAC).mp4
Nanatsu no Taizai Fundo no Shinpan – 19 (TX 1280×720 x264 AAC).mp4
Nanatsu no Taizai Fundo no Shinpan – 20 (TX 1280×720 x264 AAC).mp4
Nanatsu no Taizai Fundo no Shinpan – 21 (TX 1280×720 x264 AAC).mp4
Nanatsu no Taizai Fundo no Shinpan – 22 (TX 1280×720 x264 AAC).mp4
Nanatsu no Taizai Fundo no Shinpan – 23 (TX 1280×720 x264 AAC).mp4
Nanatsu no Taizai Fundo no Shinpan – 24 END (TX 1280×720 x264 AAC).mp4