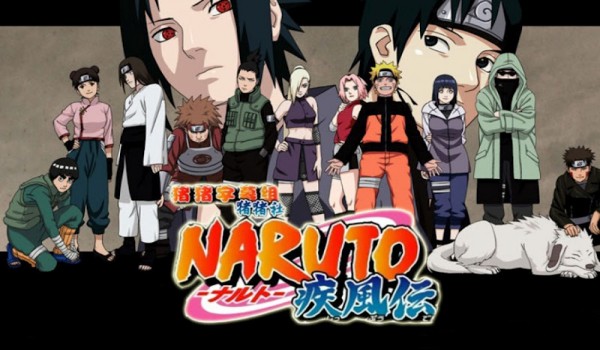 [TVRIP] Naruto Shippuden [NARUTO 疾風伝] 第368-500話 全
Anime Information
Japanese Title: NARUTO 疾風伝
English Title: Naruto Shippuden
Type: TV Series, unknown number of episodes
Year: 15.02.2007 till ?
Categories: Action, Love Polygon, Manga, Martial Arts, Ninjas, Shounen, Super Power –
AniDB: http://anidb.net/perl-bin/animedb.pl?show=anime&aid=4880
Plot Summary: Animerss.com
The second incarnation of the very popular NARUTO anime. It covers Part II of the manga storyline which takes place two years after Part I (which ends with the Sasuke Retrieval arc, episodes 107-135 of the first TV series). The anime chronology differs from the manga as the Shippuuden series happens two and a half years after the end of the first Naruto series.
The story revolves mainly around Uzumaki Naruto's and Haruno Sakura's new adventures and their search for Uchiha Sasuke after he left Konoha-gakure (Leaf Village) to gain Orochimaru's power. The plot also shows a more active Akatsuki in their quest for obtaining all the tailed beasts.
After his failed attempt to retrieve Sasuke, Naruto learns that circumstances have granted him slightly less than three years to prepare for a confrontation with Orochimaru, who has to wait that much time before he can transfer into Sasuke's body. Naruto also must prepare for his eventual confrontation with Akatsuki, who are after the demon sealed within him. To prepare, Naruto leaves the village and undergoes intensive training under Jiraiya. At the same time, Sakura becomes Tsunade's apprentice, and Sasuke trains under Orochimaru. Thus, all three members of the original Team 7 are now training under one of the Legendary Sannin.
----ダウンロード・/Download↓----
*Uploaded [email protected]https://animerss.com
*Do not simply copy and paste the download links to your site. (Thank you!)
いつもありがとうございます!
プレミアムアカウントの有効期限が切れたら、なるべく以下のリンクから新アカウントを購入して頂けませんか。
RapidGator -> http://rapidgator.net/account/registration/ref/22000
ANIMERSSご支援いただき、ありがとうございます。
*Download Prenium Here*
RG (RapidGator)
Naruto Shippuuden – 368 RAW (TX 1280×720 x264 AAC).mp4
Naruto Shippuuden – 369 RAW (TX 1280×720 x264 AAC).mp4
Naruto Shippuuden – 370 RAW (TX 1280×720 x264 AAC).mp4
Naruto Shippuuden – 371 RAW (TX 1280×720 x264 AAC).mp4
Naruto Shippuuden – 372 RAW (TX 1280×720 x264 AAC).mp4
Naruto Shippuuden – 373 RAW (TX 1280×720 x264 AAC).mp4
Naruto Shippuuden – 374 RAW (TX 1280×720 x264 AAC).mp4
Naruto Shippuuden – 375 RAW (TX 1280×720 x264 AAC).mp4
Naruto Shippuuden – 376-377 RAW (TX 1280×720 x264 AAC).mp4
Naruto Shippuuden – 378 RAW (TX 1280×720 x264 AAC).mp4
Naruto Shippuuden – 379 RAW (TX 1280×720 x264 AAC).mp4
Naruto Shippuuden – 380 RAW (TX 1280×720 x264 AAC).mp4
Naruto Shippuuden – 381 RAW (TX 1280×720 x264 AAC).mp4
Naruto Shippuuden – 382 RAW (TX 1280×720 x264 AAC).mp4
Naruto Shippuuden – 383 RAW (TX 1280×720 x264 AAC).mp4
Naruto Shippuuden – 384 RAW (TX 1280×720 x264 AAC).mp4
Naruto Shippuuden – 385 RAW (TX 1280×720 x264 AAC).mp4
Naruto Shippuuden – 386 RAW (TX 1280×720 x264 AAC).mp4
Naruto Shippuuden – 387 RAW (TX 1280×720 x264 AAC).mp4
Naruto Shippuuden – 388 RAW (TX 1280×720 x264 AAC).mp4
Naruto Shippuuden – 389-390 RAW (TX 1280×720 x264 AAC).mp4
Naruto Shippuuden – 391 RAW (TX 1280×720 x264 AAC).mp4
Naruto Shippuuden – 392 RAW (TX 1280×720 x264 AAC).mp4
Naruto Shippuuden – 393 RAW (TX 1280×720 x264 AAC).mp4
Naruto Shippuuden – 394 RAW (TX 1280×720 x264 AAC).mp4
Naruto Shippuuden – 395 RAW (TX 1280×720 x264 AAC).mp4
Naruto Shippuuden – 396 RAW (TX 1280×720 x264 AAC).mp4
Naruto Shippuuden – 397 RAW (TX 1280×720 x264 AAC).mp4
Naruto Shippuuden – 398 RAW (TX 1280×720 x264 AAC).mp4
Naruto Shippuuden – 399 RAW (TX 1280×720 x264 AAC).mp4
Naruto Shippuuden – 400 RAW (TX 1280×720 x264 AAC).mp4
Naruto Shippuuden – 401 RAW (TX 1280×720 x264 AAC).mp4
Naruto Shippuuden – 402 RAW (TX 1280×720 x264 AAC).mp4
Naruto Shippuuden – 403 RAW (TX 1280×720 x264 AAC).mp4
Naruto Shippuuden – 404 RAW (TX 1280×720 x264 AAC).mp4
Naruto Shippuuden – 405 RAW (TX 1280×720 x264 AAC).mp4
Naruto Shippuuden – 406 RAW (TX 1280×720 x264 AAC).mp4
Naruto Shippuuden – 407 RAW (TX 1280×720 x264 AAC).mp4
Naruto Shippuuden – 408 RAW (TX 1280×720 x264 AAC).mp4
Naruto Shippuuden – 409 RAW (TX 1280×720 x264 AAC).mp4
Naruto Shippuuden – 410 RAW (TX 1280×720 x264 AAC).mp4
Naruto Shippuuden – 411 RAW (TX 1280×720 x264 AAC).mp4
Naruto Shippuuden – 412 RAW (TX 1280×720 x264 AAC).mp4
Naruto Shippuuden – 413 RAW (TX 1280×720 x264 AAC).mp4
Naruto Shippuuden – 414 RAW (TX 1280×720 x264 AAC).mp4
Naruto Shippuuden – 415 RAW (TX 1280×720 x264 AAC).mp4
Naruto Shippuuden – 416 RAW (TX 1280×720 x264 AAC).mp4
Naruto Shippuuden – 417 RAW (TX 1280×720 x264 AAC).mp4
Naruto Shippuuden – 418 RAW (TX 1280×720 x264 AAC).mp4
Naruto Shippuuden – 419 RAW (TX 1280×720 x264 AAC).mp4
Naruto Shippuuden – 420 RAW (TX 1280×720 x264 AAC).mp4
Naruto Shippuuden – 421 RAW (TX 1280×720 x264 AAC).mp4
Naruto Shippuuden – 422-423 RAW (TX 1280×720 x264 AAC).mp4
Naruto Shippuuden – 424 RAW (TX 1280×720 x264 AAC).mp4
Naruto Shippuuden – 425 RAW (TX 1280×720 x264 AAC).mp4
Naruto Shippuuden – 426 RAW (TX 1280×720 x264 AAC).mp4
Naruto Shippuuden – 427-428 RAW (TX 1280×720 x264 AAC).mp4
Naruto Shippuuden – 429 RAW (TX 1280×720 x264 AAC).mp4
Naruto Shippuuden – 430 RAW (TX 1280×720 x264 AAC).mp4
Naruto Shippuuden – 431 RAW (TX 1280×720 x264 AAC).mp4
Naruto Shippuuden – 432 RAW (TX 1280×720 x264 AAC).mp4
Naruto Shippuuden – 433 RAW (TX 1280×720 x264 AAC).mp4
Naruto Shippuuden – 434 RAW (TX 1280×720 x264 AAC).mp4
Naruto Shippuuden – 435 RAW (TX 1280×720 x264 AAC).mp4
Naruto Shippuuden – 436 RAW (TX 1280×720 x264 AAC).mp4
Naruto Shippuuden – 437 RAW (TX 1280×720 x264 AAC).mp4
Naruto Shippuuden – 438 RAW (TX 1280×720 x264 AAC).mp4
Naruto Shippuuden – 439 RAW (TX 1280×720 x264 AAC).mp4
Naruto Shippuuden – 440 RAW (TX 1280×720 x264 AAC).mp4
Naruto Shippuuden – 441 RAW (TX 1280×720 x264 AAC).mp4
Naruto Shippuuden – 442 RAW (TX 1280×720 x264 AAC).mp4
Naruto Shippuuden – 443 RAW (TX 1280×720 x264 AAC).mp4
Naruto Shippuuden – 444 RAW (TX 1280×720 x264 AAC).mp4
Naruto Shippuuden – 445 RAW (TX 1280×720 x264 AAC).mp4
Naruto Shippuuden – 446 RAW (TX 1280×720 x264 AAC).mp4
Naruto Shippuuden – 447 RAW (TX 1280×720 x264 AAC).mp4
Naruto Shippuuden – 448 RAW (TX 1280×720 x264 AAC).mp4
Naruto Shippuuden – 449 RAW (TX 1280×720 x264 AAC).mp4
Naruto Shippuuden – 450 RAW (TX 1280×720 x264 AAC).mp4
Naruto Shippuuden – 451 RAW (TX 1280×720 x264 AAC).mp4
Naruto Shippuuden – 452 RAW (TX 1280×720 x264 AAC).mp4
Naruto Shippuuden – 453 RAW (TX 1280×720 x264 AAC).mp4
Naruto Shippuuden – 454 RAW (TX 1280×720 x264 AAC).mp4
Naruto Shippuuden – 455 RAW (TX 1280×720 x264 AAC).mp4
Naruto Shippuuden – 456 RAW (TX 1280×720 x264 AAC).mp4
Naruto Shippuuden – 457 RAW (TX 1280×720 x264 AAC).mp4
Naruto Shippuuden – 458 RAW (TX 1280×720 x264 AAC).mp4
Naruto Shippuuden – 459 RAW (TX 1280×720 x264 AAC).mp4
Naruto Shippuuden – 460 RAW (TX 1280×720 x264 AAC).mp4
Naruto Shippuuden – 461 RAW (TX 1280×720 x264 AAC).mp4
Naruto Shippuuden – 462 RAW (TX 1280×720 x264 AAC).mp4
Naruto Shippuuden – 463 RAW (TX 1280×720 x264 AAC).mp4
Naruto Shippuuden – 464 RAW (TX 1280×720 x264 AAC).mp4
Naruto Shippuuden – 465 RAW (TX 1280×720 x264 AAC).mp4
Naruto Shippuuden – 466 RAW (TX 1280×720 x264 AAC).mp4
Naruto Shippuuden – 467 RAW (TX 1280×720 x264 AAC).mp4
Naruto Shippuuden – 468 RAW (TX 1280×720 x264 AAC).mp4
Naruto Shippuuden – 469 RAW (TX 1280×720 x264 AAC).mp4
Naruto Shippuuden – 470 RAW (TX 1280×720 x264 AAC).mp4
Naruto Shippuuden – 471 RAW (TX 1280×720 x264 AAC).mp4
Naruto Shippuuden – 472 RAW (TX 1280×720 x264 AAC).mp4
Naruto Shippuuden – 474 RAW (TX 1280×720 x264 AAC).mp4
Naruto Shippuuden – 475 RAW (TX 1280×720 x264 AAC).mp4
Naruto Shippuuden – 476-477 RAW (TX 1280×720 x264 AAC).mp4
Naruto Shippuuden – 478 RAW (TX 1280×720 x264 AAC).mp4
Naruto Shippuuden – 479 RAW (TX 1280×720 x264 AAC).mp4
Naruto Shippuuden – 480 RAW (TX 1280×720 x264 AAC).mp4
Naruto Shippuuden – 481 RAW (TX 1280×720 x264 AAC).mp4
Naruto Shippuuden – 482 RAW (TX 1280×720 x264 AAC).mp4
Naruto Shippuuden – 483 RAW (TX 1280×720 x264 AAC).mp4
Naruto Shippuuden – 484 RAW (TX 1280×720 x264 AAC).mp4
Naruto Shippuuden – 485 RAW (TX 1280×720 x264 AAC).mp4
Naruto Shippuuden – 486 RAW (TX 1280×720 x264 AAC).mp4
Naruto Shippuuden – 487 RAW (TX 1280×720 x264 AAC).mp4
Naruto Shippuuden – 488 RAW (TX 1280×720 x264 AAC).mp4
Naruto Shippuuden – 489 RAW (TX 1280×720 x264 AAC).mp4
Naruto Shippuuden – 490 RAW (TX 1280×720 x264 AAC).mp4
Naruto Shippuuden – 491 RAW (TX 1280×720 x264 AAC).mp4
Naruto Shippuuden – 492 RAW (TX 1280×720 x264 AAC).mp4
Naruto Shippuuden – 493 RAW (TX 1280×720 x264 AAC).mp4
Naruto Shippuuden – 494-495 RAW (TX 1280×720 x264 AAC).mp4
Naruto Shippuuden – 496 RAW (TX 1280×720 x264 AAC).mp4
Naruto Shippuuden – 497 RAW (TX 1280×720 x264 AAC).mp4
Naruto Shippuuden – 498 RAW (TX 1280×720 x264 AAC).mp4
Naruto Shippuuden – 499 RAW (TX 1280×720 x264 AAC).mp4
Naruto Shippuuden – 500 END (TX 1280×720 x264 AAC).mp4
*Download Free Here*
DF (DataFile)
Naruto Shippuuden – 411 RAW (TX 1280×720 x264 AAC).mp4
Naruto Shippuuden – 412 RAW (TX 1280×720 x264 AAC).mp4
Naruto Shippuuden – 413 RAW (TX 1280×720 x264 AAC).mp4
Naruto Shippuuden – 414 RAW (TX 1280×720 x264 AAC).mp4
Naruto Shippuuden – 416 RAW (TX 1280×720 x264 AAC).mp4
Naruto Shippuuden – 417 RAW (TX 1280×720 x264 AAC).mp4
Naruto Shippuuden – 418 RAW (TX 1280×720 x264 AAC).mp4
Naruto Shippuuden – 419 RAW (TX 1280×720 x264 AAC).mp4
Naruto Shippuuden – 420 RAW (TX 1280×720 x264 AAC).mp4
Naruto Shippuuden – 421 RAW (TX 1280×720 x264 AAC).mp4
Naruto Shippuuden – 422-423 RAW (TX 1280×720 x264 AAC).mp4
Naruto Shippuuden – 424 RAW (TX 1280×720 x264 AAC).mp4
Naruto Shippuuden – 425 RAW (TX 1280×720 x264 AAC).mp4
Naruto Shippuuden – 426 RAW (TX 1280×720 x264 AAC).mp4
Naruto Shippuuden – 427-428 RAW (TX 1280×720 x264 AAC).mp4
Naruto Shippuuden – 429 RAW (TX 1280×720 x264 AAC).mp4
Naruto Shippuuden – 430 RAW (TX 1280×720 x264 AAC).mp4
Naruto Shippuuden – 431 RAW (TX 1280×720 x264 AAC).mp4
Naruto Shippuuden – 432 RAW (TX 1280×720 x264 AAC).mp4
Naruto Shippuuden – 433 RAW (TX 1280×720 x264 AAC).mp4
Naruto Shippuuden – 434 RAW (TX 1280×720 x264 AAC).mp4
Naruto Shippuuden – 435 RAW (TX 1280×720 x264 AAC).mp4
Naruto Shippuuden – 436 RAW (TX 1280×720 x264 AAC).mp4
Naruto Shippuuden – 437 RAW (TX 1280×720 x264 AAC).mp4
Naruto Shippuuden – 438 RAW (TX 1280×720 x264 AAC).mp4
Naruto Shippuuden – 439 RAW (TX 1280×720 x264 AAC).mp4
Naruto Shippuuden – 440 RAW (TX 1280×720 x264 AAC).mp4
Naruto Shippuuden – 441 RAW (TX 1280×720 x264 AAC).mp4
Naruto Shippuuden – 442 RAW (TX 1280×720 x264 AAC).mp4
Naruto Shippuuden – 444 RAW (TX 1280×720 x264 AAC).mp4
Naruto Shippuuden – 445 RAW (TX 1280×720 x264 AAC).mp4
Naruto Shippuuden – 446 RAW (TX 1280×720 x264 AAC).mp4
Naruto Shippuuden – 447 RAW (TX 1280×720 x264 AAC).mp4
Naruto Shippuuden – 448 RAW (TX 1280×720 x264 AAC).mp4
Naruto Shippuuden – 449 RAW (TX 1280×720 x264 AAC).mp4
Naruto Shippuuden – 450 RAW (TX 1280×720 x264 AAC).mp4
Naruto Shippuuden – 451 RAW (TX 1280×720 x264 AAC).mp4
Naruto Shippuuden – 452 RAW (TX 1280×720 x264 AAC).mp4
Naruto Shippuuden – 453 RAW (TX 1280×720 x264 AAC).mp4
Naruto Shippuuden – 454 RAW (TX 1280×720 x264 AAC).mp4
Naruto Shippuuden – 455 RAW (TX 1280×720 x264 AAC).mp4
Naruto Shippuuden – 456 RAW (TX 1280×720 x264 AAC).mp4
Naruto Shippuuden – 457 RAW (TX 1280×720 x264 AAC).mp4
Naruto Shippuuden – 458 RAW (TX 1280×720 x264 AAC).mp4
Naruto Shippuuden – 459 RAW (TX 1280×720 x264 AAC).mp4
Naruto Shippuuden – 460 RAW (TX 1280×720 x264 AAC).mp4
Naruto Shippuuden – 461 RAW (TX 1280×720 x264 AAC).mp4
Naruto Shippuuden – 462 RAW (TX 1280×720 x264 AAC).mp4
Naruto Shippuuden – 463 RAW (TX 1280×720 x264 AAC).mp4
Naruto Shippuuden – 464 RAW (TX 1280×720 x264 AAC).mp4
Naruto Shippuuden – 465 RAW (TX 1280×720 x264 AAC).mp4
Naruto Shippuuden – 466 RAW (TX 1280×720 x264 AAC).mp4
Naruto Shippuuden – 467 RAW (TX 1280×720 x264 AAC).mp4
Naruto Shippuuden – 468 RAW (TX 1280×720 x264 AAC).mp4
Naruto Shippuuden – 469 RAW (TX 1280×720 x264 AAC).mp4
Naruto Shippuuden – 470 RAW (TX 1280×720 x264 AAC).mp4
Naruto Shippuuden – 471 RAW (TX 1280×720 x264 AAC).mp4
Naruto Shippuuden – 472 RAW (TX 1280×720 x264 AAC).mp4
Naruto Shippuuden – 473 RAW (TX 1280×720 x264 AAC).mp4
Naruto Shippuuden – 474 RAW (TX 1280×720 x264 AAC).mp4
Naruto Shippuuden – 475 RAW (TX 1280×720 x264 AAC).mp4
Naruto Shippuuden – 476-477 RAW (TX 1280×720 x264 AAC).mp4
Naruto Shippuuden – 478 RAW (TX 1280×720 x264 AAC).mp4
Naruto Shippuuden – 479 RAW (TX 1280×720 x264 AAC).mp4
Naruto Shippuuden – 480 RAW (TX 1280×720 x264 AAC).mp4
Naruto Shippuuden – 481 RAW (TX 1280×720 x264 AAC).mp4
Naruto Shippuuden – 482 RAW (TX 1280×720 x264 AAC).mp4
Naruto Shippuuden – 483 RAW (TX 1280×720 x264 AAC).mp4
Naruto Shippuuden – 484 RAW (TX 1280×720 x264 AAC).mp4
Naruto Shippuuden – 485 RAW (TX 1280×720 x264 AAC).mp4
Naruto Shippuuden – 486 RAW (TX 1280×720 x264 AAC).mp4
Naruto Shippuuden – 487 RAW (TX 1280×720 x264 AAC).mp4
Naruto Shippuuden – 488 RAW (TX 1280×720 x264 AAC).mp4
Naruto Shippuuden – 489 RAW (TX 1280×720 x264 AAC).mp4
Naruto Shippuuden – 490 RAW (TX 1280×720 x264 AAC).mp4
Naruto Shippuuden – 491 RAW (TX 1280×720 x264 AAC).mp4
Naruto Shippuuden – 492 RAW (TX 1280×720 x264 AAC).mp4
Naruto Shippuuden – 493 RAW (TX 1280×720 x264 AAC).mp4
Naruto Shippuuden – 494-495 RAW (TX 1280×720 x264 AAC).mp4
Naruto Shippuuden – 496 RAW (TX 1280×720 x264 AAC).mp4
Naruto Shippuuden – 497 RAW (TX 1280×720 x264 AAC).mp4
Naruto Shippuuden – 498 RAW (TX 1280×720 x264 AAC).mp4
Naruto Shippuuden – 499 RAW (TX 1280×720 x264 AAC).mp4
BF (BigFile)
Naruto Shippuuden – 453 RAW (TX 1280×720 x264 AAC).mp4
Naruto Shippuuden – 454 RAW (TX 1280×720 x264 AAC).mp4
Naruto Shippuuden – 455 RAW (TX 1280×720 x264 AAC).mp4
Naruto Shippuuden – 456 RAW (TX 1280×720 x264 AAC).mp4
Naruto Shippuuden – 457 RAW (TX 1280×720 x264 AAC).mp4
Naruto Shippuuden – 458 RAW (TX 1280×720 x264 AAC).mp4
Naruto Shippuuden – 459 RAW (TX 1280×720 x264 AAC).mp4
Naruto Shippuuden – 460 RAW (TX 1280×720 x264 AAC).mp4
Naruto Shippuuden – 461 RAW (TX 1280×720 x264 AAC).mp4
Naruto Shippuuden – 462 RAW (TX 1280×720 x264 AAC).mp4
Naruto Shippuuden – 463 RAW (TX 1280×720 x264 AAC).mp4
Naruto Shippuuden – 464 RAW (TX 1280×720 x264 AAC).mp4
Naruto Shippuuden – 465 RAW (TX 1280×720 x264 AAC).mp4
Naruto Shippuuden – 466 RAW (TX 1280×720 x264 AAC).mp4
Naruto Shippuuden – 468 RAW (TX 1280×720 x264 AAC).mp4
Naruto Shippuuden – 469 RAW (TX 1280×720 x264 AAC).mp4
Naruto Shippuuden – 470 RAW (TX 1280×720 x264 AAC).mp4
Naruto Shippuuden – 471 RAW (TX 1280×720 x264 AAC).mp4
Naruto Shippuuden – 472 RAW (TX 1280×720 x264 AAC).mp4
Naruto Shippuuden – 473 RAW (TX 1280×720 x264 AAC).mp4
Naruto Shippuuden – 474 RAW (TX 1280×720 x264 AAC).mp4
Naruto Shippuuden – 475 RAW (TX 1280×720 x264 AAC).mp4
Naruto Shippuuden – 476-477 RAW (TX 1280×720 x264 AAC).mp4
Naruto Shippuuden – 478 RAW (TX 1280×720 x264 AAC).mp4
Naruto Shippuuden – 479 RAW (TX 1280×720 x264 AAC).mp4
Naruto Shippuuden – 480 RAW (TX 1280×720 x264 AAC).mp4
Naruto Shippuuden – 481 RAW (TX 1280×720 x264 AAC).mp4
Naruto Shippuuden – 482 RAW (TX 1280×720 x264 AAC).mp4
Naruto Shippuuden – 483 RAW (TX 1280×720 x264 AAC).mp4
Naruto Shippuuden – 484 RAW (TX 1280×720 x264 AAC).mp4
Naruto Shippuuden – 485 RAW (TX 1280×720 x264 AAC).mp4
Naruto Shippuuden – 486 RAW (TX 1280×720 x264 AAC).mp4
Naruto Shippuuden – 487 RAW (TX 1280×720 x264 AAC).mp4
Naruto Shippuuden – 488 RAW (TX 1280×720 x264 AAC).mp4
Naruto Shippuuden – 489 RAW (TX 1280×720 x264 AAC).mp4
Naruto Shippuuden – 490 RAW (TX 1280×720 x264 AAC).mp4
Naruto Shippuuden – 491 RAW (TX 1280×720 x264 AAC).mp4
Naruto Shippuuden – 492 RAW (TX 1280×720 x264 AAC).mp4
Naruto Shippuuden – 493 RAW (TX 1280×720 x264 AAC).mp4
Naruto Shippuuden – 494-495 RAW (TX 1280×720 x264 AAC).mp4
Naruto Shippuuden – 496 RAW (TX 1280×720 x264 AAC).mp4
Naruto Shippuuden – 497 RAW (TX 1280×720 x264 AAC).mp4
Naruto Shippuuden – 498 RAW (TX 1280×720 x264 AAC).mp4
Naruto Shippuuden – 499 RAW (TX 1280×720 x264 AAC).mp4
SF (SaleFiles)
Naruto Shippuuden – 444 RAW (TX 1280×720 x264 AAC).mp4
Naruto Shippuuden – 445 RAW (TX 1280×720 x264 AAC).mp4
Naruto Shippuuden – 446 RAW (TX 1280×720 x264 AAC).mp4
Naruto Shippuuden – 447 RAW (TX 1280×720 x264 AAC).mp4
Naruto Shippuuden – 449 RAW (TX 1280×720 x264 AAC).mp4
Naruto Shippuuden – 450 RAW (TX 1280×720 x264 AAC).mp4
Naruto Shippuuden – 451 RAW (TX 1280×720 x264 AAC).mp4
Naruto Shippuuden – 452 RAW (TX 1280×720 x264 AAC).mp4
Naruto Shippuuden – 453 RAW (TX 1280×720 x264 AAC).mp4
Naruto Shippuuden – 454 RAW (TX 1280×720 x264 AAC).mp4
Naruto Shippuuden – 455 RAW (TX 1280×720 x264 AAC).mp4
Naruto Shippuuden – 456 RAW (TX 1280×720 x264 AAC).mp4
Naruto Shippuuden – 457 RAW (TX 1280×720 x264 AAC).mp4
Naruto Shippuuden – 458 RAW (TX 1280×720 x264 AAC).mp4
Naruto Shippuuden – 459 RAW (TX 1280×720 x264 AAC).mp4
Naruto Shippuuden – 460 RAW (TX 1280×720 x264 AAC).mp4
Naruto Shippuuden – 461 RAW (TX 1280×720 x264 AAC).mp4
Naruto Shippuuden – 462 RAW (TX 1280×720 x264 AAC).mp4
Naruto Shippuuden – 463 RAW (TX 1280×720 x264 AAC).mp4
Naruto Shippuuden – 464 RAW (TX 1280×720 x264 AAC).mp4
Naruto Shippuuden – 465 RAW (TX 1280×720 x264 AAC).mp4
Naruto Shippuuden – 466 RAW (TX 1280×720 x264 AAC).mp4
Naruto Shippuuden – 467 RAW (TX 1280×720 x264 AAC).mp4
Naruto Shippuuden – 468 RAW (TX 1280×720 x264 AAC).mp4
Naruto Shippuuden – 469 RAW (TX 1280×720 x264 AAC).mp4
Naruto Shippuuden – 470 RAW (TX 1280×720 x264 AAC).mp4
Naruto Shippuuden – 471 RAW (TX 1280×720 x264 AAC).mp4
Naruto Shippuuden – 472 RAW (TX 1280×720 x264 AAC).mp4
Naruto Shippuuden – 473 RAW (TX 1280×720 x264 AAC).mp4
Naruto Shippuuden – 474 RAW (TX 1280×720 x264 AAC).mp4
Naruto Shippuuden – 475 RAW (TX 1280×720 x264 AAC).mp4
Naruto Shippuuden – 476-477 RAW TX 1280×720 x264 AAC .mp4
Naruto Shippuuden – 478 RAW TX 1280×720 x264 AAC .mp4
Naruto Shippuuden – 479 RAW TX 1280×720 x264 AAC .mp4
Naruto Shippuuden – 480 RAW TX 1280×720 x264 AAC .mp4
Naruto Shippuuden – 481 RAW TX 1280×720 x264 AAC .mp4
Naruto Shippuuden – 482 RAW TX 1280×720 x264 AAC .mp4
Naruto Shippuuden – 483 RAW TX 1280×720 x264 AAC .mp4
Naruto Shippuuden – 485 RAW TX 1280×720 x264 AAC .mp4
Naruto Shippuuden – 486 RAW TX 1280×720 x264 AAC .mp4
Naruto Shippuuden – 487 RAW TX 1280×720 x264 AAC .mp4
Naruto Shippuuden – 488 RAW TX 1280×720 x264 AAC .mp4
Naruto Shippuuden – 489 RAW TX 1280×720 x264 AAC .mp4
Naruto Shippuuden – 490 RAW TX 1280×720 x264 AAC .mp4
Naruto Shippuuden – 491 RAW TX 1280×720 x264 AAC .mp4
Naruto Shippuuden – 492 RAW TX 1280×720 x264 AAC .mp4
Naruto Shippuuden – 493 RAW TX 1280×720 x264 AAC .mp4
Naruto Shippuuden – 494-495 RAW TX 1280×720 x264 AAC .mp4
Naruto Shippuuden – 496 RAW TX 1280×720 x264 AAC .mp4
Naruto Shippuuden – 497 RAW TX 1280×720 x264 AAC .mp4
Naruto Shippuuden – 498 RAW TX 1280×720 x264 AAC .mp4
Naruto Shippuuden – 499 RAW TX 1280×720 x264 AAC .mp4