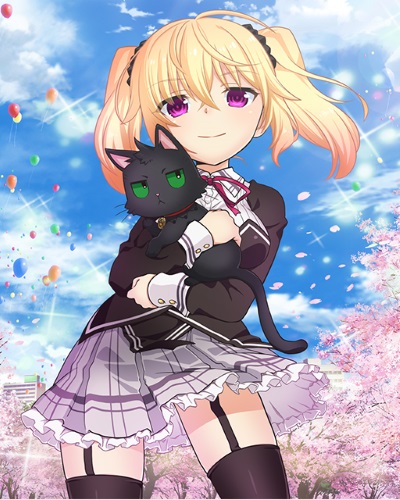 [TVRIP] Nora to Oujo to Noraneko Heart [ノラと皇女と野良猫ハート] 第01-12話 全
Alternative Titles
English: Nora to Oujo to Noraneko Heart
Official Title Nora, Princess, and Stray Cat
Official Title ノラと皇女と野良猫ハート
Type TV Series, 12 episodes
Year 12.07.2017 till 27.09.2017
Tags short episodes, visual novel
The story centers around Handa Nora, a high school boy whose mother adopts a girl named Yuuri Shachi who is younger than him. Shachi lost her mother and no longer lives with her father, but both Nora and Shachi were raised well.
Nora's childhood friend and honors student Kuroki Michi is the head of the school's public morals committee, and is also friends with Asuhara Yuuki, who acts like a kogal but is a reliable confidante.
One day, on the way to school, Nora meets a girl named Patricia in a park. Patricia says that she is a princess of the underworld, and she has come to the surface world to destroy all life. But the first time she touches someone in the surface, she faints, and Nora finds himself nursing her. Patricia asks Nora to tell him the secrets of life, and Nora starts by explaining the adult magazine that they found in the park.
Source: ANN
*Uploaded [email protected]https://animerss.com
*Do not simply copy and paste the download links to your site. (Thank you!)
いつもありがとうございます!
プレミアムアカウントの有効期限が切れたら、なるべく以下のリンクから新アカウントを購入して頂けませんか。
RapidGator -> https://rapidgator.net/article/premium/ref/22000
Aniemrssご支援いただき、ありがとうございます。
FREE DOWNLOAD/無料ダウンロード :
RG (RapidGator)
Nora to Oujo to Noraneko Heart – 01 RAW (SUN 1280×720 x264 AAC).mp4
Nora to Oujo to Noraneko Heart – 02 RAW (SUN 1280×720 x264 AAC).mp4
Nora to Oujo to Noraneko Heart – 03 RAW (SUN 1280×720 x264 AAC).mp4
Nora to Oujo to Noraneko Heart – 04 RAW (SUN 1280×720 x264 AAC).mp4
Nora to Oujo to Noraneko Heart – 05 RAW (SUN 1280×720 x264 AAC).mp4
Nora to Oujo to Noraneko Heart – 06 RAW (SUN 1280×720 x264 AAC).mp4
Nora to Oujo to Noraneko Heart – 07 RAW (SUN 1280×720 x264 AAC).mp4
Nora to Oujo to Noraneko Heart – 08 RAW (SUN 1280×720 x264 AAC).mp4
Nora to Oujo to Noraneko Heart – 09 RAW (SUN 1280×720 x264 AAC).mp4
Nora to Oujo to Noraneko Heart – 10 RAW (SUN 1280×720 x264 AAC).mp4
Nora to Oujo to Noraneko Heart – 11 RAW (SUN 1280×720 x264 AAC).mp4
Nora to Oujo to Noraneko Heart – 12 END (SUN 1280×720 x264 AAC).mp4