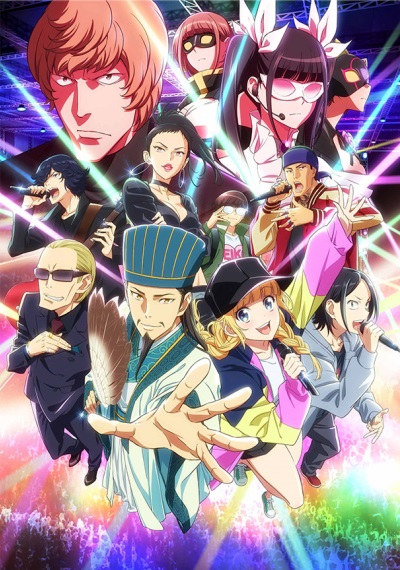 [TVRIP] Paripi Koumei [パリピ孔明] 第01-12話 全
Alternative Titles
English: Ya Boy Kongming!
Official Title パリピ孔明
Type TV Series, 12 episodes
Year 31.03.2022 until ?
General of the Three Kingdoms, Kongming had struggled his whole life, facing countless battles that made him into the accomplished strategist he was. So on his deathbed, he wished only to be reborn into a peaceful world…and was sent straight to modern-day party-central, Tokyo! Can even a brilliant strategist like Kongming adapt to the wild beats and even wilder party people?!
*Uploaded [email protected]https://animerss.com
*Do not simply copy and paste the download links to your site. (Thank you!)
いつもありがとうございます!
プレミアムアカウントの有効期限が切れたら、なるべく以下のリンクから新アカウントを購入して頂けませんか。
RapidGator -> https://rapidgator.net/article/premium/ref/22000
Aniemrssご支援いただき、ありがとうございます。
FREE DOWNLOAD/無料ダウンロード :
RG (RapidGator)
Paripi Koumei – 01 (AT-X 1280×720 x264 AAC).mp4
Paripi Koumei – 02 (BS4 1280×720 x264 AAC).mp4
Paripi Koumei – 03 (BS4 1280×720 x264 AAC).mp4
Paripi Koumei – 04 (BS4 1280×720 x264 AAC).mp4
Paripi Koumei – 05 (BS4 1280×720 x264 AAC).mp4
Paripi Koumei – 06 (BS4 1280×720 x264 AAC).mp4
Paripi Koumei – 07 (BS4 1280×720 x264 AAC).mp4
Paripi Koumei – 08 (BS4 1280×720 x264 AAC).mp4
Paripi Koumei – 09 (BS4 1280×720 x264 AAC).mp4
Paripi Koumei – 10 (BS4 1280×720 x264 AAC).mp4
Paripi Koumei – 11 (BS4 1280×720 x264 AAC).mp4
Paripi Koumei – 12 END (AT-X 1280×720 x264 AAC).mp4