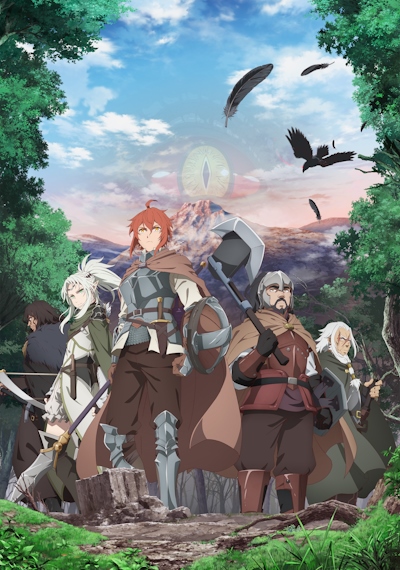 [TVRIP] Saihate no Paladin: Tetsusabi no Yama no Ou [最果てのパラディン 鉄錆の山の王] 第01-09話
Alternative Titles
English: The Faraway Paladin: The Lord of Rust Mountains
Official Title 最果てのパラディン 鉄錆の山の王
Type TV Series, unknown number of episodes
Year 07.10.2023 until ?
Season Autumn 2023
Tags novel
Two years had passed since he left the City of the Dead, and Will was seventeen by count. As a lord, he developed "Torch Port, a river port of light", and gradually the people's activities and smiles returned to "Beast Woods". However, out-of-season flowers bloom profusely, and an abnormality is discovered in the forest. Will and his friends head into the depths of the forest to solve this problem, and receive an ominous prophecy from the king of the forest.
"In the Iron Rust Mountains, the 'Fire of Black Calamity' will occur. The fire will spread, or it will burn everything in this land."
What is the calamity that sleeps in the ruined dwarven city of Tetsusabi Sanmyaku…!?
*Uploaded by@https://animerss.com
*Do not simply copy and paste the download links to your site. (Thank you!)
いつもありがとうございます!
プレミアムアカウントの有効期限が切れたら、なるべく以下のリンクから新アカウントを購入して頂けませんか。
RapidGator -> https://rapidgator.net/article/premium/ref/22000
Aniemrssご支援いただき、ありがとうございます。
FREE DOWNLOAD/無料ダウンロード :
RG (RapidGator)
Saihate no Paladin Tetsusabi no Yama no Ou – 01 (BS4 1280×720 x264 AAC).mp4
Saihate no Paladin Tetsusabi no Yama no Ou – 01 (BS4 1920×1080 x264 AAC).mp4
Saihate no Paladin Tetsusabi no Yama no Ou – 02 (BS4 1280×720 x264 AAC).mp4
Saihate no Paladin Tetsusabi no Yama no Ou – 03 (BS4 1280×720 x264 AAC).mp4
Saihate no Paladin Tetsusabi no Yama no Ou – 03 (BS4 1920×1080 x264 AAC).mp4
Saihate no Paladin Tetsusabi no Yama no Ou – 04 (BS4 1280×720 x264 AAC).mp4
Saihate no Paladin Tetsusabi no Yama no Ou – 04 (BS4 1920×1080 x264 AAC).mp4
Saihate no Paladin Tetsusabi no Yama no Ou – 05 (BS4 1280×720 x264 AAC).mp4
Saihate no Paladin Tetsusabi no Yama no Ou – 05 (BS4 1920×1080 x264 AAC).mp4
Saihate no Paladin Tetsusabi no Yama no Ou – 06 (BS4 1280×720 x264 AAC).mp4
Saihate no Paladin Tetsusabi no Yama no Ou – 06 (BS4 1920×1080 x264 AAC).mp4
Saihate no Paladin Tetsusabi no Yama no Ou – 07 (BS4 1280×720 x264 AAC).mp4
Saihate no Paladin Tetsusabi no Yama no Ou – 07 (BS4 1920×1080 x264 AAC).mp4
Saihate no Paladin Tetsusabi no Yama no Ou – 08 (BS4 1920×1080 x264 AAC).mp4
Saihate no Paladin Tetsusabi no Yama no Ou – 08 (AT-X 1280×720 x264 AAC).mp4
Saihate no Paladin Tetsusabi no Yama no Ou – 09 (AT-X 1280×720 x264 AAC).mp4