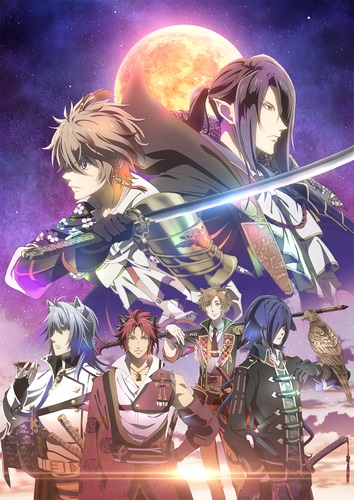 [TVRIP] Sengoku Night Blood [戦刻ナイトブラッド] 第01-12話 全
Alternative Titles
English: Sengoku Night Blood
Official Title 戦刻ナイトブラッド
Type TV Series, unknown number of episodes
Year 03.10.2017 till ?
Tags game, visual novel
One day, Yuzuki is enveloped by a mysterious light suddenly emanating from her cell phone and finds herself in an unfamiliar place.
The scenery spread out before her almost resembles Sengoku period Japan–
But this is another world known as "Shinga" where non-human creatures such as vampires and werewolves reside.
Long ago, the various tribes of Shinga lived together peacefully under the protection of the Himemiko who possessed special blood.
However, one day the Himemiko suddenly vanished.
With the protection of the Himemiko gone, the world has fallen into a period of strife as the warlords of the Gegga Tribes started fighting one another vying for control. And, as if summoned by all the unrest, strange monsters called "Yakuma" run rampant throughout the land attacking the inhabitants.
Toyotomi Hideyoshi, who leads the Toyotomi Army, takes in Yuzuki after rescuing her on the battlefield and accidentally discover that her blood awakens the latent powers of the Gegga Tribes.
Upon learning of the power of Yuzuki's blood, the other warlords–Oda, Uesugi, Takeda, Sanada and Date–begin pursuing Yuzuki, each for their own purposes.
"Find the girl from another world," were the parting words from the vanished Himemiko left to Imari, a white tanuki bearing a teakettle. Yakuma continue to appear in increasing numbers and touched by Yuzuki's powers the warlords struggle with what to protect and what to fight. A new story comes together in the midst of war set in another world…
*Uploaded [email protected]https://animerss.com
*Do not simply copy and paste the download links to your site. (Thank you!)
いつもありがとうございます!
プレミアムアカウントの有効期限が切れたら、なるべく以下のリンクから新アカウントを購入して頂けませんか。
RapidGator -> https://rapidgator.net/article/premium/ref/22000
Aniemrssご支援いただき、ありがとうございます。
FREE DOWNLOAD/無料ダウンロード :
RG (RapidGator)
Sengoku Night Blood – 01 RAW (BS11 1280×720 x264 AAC).mp4
Sengoku Night Blood – 02 RAW (BS11 1280×720 x264 AAC).mp4
Sengoku Night Blood – 03 RAW (BS11 1280×720 x264 AAC).mp4
Sengoku Night Blood – 04 RAW (BS11 1280×720 x264 AAC).mp4
Sengoku Night Blood – 05 RAW (BS11 1280×720 x264 AAC).mp4
Sengoku Night Blood – 06 RAW (BS11 1280×720 x264 AAC).mp4
Sengoku Night Blood – 07 RAW (BS11 1280×720 x264 AAC).mp4
Sengoku Night Blood – 07.5 RAW (BS11 1280×720 x264 AAC).mp4
Sengoku Night Blood – 08 RAW (BS11 1280×720 x264 AAC).mp4
Sengoku Night Blood – 09 RAW (BS11 1280×720 x264 AAC).mp4
Sengoku Night Blood – 10 RAW (BS11 1280×720 x264 AAC).mp4
Sengoku Night Blood – 11 RAW (BS11 1280×720 x264 AAC).mp4
Sengoku Night Blood – 12 END (BS11 1280×720 x264 AAC).mp4