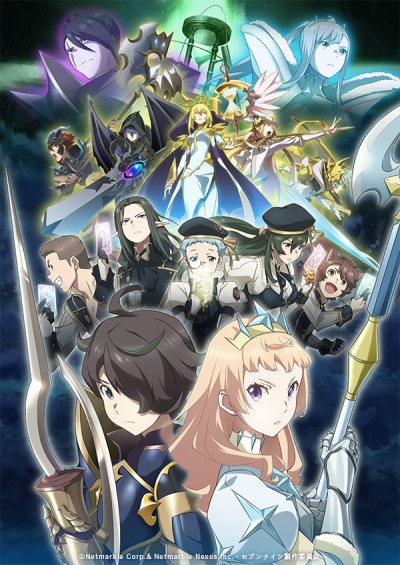 [TVRIP] Seven Knights Revolution: Eiyuu no Keishousha [SEVEN KNIGHTS REVOLUTION -英雄の継承者-] 第01-12話 全
Alternative Titles
English: Seven Knights Revolution: Hero Successor
Official Title SEVEN KNIGHTS REVOLUTION -英雄の継承者-
Type TV Series, unknown number of episodes
Year 05.04.2021 till ?
Long ago, Heroes had saved this world. Many Heroes fought against the powers of Destruction and protected the world. Years in the future… The Heroes had disappeared as the years passed and those possessing their powers called Successors now have the fate of the world in their hands. One of the elite Successors known as the Seven Knights is fighting an army of the Destruction when she saves a boy named Nemo. During the battle, Nemo awakens the powers of a Hero even he didn't know about and displays his powers as a Successor. But his Hero is someone who no one knew and no one ever spoke of.
*Uploaded [email protected]https://animerss.com
*Do not simply copy and paste the download links to your site. (Thank you!)
いつもありがとうございます!
プレミアムアカウントの有効期限が切れたら、なるべく以下のリンクから新アカウントを購入して頂けませんか。
RapidGator -> https://rapidgator.net/article/premium/ref/22000
Aniemrssご支援いただき、ありがとうございます。
FREE DOWNLOAD/無料ダウンロード :
RG (RapidGator)
Seven Knights Revolution Eiyuu no Keishousha – 01 (BS11 1280×720 x264 AAC).mp4
Seven Knights Revolution Eiyuu no Keishousha – 02 (BS11 1280×720 x264 AAC).mp4
Seven Knights Revolution Eiyuu no Keishousha – 03 (BS11 1280×720 x264 AAC).mp4
Seven Knights Revolution Eiyuu no Keishousha – 04 (BS11 1280×720 x264 AAC).mp4
Seven Knights Revolution Eiyuu no Keishousha – 05 (BS11 1280×720 x264 AAC).mp4
Seven Knights Revolution Eiyuu no Keishousha – 06 (BS11 1280×720 x264 AAC).mp4
Seven Knights Revolution Eiyuu no Keishousha – 07 (BS11 1280×720 x264 AAC).mp4
Seven Knights Revolution Eiyuu no Keishousha – 08 (BS11 1280×720 x264 AAC).mp4
Seven Knights Revolution Eiyuu no Keishousha – 09 (BS11 1280×720 x264 AAC).mp4
Seven Knights Revolution Eiyuu no Keishousha – 10 (BS11 1280×720 x264 AAC).mp4
Seven Knights Revolution Eiyuu no Keishousha – 11 (BS11 1280×720 x264 AAC).mp4
Seven Knights Revolution Eiyuu no Keishousha – 12 END (BS11 1280×720 x264 AAC).mp4