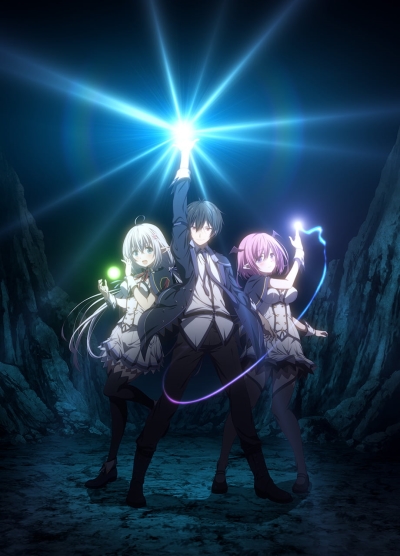 [TVRIP] Shijou Saikyou no Daimaou, Murabito A ni Tensei Suru [史上最強の大魔王, 村人Aに転生する] 第01-12話 全
Alternative Titles
English: The Greatest Demon Lord Is Reborn as a Typical Nobody
Official Title 史上最強の大魔王, 村人Aに転生する
Type TV Series, 12 episodes
Year 06.04.2022 until ?
As the most powerful entity of all time, the Demon Lord Varvatos thinks life is a big fat snore. When he takes matters into his own hands and decides to reincarnate, he calibrates his magical strength to be perfectly average. But there is no way he could have predicted that everyone in the modern world would be weak as hell, which means he is totally overpowered once again! Reborn under the name Ard, he has ladies fawning over him, the royal family begging him to become the next king, and an ex-minion insisting on killing him?! But Ard has a one-track mind, and he won't stop at anything to achieve his ultimate goal!
*Uploaded [email protected]https://animerss.com
*Do not simply copy and paste the download links to your site. (Thank you!)
いつもありがとうございます!
プレミアムアカウントの有効期限が切れたら、なるべく以下のリンクから新アカウントを購入して頂けませんか。
RapidGator -> https://rapidgator.net/article/premium/ref/22000
Aniemrssご支援いただき、ありがとうございます。
FREE DOWNLOAD/無料ダウンロード :
RG (RapidGator)
Shijou Saikyou no Daimaou, Murabito A ni Tensei Suru – 01 (AT-X 1280×720 x264 AAC).mp4
Shijou Saikyou no Daimaou, Murabito A ni Tensei Suru – 02 (AT-X 1280×720 x264 AAC).mp4
Shijou Saikyou no Daimaou, Murabito A ni Tensei Suru – 03 (AT-X 1280×720 x264 AAC).mp4
Shijou Saikyou no Daimaou, Murabito A ni Tensei Suru – 04 (AT-X 1280×720 x264 AAC).mp4
Shijou Saikyou no Daimaou, Murabito A ni Tensei Suru – 05 (AT-X 1280×720 x264 AAC).mp4
Shijou Saikyou no Daimaou, Murabito A ni Tensei Suru – 06 (AT-X 1280×720 x264 AAC).mp4
Shijou Saikyou no Daimaou, Murabito A ni Tensei Suru – 07 (AT-X 1280×720 x264 AAC).mp4
Shijou Saikyou no Daimaou, Murabito A ni Tensei Suru – 08 (AT-X 1280×720 x264 AAC).mp4
Shijou Saikyou no Daimaou, Murabito A ni Tensei Suru – 09 (AT-X 1280×720 x264 AAC).mp4
Shijou Saikyou no Daimaou, Murabito A ni Tensei Suru – 10 (AT-X 1280×720 x264 AAC).mp4
Shijou Saikyou no Daimaou, Murabito A ni Tensei Suru – 11 (AT-X 1280×720 x264 AAC).mp4
Shijou Saikyou no Daimaou, Murabito A ni Tensei Suru – 11 (AT-X 1280×720 x264 AAC).mp4
Shijou Saikyou no Daimaou, Murabito A ni Tensei Suru – 12 END (AT-X 1280×720 x264 AAC).mp4