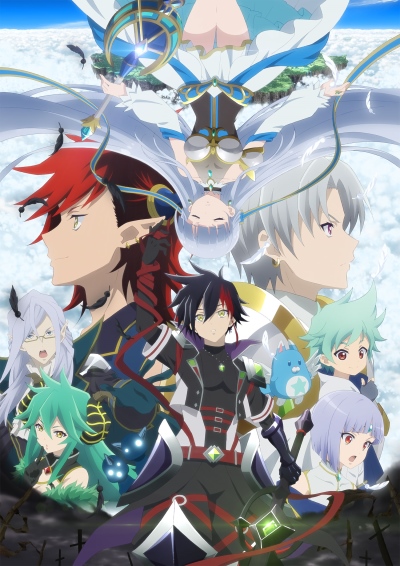 [TVRIP] Shironeko Project: Zero Chronicle [白猫プロジェクトZERO CHRONICLE] 第01-12話 全
Alternative Titles
English: Shironeko Project Zero Chronicle
Official Title 白猫プロジェクトZERO CHRONICLE
Type TV Series, 12 episodes
Year 06.04.2020 till ?
There are two kingdoms in this world – the Kingdom of Light on a floating island in the sky and the Kingdom of Darkness on the ground below it. Both are supposed to maintain the balance between Light and Darkness, but in recent times the King of Darkness has begun to fail in his duties. Frustrated by the deaths of everyone in his village due to uncontrolled monsters, a young man takes a dying knight up on his offer to go to the capital as his successor in order to become the Prince of Darkness. Meanwhile, in the sky, Queen Iris of the Light uses the powers of the Progenitor Rune to uphold her end of the bargain, even as the King of Darkness' inaction makes her battle appear futile.
*Uploaded [email protected]https://animerss.com
*Do not simply copy and paste the download links to your site. (Thank you!)
いつもありがとうございます!
プレミアムアカウントの有効期限が切れたら、なるべく以下のリンクから新アカウントを購入して頂けませんか。
RapidGator -> https://rapidgator.net/article/premium/ref/22000
Aniemrssご支援いただき、ありがとうございます。
FREE DOWNLOAD/無料ダウンロード :
RG (RapidGator)
Shironeko Project Zero Chronicle – 01 (AT-X 1280×720 x264 AAC).mp4
Shironeko Project Zero Chronicle – 02 (AT-X 1280×720 x264 AAC).mp4
Shironeko Project Zero Chronicle – 03 (AT-X 1280×720 x264 AAC).mp4
Shironeko Project Zero Chronicle – 04 (AT-X 1280×720 x264 AAC).mp4
Shironeko Project Zero Chronicle – 05 (AT-X 1280×720 x264 AAC).mp4
Shironeko Project Zero Chronicle – 06 (AT-X 1280×720 x264 AAC).mp4
Shironeko Project Zero Chronicle – 07 (AT-X 1280×720 x264 AAC).mp4
Shironeko Project Zero Chronicle – 08 (AT-X 1280×720 x264 AAC).mp4
Shironeko Project Zero Chronicle – 09 (AT-X 1280×720 x264 AAC) v2.mp4
Shironeko Project Zero Chronicle – 10 (AT-X 1280×720 x264 AAC).mp4
Shironeko Project Zero Chronicle – 11 (AT-X 1280×720 x264 AAC).mp4
Shironeko Project Zero Chronicle – 12 END (AT-X 1280×720 x264 AAC).mp4