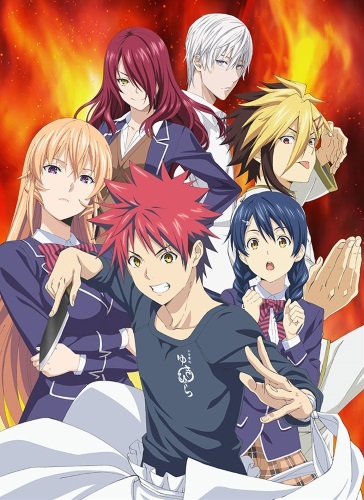 [TVRIP] Shokugeki no Souma: San no Sara [食戟のソーマ 餐ノ皿] 第01-12話 全
Alternative Titles
English: Food Wars! The Third Plate
Official Title 食戟のソーマ 餐ノ皿
Type TV Series, unknown number of episodes
Year 04.10.2017 till ?
Tags manga, shounen
Yukihira Souma had been polishing his cooking skills while helping at his family's diner and one day, enters the elite cooking school, Totsuki Teahouse Culinary Academy. Souma met various other chefs at the academy and as he grew, he started searching for his own way of cooking.
With the curriculums that required the students to go help out at actual restaurants, Souma gained even more experience. With that, he was able to break through his old self and break through to a whole new taste for his dishes. He successfully completes his curriculum and grew even more.
After his training in the actual restaurant, Souma finally sees the top of Totsuki Academy, the Totsuki Elite Ten at the Momiji Meet and Greet and challenges them.
The venue that was decided for Souma and the Elite Ten to battle was the Totsuki school festival, the Moon Festival. What will Souma make happen at this monster event that brings in 500,000 ever year?
Meanwhile, someone's plan is coming together in the shadows. Souma's new battle was about to begin!
*Uploaded [email protected]https://animerss.com
*Do not simply copy and paste the download links to your site. (Thank you!)
いつもありがとうございます!
プレミアムアカウントの有効期限が切れたら、なるべく以下のリンクから新アカウントを購入して頂けませんか。
RapidGator -> https://rapidgator.net/article/premium/ref/22000
Aniemrssご支援いただき、ありがとうございます。
FREE DOWNLOAD/無料ダウンロード :
RG (RapidGator)
Shokugeki no Souma – San no Sara – 01 RAW (BS11 1280×720 x264 AAC).mp4
Shokugeki no Souma – San no Sara – 02 RAW (BS11 1280×720 x264 AAC).mp4
Shokugeki no Souma – San no Sara – 03 RAW (BS11 1280×720 x264 AAC).mp4
Shokugeki no Souma – San no Sara – 04 RAW (BS11 1280×720 x264 AAC).mp4
Shokugeki no Souma – San no Sara – 05 RAW (BS11 1280×720 x264 AAC).mp4
Shokugeki no Souma – San no Sara – 06 RAW (BS11 1280×720 x264 AAC).mp4
Shokugeki no Souma – San no Sara – 07 RAW (BS11 1280×720 x264 AAC).mp4
Shokugeki no Souma – San no Sara – 08 RAW (BS11 1280×720 x264 AAC).mp4
Shokugeki no Souma – San no Sara – 09 RAW (BS11 1280×720 x264 AAC).mp4
Shokugeki no Souma – San no Sara – 10 RAW (BS11 1280×720 x264 AAC).mp4
Shokugeki no Souma – San no Sara – 11 RAW (BS11 1280×720 x264 AAC).mp4
Shokugeki no Souma – San no Sara – 12 END (BS11 1280×720 x264 AAC).mp4