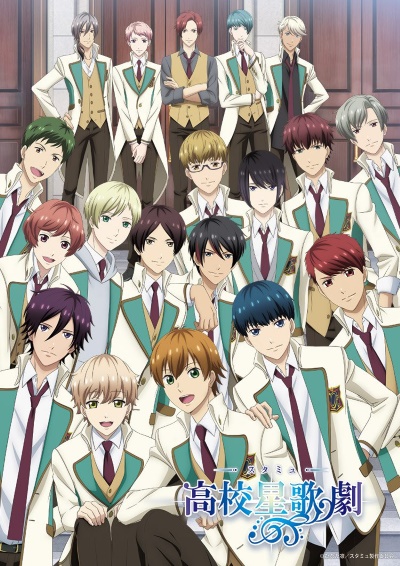 [TVRIP] Starmyu (2019) [高校星歌劇[スタミュ] (2019)] 第01-11話
Alternative Titles
English: Starmyu (2019)
Official Title 高校星歌劇[スタミュ] (2019)
Type TV Series, unknown number of episodes
Year 01.07.2019 till ?
"I don't know how to give up on my dream." Hoshitani Yuuta's dream of performing on stage with Ootori Itsuki, his admired senior, finally came true; and, now, Yuuta focuses on his next dream, spending his days working hard in musical training at Ayanagi Academy's musical department. However, another new trial awaits him! The start of the second semester brings with it the impending class performance at the Ayanagi Festival. This will be the first stage performance the boys will have to tackle without the help of a senior leader to guide them. Yuuta and the others throw themselves eagerly into overcoming their team boundaries, joining forces to form a new company to put on the best show ever. But the Kao Council suddenly makes an appearance and stands in the way of the second years! As a part of their plan to reform the Ayanagi Festival the Kao Council is producing a fresh new program called the opening ceremony. The students selected for this performance will go on to be the prime candidates for next Kao Council, but it will come at the expense of not being able to perform in the class production. And thus, the final curtain rises on the tale of the youthful, comedic musical.
*Uploaded [email protected]https://animerss.com
*Do not simply copy and paste the download links to your site. (Thank you!)
いつもありがとうございます!
プレミアムアカウントの有効期限が切れたら、なるべく以下のリンクから新アカウントを購入して頂けませんか。
RapidGator -> https://rapidgator.net/article/premium/ref/22000
Aniemrssご支援いただき、ありがとうございます。
FREE DOWNLOAD/無料ダウンロード :
RG (RapidGator)
Starmyu 3 – 01 (BS11 1280×720 x264 AAC).mp4
Starmyu 3 – 02 (MX 1280×720 x264 AAC).mp4
Starmyu 3 – 03 (BS11 1280×720 x264 AAC).mp4
Starmyu 3 – 04 (MX 1280×720 x264 AAC).mp4
Starmyu 3 – 05 (MX 1280×720 x264 AAC).mp4
Starmyu 3 – 06 (MX 1280×720 x264 AAC).mp4
Starmyu 3 – 07 (MX 1280×720 x264 AAC).mp4
Starmyu 3 – 08 (MX 1280×720 x264 AAC).mp4
Starmyu 3 – 09 (MX 1280×720 x264 AAC).mp4
Starmyu 3 – 10 (MX 1280×720 x264 AAC).mp4
Starmyu 3 – 11 (MX 1280×720 x264 AAC).mp4