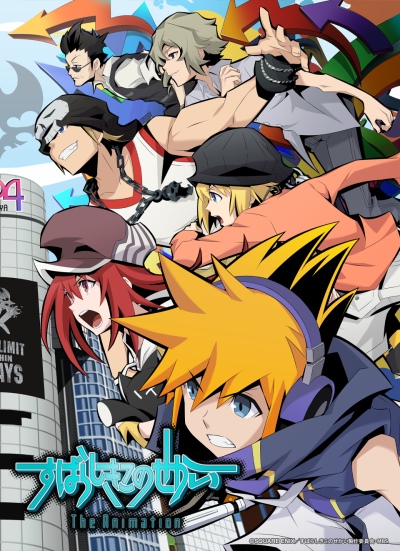 [TVRIP] Subarashiki Kono Sekai the Animation [すばらしきこのせかい The Animation] 第01-12話 全
Alternative Titles
English: The World Ends with You the Animation
Official Title すばらしきこのせかい The Animation
Type TV Series, 12 episodes
Year 10.04.2021 till ?
Neku awakens in the middle of Shibuya's bustling Scramble Crossing with no memory of how he got there. Little does he know he's been transported to an alternate plane of existence known as the Underground (UG). Now an unwilling participant in the mysterious "Reapers' Game," Neku must partner up with a girl named Shiki in order to survive. Together, they complete missions and defeat monsters known as "Noise" as they gradually uncover the true nature of this twisted Game.
*Uploaded [email protected]https://animerss.com
*Do not simply copy and paste the download links to your site. (Thank you!)
いつもありがとうございます!
プレミアムアカウントの有効期限が切れたら、なるべく以下のリンクから新アカウントを購入して頂けませんか。
RapidGator -> https://rapidgator.net/article/premium/ref/22000
Aniemrssご支援いただき、ありがとうございます。
FREE DOWNLOAD/無料ダウンロード :
RG (RapidGator)
Subarashiki Kono Sekai the Animation – 01 (TBS 1280×720 x264 AAC).mp4
Subarashiki Kono Sekai the Animation – 02 (TBS 1280×720 x264 AAC).mp4
Subarashiki Kono Sekai the Animation – 03 (TBS 1280×720 x264 AAC).mp4
Subarashiki Kono Sekai the Animation – 04 (TBS 1280×720 x264 AAC).mp4
Subarashiki Kono Sekai the Animation – 05 (TBS 1280×720 x264 AAC).mp4
Subarashiki Kono Sekai the Animation – 06 (TBS 1280×720 x264 AAC).mp4
Subarashiki Kono Sekai the Animation – 07 (TBS 1280×720 x264 AAC).mp4
Subarashiki Kono Sekai the Animation – 08 (TBS 1280×720 x264 AAC).mp4
Subarashiki Kono Sekai the Animation – 09 (TBS 1280×720 x264 AAC) v2.mp4
Subarashiki Kono Sekai the Animation – 10 (TBS 1280×720 x264 AAC).mp4
Subarashiki Kono Sekai the Animation – 11 (TBS 1280×720 x264 AAC).mp4
Subarashiki Kono Sekai the Animation – 12 END (TBS 1280×720 x264 AAC).mp4