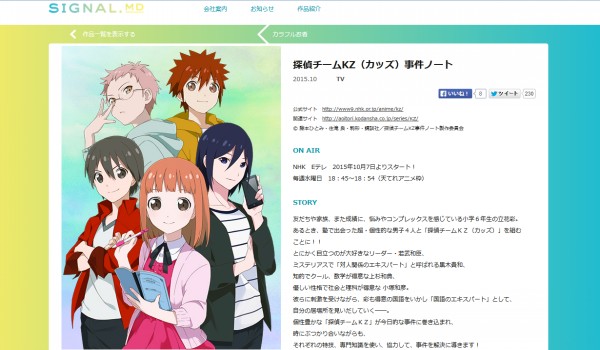 Title: [TVRIP] Tantei Team KZ: Jiken Note [探偵チームKZ[カッズ] 事件ノート] 第01-15話
Anime Information
Japanese Title: 探偵チームKZ[カッズ] 事件ノート
English Title: Tantei Team KZ: Jiken Note
Type: TV Series, unknown number of episodes
Year: 07.10.2015 till ?
Categories: –
AniDB: http://anidb.net/perl-bin/animedb.pl?show=anime&aid=11363
Plot Summary: Animerss.com
Tachibana Aya is a sixth-grader who frets and obsesses over friends, family, grades, and more. One day, she joins the Tantei Team KZ with four very idiosyncratic boys she met at cram school. There is the glib and attention-grabbing leader Wakabu Kazuomi, the mysterious expert of personal relationships Kuroki Takakazu, the smart and stoic math genius Uesugi Kazunori, and the sweet-hearted Kozuka Kazuhiko who is good at social matters and science. Aya finds her place among them as the language expert. Tantei Team KZ gets involved in modern-day cases, and even if they bicker from time to time, they collaborate by pooling each of their talents and skills to solve these cases.
----ダウンロード・/Download↓----
*Uploaded [email protected]https://animerss.com
*Do not simply copy and paste the download links to your site. (Thank you!)
いつもありがとうございます!
プレミアムアカウントの有効期限が切れたら、なるべく以下のリンクから新アカウントを購入して頂けませんか。
RapidGator -> http://rapidgator.net/account/registration/ref/22000
ANIMERSSご支援いただき、ありがとうございます。
*Download Prenium Here*
RG (RapidGator)
Tantei Team KZ – Jiken Note – 01 RAW (NHKE 1280×720 x264 AAC).mp4
Tantei Team KZ – Jiken Note – 02 RAW (NHKE 1280×720 x264 AAC).mp4
Tantei Team KZ – Jiken Note – 03 RAW (NHKE 1280×720 x264 AAC).mp4
Tantei Team KZ – Jiken Note – 04 RAW (NHKE 1280×720 x264 AAC).mp4
Tantei Team KZ – Jiken Note – 05 RAW (NHKE 1280×720 x264 AAC).mp4
Tantei Team KZ – Jiken Note – 06 RAW (NHKE 1280×720 x264 AAC).mp4
Tantei Team KZ – Jiken Note – 07 RAW (NHKE 1280×720 x264 AAC).mp4
Tantei Team KZ – Jiken Note – 08 RAW (NHKE 1280×720 x264 AAC).mp4
Tantei Team KZ – Jiken Note – 09 RAW (NHKE 1280×720 x264 AAC).mp4
Tantei Team KZ – Jiken Note – 10 RAW (NHKE 1280×720 x264 AAC).mp4
Tantei Team KZ – Jiken Note – 11 RAW (NHKE 1280×720 x264 AAC).mp4
Tantei Team KZ – Jiken Note – 12 RAW (NHKE 1280×720 x264 AAC).mp4
Tantei Team KZ – Jiken Note – 13 RAW (NHKE 1280×720 x264 AAC).mp4
Tantei Team KZ – Jiken Note – 14 RAW (NHKE 1280×720 x264 AAC).mp4
Tantei Team KZ – Jiken Note – 15 RAW (NHKE 1280×720 x264 AAC).mp4
Tantei Team KZ – Jiken Note – 16 RAW (NHKE 1280×720 x264 AAC).mp4
*Download Free Here*
DF (DataFile)
Tantei Team KZ – Jiken Note – 01 RAW (NHKE 1280×720 x264 AAC).mp4
Tantei Team KZ – Jiken Note – 02 RAW (NHKE 1280×720 x264 AAC).mp4
Tantei Team KZ – Jiken Note – 03 RAW (NHKE 1280×720 x264 AAC).mp4
Tantei Team KZ – Jiken Note – 04 RAW (NHKE 1280×720 x264 AAC).mp4
Tantei Team KZ – Jiken Note – 05 RAW (NHKE 1280×720 x264 AAC).mp4
Tantei Team KZ – Jiken Note – 06 RAW (NHKE 1280×720 x264 AAC).mp4
Tantei Team KZ – Jiken Note – 07 RAW (NHKE 1280×720 x264 AAC).mp4
Tantei Team KZ – Jiken Note – 08 RAW (NHKE 1280×720 x264 AAC).mp4
Tantei Team KZ – Jiken Note – 09 RAW (NHKE 1280×720 x264 AAC).mp4
Tantei Team KZ – Jiken Note – 10 RAW (NHKE 1280×720 x264 AAC).mp4
Tantei Team KZ – Jiken Note – 11 RAW (NHKE 1280×720 x264 AAC).mp4
Tantei Team KZ – Jiken Note – 12 RAW (NHKE 1280×720 x264 AAC).mp4
Tantei Team KZ – Jiken Note – 13 RAW (NHKE 1280×720 x264 AAC).mp4
Tantei Team KZ – Jiken Note – 14 RAW (NHKE 1280×720 x264 AAC).mp4
Tantei Team KZ – Jiken Note – 15 RAW (NHKE 1280×720 x264 AAC).mp4
Tantei Team KZ – Jiken Note – 16 RAW (NHKE 1280×720 x264 AAC).mp4
SF (SaleFiles)
Tantei Team KZ – Jiken Note – 13 RAW (NHKE 1280×720 x264 AAC).mp4
Tantei Team KZ – Jiken Note – 14 RAW (NHKE 1280×720 x264 AAC).mp4
Tantei Team KZ – Jiken Note – 15 RAW (NHKE 1280×720 x264 AAC).mp4
Tantei Team KZ – Jiken Note – 16 RAW (NHKE 1280×720 x264 AAC).mp4
FS (FastStore)
Tantei Team KZ – Jiken Note – 01 RAW (NHKE 1280×720 x264 AAC).mp4
Tantei Team KZ – Jiken Note – 02 RAW (NHKE 1280×720 x264 AAC).mp4
Tantei Team KZ – Jiken Note – 03 RAW (NHKE 1280×720 x264 AAC).mp4
Tantei Team KZ – Jiken Note – 04 RAW (NHKE 1280×720 x264 AAC).mp4
Tantei Team KZ – Jiken Note – 05 RAW (NHKE 1280×720 x264 AAC).mp4
Tantei Team KZ – Jiken Note – 06 RAW (NHKE 1280×720 x264 AAC).mp4
Tantei Team KZ – Jiken Note – 07 RAW (NHKE 1280×720 x264 AAC).mp4
Tantei Team KZ – Jiken Note – 08 RAW (NHKE 1280×720 x264 AAC).mp4
Tantei Team KZ – Jiken Note – 09 RAW (NHKE 1280×720 x264 AAC).mp4
Tantei Team KZ – Jiken Note – 10 RAW (NHKE 1280×720 x264 AAC).mp4
Tantei Team KZ – Jiken Note – 11 RAW (NHKE 1280×720 x264 AAC).mp4
Tantei Team KZ – Jiken Note – 12 RAW (NHKE 1280×720 x264 AAC).mp4
Tantei Team KZ – Jiken Note – 13 RAW (NHKE 1280×720 x264 AAC).mp4
Tantei Team KZ – Jiken Note – 14 RAW (NHKE 1280×720 x264 AAC).mp4
Tantei Team KZ – Jiken Note – 15 RAW (NHKE 1280×720 x264 AAC).mp4
Tantei Team KZ – Jiken Note – 16 RAW (NHKE 1280×720 x264 AAC).mp4
TB (TurboBit)
Tantei Team KZ – Jiken Note – 01 RAW (NHKE 1280×720 x264 AAC).mp4
Tantei Team KZ – Jiken Note – 02 RAW (NHKE 1280×720 x264 AAC).mp4
Tantei Team KZ – Jiken Note – 03 RAW (NHKE 1280×720 x264 AAC).mp4
Tantei Team KZ – Jiken Note – 04 RAW (NHKE 1280×720 x264 AAC).mp4
Tantei Team KZ – Jiken Note – 05 RAW (NHKE 1280×720 x264 AAC).mp4
Tantei Team KZ – Jiken Note – 06 RAW (NHKE 1280×720 x264 AAC).mp4
Tantei Team KZ – Jiken Note – 07 RAW (NHKE 1280×720 x264 AAC).mp4
Tantei Team KZ – Jiken Note – 08 RAW (NHKE 1280×720 x264 AAC).mp4
Tantei Team KZ – Jiken Note – 09 RAW (NHKE 1280×720 x264 AAC).mp4
Tantei Team KZ – Jiken Note – 10 RAW (NHKE 1280×720 x264 AAC).mp4
Tantei Team KZ – Jiken Note – 11 RAW (NHKE 1280×720 x264 AAC).mp4
Tantei Team KZ – Jiken Note – 12 RAW (NHKE 1280×720 x264 AAC).mp4
Tantei Team KZ – Jiken Note – 13 RAW (NHKE 1280×720 x264 AAC).mp4
Tantei Team KZ – Jiken Note – 14 RAW (NHKE 1280×720 x264 AAC).mp4
Tantei Team KZ – Jiken Note – 15 RAW (NHKE 1280×720 x264 AAC).mp4
Tantei Team KZ – Jiken Note – 16 RAW (NHKE 1280×720 x264 AAC).mp4
UL (Uploaded)
Tantei Team KZ – Jiken Note – 01 RAW (NHKE 1280×720 x264 AAC).mp4
Tantei Team KZ – Jiken Note – 02 RAW (NHKE 1280×720 x264 AAC).mp4
Tantei Team KZ – Jiken Note – 03 RAW (NHKE 1280×720 x264 AAC).mp4
Tantei Team KZ – Jiken Note – 04 RAW (NHKE 1280×720 x264 AAC).mp4
Tantei Team KZ – Jiken Note – 05 RAW (NHKE 1280×720 x264 AAC).mp4
Tantei Team KZ – Jiken Note – 06 RAW (NHKE 1280×720 x264 AAC).mp4
Tantei Team KZ – Jiken Note – 07 RAW (NHKE 1280×720 x264 AAC).mp4
Tantei Team KZ – Jiken Note – 08 RAW (NHKE 1280×720 x264 AAC).mp4
Tantei Team KZ – Jiken Note – 09 RAW (NHKE 1280×720 x264 AAC).mp4
Tantei Team KZ – Jiken Note – 10 RAW (NHKE 1280×720 x264 AAC).mp4
Tantei Team KZ – Jiken Note – 11 RAW (NHKE 1280×720 x264 AAC).mp4
Tantei Team KZ – Jiken Note – 12 RAW (NHKE 1280×720 x264 AAC).mp4
Tantei Team KZ – Jiken Note – 13 RAW (NHKE 1280×720 x264 AAC).mp4
Tantei Team KZ – Jiken Note – 15 RAW (NHKE 1280×720 x264 AAC).mp4