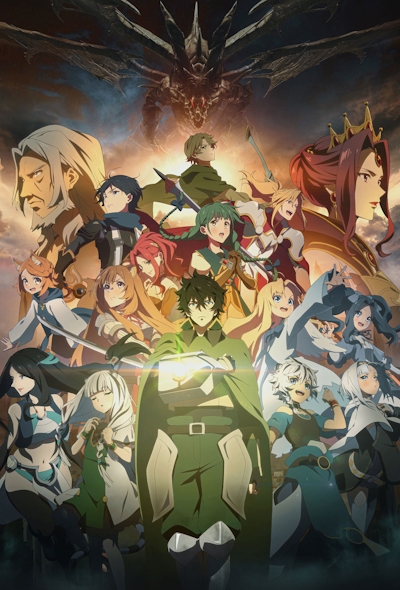 [TVRIP] Tate no Yuusha no Nariagari Season 3 [盾の勇者の成り上がり Season 3] 第01-09話
Alternative Titles
English: The Rising of the Shield Hero Season 3
Official Title 盾の勇者の成り上がり Season 3
Type TV Series, 12 episodes
Year 06.10.2023 until ?
Season Autumn 2023
Tags novel
Iwatani Naofumi defeated the Spirit Tortoise, one of the Four Guardian Beasts, and followed the person behind its revival, Kyou, to another world. After defeating Kyou, he's finally come back to Melromarc.
Another one of the Four Guardian Beasts, the Phoenix, is about to revive, and while the kingdom tries to prepare, the other three Cardinal Heroes are missing after their failure in the Spirit Tortoise battle. Naofumi's own lands may not be ready, either. To bolster their defenses, Naofumi decides to search for the scattered members of Lurolona Village. He visits the land of Zeltoble, where he hears that some were sold as slaves. As a first step towards saving them, he, Raphtalia, and Filo participate in an underground combat arena.
The demi-humans seek salvation. The other three Cardinal Heroes have had their spirits broken. And Bitch (Myne) lurks in the shadows. As everyone's plots intersect, will Naofumi be able to follow the path he believes in?
*Uploaded by@https://animerss.com
*Do not simply copy and paste the download links to your site. (Thank you!)
いつもありがとうございます!
プレミアムアカウントの有効期限が切れたら、なるべく以下のリンクから新アカウントを購入して頂けませんか。
RapidGator -> https://rapidgator.net/article/premium/ref/22000
Aniemrssご支援いただき、ありがとうございます。
FREE DOWNLOAD/無料ダウンロード :
RG (RapidGator)
Tate no Yuusha no Nariagari Season 3 – 01 (AT-X 1280×720 x264 AAC).mp4
Tate no Yuusha no Nariagari Season 3 – 01 (AT-X 1920×1080 x264 AAC).mp4
Tate no Yuusha no Nariagari Season 3 – 02 (AT-X 1280×720 x264 AAC).mp4
Tate no Yuusha no Nariagari Season 3 – 02 (AT-X 1920×1080 x264 AAC).mp4
Tate no Yuusha no Nariagari Season 3 – 03 (AT-X 1280×720 x264 AAC).mp4
Tate no Yuusha no Nariagari Season 3 – 03 (AT-X 1920×1080 x264 AAC).mp4
Tate no Yuusha no Nariagari Season 3 – 04 (AT-X 1280×720 x264 AAC).mp4
Tate no Yuusha no Nariagari Season 3 – 04 (AT-X 1920×1080 x264 AAC).mp4
Tate no Yuusha no Nariagari Season 3 – 05 (AT-X 1280×720 x264 AAC).mp4
Tate no Yuusha no Nariagari Season 3 – 05 (AT-X 1920×1080 x264 AAC).mp4
Tate no Yuusha no Nariagari Season 3 – 06 (AT-X 1280×720 x264 AAC).mp4
Tate no Yuusha no Nariagari Season 3 – 06 (AT-X 1920×1080 x264 AAC).mp4
Tate no Yuusha no Nariagari Season 3 – 07 (AT-X 1280×720 x264 AAC).mp4
Tate no Yuusha no Nariagari Season 3 – 07 (AT-X 1920×1080 x264 AAC).mp4
Tate no Yuusha no Nariagari Season 3 – 08 (AT-X 1280×720 x264 AAC).mp4
Tate no Yuusha no Nariagari Season 3 – 08 (AT-X 1920×1080 x264 AAC).mp4
Tate no Yuusha no Nariagari Season 3 – 09 (AT-X 1280×720 x264 AAC).mp4
Tate no Yuusha no Nariagari Season 3 – 09 (AT-X 1920×1080 x264 AAC).mp4