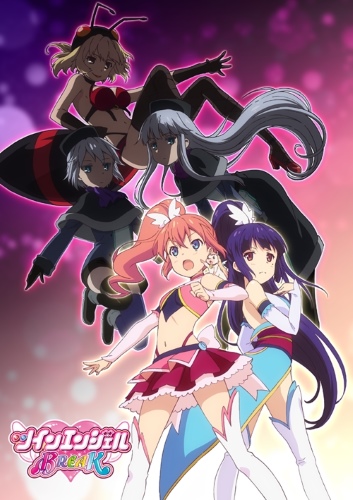 [TVRIP] Twin Angel Break [ツインエンジェルBREAK] 第01-12話 全
Alternative Titles
English: Twin Angel Break
Japanese: ツインエンジェルBREAK
Type TV Series, unknown number of episodes
Year 07.04.2017 till ?
Amatsuki Meguru is a girl who innocently aspires to be a hero of justice and the cool Kisaragi Sumire who grew up in the strict Kisaragi household… The two girls who are in their 3rd year of middle school end up getting orders from a mysterious hedgehog named Miruku-chan and turn into Twin Angels in order to fight evil! Meguru is always cheerful but sometimes a bit too forceful. Meanwhile, Sumire isn't accustomed with being around others. Despite their differences, as they work together, they start opening up to each other.
*Uploaded [email protected]https://animerss.com
*Do not simply copy and paste the download links to your site. (Thank you!)
いつもありがとうございます!
プレミアムアカウントの有効期限が切れたら、なるべく以下のリンクから新アカウントを購入して頂けませんか。
RapidGator -> https://rapidgator.net/article/premium/ref/22000
Aniemrssご支援いただき、ありがとうございます。
FREE DOWNLOAD/無料ダウンロード :
RG (RapidGator)
Twin Angel Break – 01 RAW (SUN 1280×720 x264 AAC).mp4
Twin Angel Break – 02 RAW (SUN 1280×720 x264 AAC).mp4
Twin Angel Break – 03 RAW (SUN 1280×720 x264 AAC).mp4
Twin Angel Break – 04 RAW (SUN 1280×720 x264 AAC).mp4
Twin Angel Break – 05 RAW (SUN 1280×720 x264 AAC).mp4
Twin Angel Break – 06 RAW (SUN 1280×720 x264 AAC).mp4
Twin Angel Break – 07 RAW (SUN 1280×720 x264 AAC).mp4
Twin Angel Break – 08 RAW (SUN 1280×720 x264 AAC).mp4
Twin Angel Break – 09 RAW (SUN 1280×720 x264 AAC).mp4
Twin Angel Break – 10 RAW (SUN 1280×720 x264 AAC).mp4
Twin Angel Break – 11 RAW (SUN 1280×720 x264 AAC).mp4
Twin Angel Break – 12 END (SUN 1280×720 x264 AAC).mp4