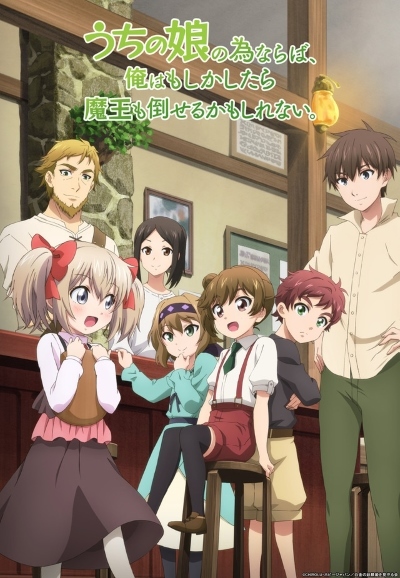 [TVRIP] Uchi no Ko no Tame Naraba, Ore wa Moshikashitara Maou mo Taoseru Kamo Shirenai. [うちの娘の為ならば, 俺はもしかしたら魔王も倒せるかもしれない.] 第01-12話 全
Alternative Titles
English: If It`s for My Daughter, I`d Even Defeat a Demon Lord
Official Title うちの娘の為ならば, 俺はもしかしたら魔王も倒せるかもしれない.
Type TV Series, unknown number of episodes
Year 04.07.2019 till ?
Dale is a cool, composed, and highly skilled adventurer who's made quite a name for himself despite his youth. One day on a job deep in the forest, he comes across a little devil girl who's almost wasted away. Unable to just leave her there to die, Dale takes her home and becomes her adoptive father. Devil or not, Latina is beyond adorable, and the adventurer soon finds himself head over heels with being a parent. But why was she out in the forest to begin with, and why does she carry the mark of a criminal?
*Uploaded [email protected]https://animerss.com
*Do not simply copy and paste the download links to your site. (Thank you!)
いつもありがとうございます!
プレミアムアカウントの有効期限が切れたら、なるべく以下のリンクから新アカウントを購入して頂けませんか。
RapidGator -> https://rapidgator.net/article/premium/ref/22000
Aniemrssご支援いただき、ありがとうございます。
FREE DOWNLOAD/無料ダウンロード :
RG (RapidGator)
Uchi no Ko no Tame Naraba, Ore wa Moshikashitara Maou mo Taoseru Kamo Shirenai. – 01 (BS11 1280×720 x264 AAC).mp4
Uchi no Ko no Tame Naraba, Ore wa Moshikashitara Maou mo Taoseru Kamo Shirenai. – 02 (BS11 1280×720 x264 AAC).mp4
Uchi no Ko no Tame Naraba, Ore wa Moshikashitara Maou mo Taoseru Kamo Shirenai. – 03 (BS11 1280×720 x264 AAC).mp4
Uchi no Ko no Tame Naraba, Ore wa Moshikashitara Maou mo Taoseru Kamo Shirenai. – 04 (BS11 1280×720 x264 AAC).mp4
Uchi no Ko no Tame Naraba, Ore wa Moshikashitara Maou mo Taoseru Kamo Shirenai. – 05 (BS11 1280×720 x264 AAC).mp4
Uchi no Ko no Tame Naraba, Ore wa Moshikashitara Maou mo Taoseru Kamo Shirenai. – 06 (BS11 1280×720 x264 AAC).mp4
Uchi no Ko no Tame Naraba, Ore wa Moshikashitara Maou mo Taoseru Kamo Shirenai. – 07 (BS11 1280×720 x264 AAC).mp4
Uchi no Ko no Tame Naraba, Ore wa Moshikashitara Maou mo Taoseru Kamo Shirenai. – 08 (BS11 1280×720 x264 AAC).mp4
Uchi no Ko no Tame Naraba, Ore wa Moshikashitara Maou mo Taoseru Kamo Shirenai. – 09 (BS11 1280×720 x264 AAC).mp4
Uchi no Ko no Tame Naraba, Ore wa Moshikashitara Maou mo Taoseru Kamo Shirenai. – 10 (BS11 1280×720 x264 AAC).mp4
Uchi no Ko no Tame Naraba, Ore wa Moshikashitara Maou mo Taoseru Kamo Shirenai. – 11 (BS11 1280×720 x264 AAC).mp4
Uchi no Ko no Tame Naraba, Ore wa Moshikashitara Maou mo Taoseru Kamo Shirenai. – 12 END (BS11 1280×720 x264 AAC).mp4